President Maithripala Sirisena has pledged to construct a new storage facility for paddy in Medirigiriya area due to the inadequate storage facilities in the area. The President also promised to provide few generators to hospitals and water purification centers in the Polonnaruwa District.

The president made these comments during the Polonnaruwa District Development Committee meeting held at the Polonnaruwa Divisional Secretariat last week.

President Sirisena instructed officials to present a report in collaboration with the Survey, Forest and Wildlife Conservation departments regarding the allocation of proper area for the cattle in the district, beyond the Wildlife preservation's boundary. He further said to change the relevant circular to enable the participation of the people's representatives in the area to the District Agricultural Development Committee.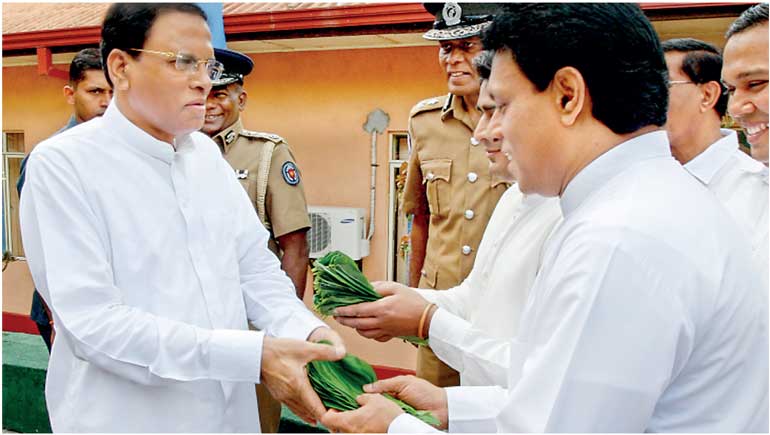 After listening to the suggestions and ideas expressed by the people's representatives in the district, the President instructed the officials to expedite the construction work on Medirigiriya Water Supply and Water Purification Center and emphasized the need to give priority to prevention of kidney diseases as it spreads in the district.

The President directed officials to give priority to the requirements for toilet and drinking water facilities, similar to the way they pay attention to the education in developing of the Polonnaruwa District. He also advised them to be cautious about the facilities not only for the schools in towns, but also for the schools in the villages.

He asked the officials to prepare a report, proposing a plan to fulfill the requirements of regional hospitals and also to maintain pre schools in a proper manner. "Grants for pre-schools can be provided according to that report", the President said. Cabinet of Ministers & Members of the Parliament, Ministers of Provincial Councils and Local Governments; S. B. Dissanayake, Nimal Siripala de Silva, Peshala Jayaratne, Wasantha Senanayake, Siripala Gamlath, Nalaka Kolonne, Secretary to the President, P.B Abeykoon, Additional Secretary to the President Rohana Keerthi Dissanayake and public servants participated in the meeting.