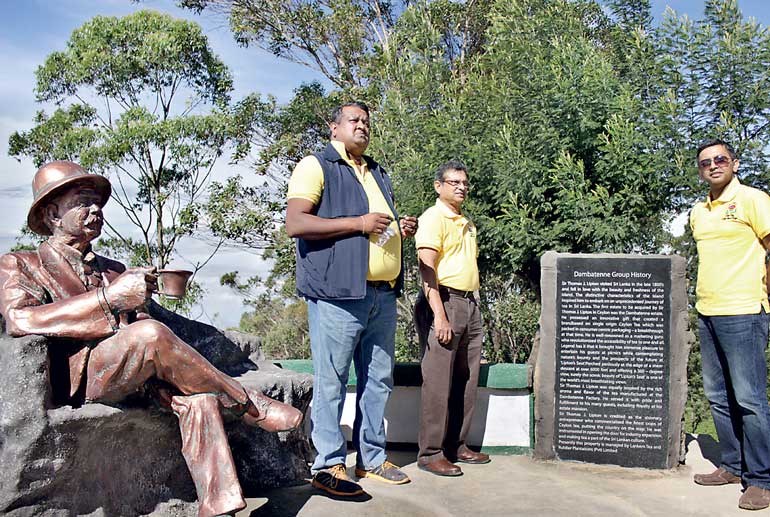 Denham Madena, Avindra De Silva and Siddharth Banerjee pose with unveiled statue and plaque at Lipton's Seat
By Shiran Illanperuma

Unilever Sri Lanka has announced the re-launch of its flagship domestic brand Ceylonta.

The launch coincides with a renewed advertising campaign by Lipton featuring all new television adverts, jingles and slogans across most media platforms.

Part of the company's new marketing direction is an emphasis on the values associated with Sir Thomas Johnston Lipton himself, who is defined as 'spirited, imaginative, honest and positive' by Unilever Sri Lanka Country Marketing Director Siddharth Bannerjee. "We are trying to breathe back these values into the brand of Ceylonta," he added.

Bannerjee described the brand's renewed focus on its founder Sir Thomas Lipton as a way of, 'putting history into a marketing package'. Tea, being a foundational aspect of Sri Lankan identity and economy has, according to Bannerjee, 'a heritage factor' that the company is seeking 'to romanticise for a younger audience'.

Lipton representatives also re-affirmed their commitment to sustainable production and what Procurement Manager Ishan Rajasuriya described as, 'a responsible cup of tea'. Lipton currently sources its product from plantations that are Rainforest Alliance certified though that only accounts for about 10% of the national crop.

Tying-in to the announcement was the unveiling of a statue of Sir Lipton at Lipton's Seat, Dambatenne alongside a new plaque describing his history and achievements. The statue depicts Sri Lipton seated on a bench with a cup of tea as he is often described to have done at the location during his visits to Ceylon.

The statue was designed by a team lead by artist, Sudath Abeysekara who said, "We looked at old photos of Sir Thomas Lipton to capture his appearance."

Though made out of a light and hollow fibre substance, it is coloured to evoke the weight and appearance of an aged bronze statue.

Within minutes of its unveiling, the statue was besotted by foreign and local tourists excited to take playful selfies with the sculpted likeness of the colonial tea baron.