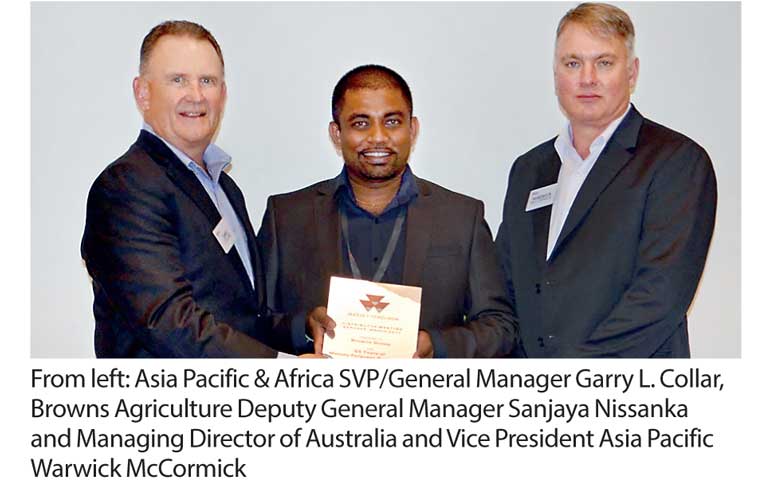 The Browns agriculture division won a prestigious award from their principal partner Massey Ferguson for being the oldest distributor, with it recording 65 years in South East Asia.

The Longstanding Relationship Award was presented to them at a gala event held in Bangkok recently. Browns Agriculture is the first entity to have introduced innovative farming methods and revolutionised the farming industry by mechanising farming labour conditions, introducing Massey Ferguson tractors way back in 1952. Starting off with the Grey Fergie specialising in paddy operations, the tractors evolved into more innovative and efficient solutions such as the MF T20, MF135, MF35, MF 240 and MF 240 Super.

The organisation has for the past 10 years been market leaders in the tractor industry, holding over 58% market share and has been constantly ranked as the best service provider in the Agri Machinery industry.

TAFE Tractors have been built, customised and enhanced both technically and practically and constantly add value with the customers' needs in mind.

Massey Ferguson is part of the AGCO Corporation and is one of the biggest names in farm equipment throughout the world with a 150-year history.

Through well-known brands, including Challenger, Fendt, GSI, Massey Ferguson and Valtra, AGCO Corporation delivers agricultural solutions to farmers worldwide through a full line of tractors, combine harvesters, hay and forage equipment, seeding and tillage implements, grain storage and protein production systems, as well as replacement parts.

Browns Agriculture recently introduced its newest innovation, Massey Ferguson MF-1540, to the farmers in the Anuradhapura and Polonnaruwa districts. This new tractor's distribution has been more focused on the farming community in the wet zone area and those farming on muddy terrain. Built with trusted Japanese technology, the MF-1540 is a tractor specifically customised for wet application (to be used in muddy terrain). The unique features of the tractor are that it is a compact and lightweight machine, equipped with four-wheel drive and synchro shuttle shift (easy back and forth loader work) mechanism. In addition, this machine has the lowest turning radius among all tractors. This is therefore ideal for working in small harvesting areas. "It is both an honour and a privilege to be recognised by Massey Ferguson in this regard and humbling to acknowledge that this relationship will only grow in strength and trust in the years to come," stated Browns Agriculture Deputy General Manager Sanjaya Nissanka.