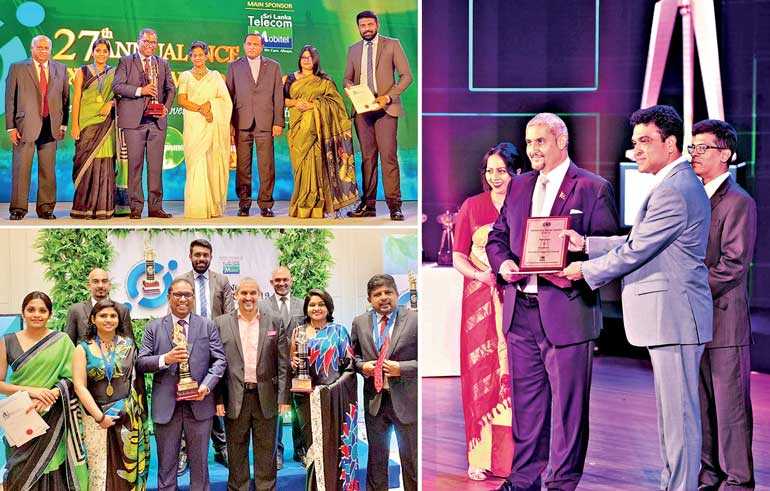 Anverally and Sons Chairman Mohamed Anverally and the team at the NCE Awards (top and bottom left) and Anverally at the Presidential Export Awards (right)
Recognised at Presidential Export Awards and National Chamber of Exporters Awards
Anverally and Sons Ltd, one of Sri Lanka's oldest and most respected exporters of tea, with a history of 129 years, won three prestigious awards on consecutive days last week, demonstrating the company's continuing dynamism.

Currently ranked as one of the largest tea exporters in Sri Lanka, Anverally Teas was awarded a Presidential Export Award in the tea sector, a National Chamber of Exporters (NCE) Award in the Extra Large category and a Special Award for the Highest Export Turnover at the NCE awards the following day.

The three noteworthy accolades recognise a year of significant growth, expansion, value addition and new market development by Anverally Teas, which diversified its branded products portfolio in 2018-19, upgraded its warehousing facilities and expanded its market share to South America, the US and the Far East over the concluded year.

"We are delighted to be honoured by both the Export Development Board and the National Chamber of Exporters for our achievements in the last financial year. The art of tea is one that has not changed for years. It is simple, pure and close to the earth as is the process at Anverally – straight from leaf to cup through a sustainable value chain," said Mohamed Anverally, the fourth-generation Chairman of the family-owned company.

"Anverally Tea has come a long way from where we started in 1890. From tea merchants we have progressed in leaps and bounds and have redefined consumer tea experiences. This is all due to our committed and spirited team which is driven by the core values of innovation, dynamism and passion."

Recent innovations at Anverally Teas include the launch of a range of Ceylon tea pods, providing an authentic tea experience with each pod lending its own distinctive character and aroma; diversification into a range of coconut products including coconut water and oil and the launch of an online shopping platform.

Today, the Anverally team operates from over 200,000 sq. ft. of space featuring state-of-the-art facilities including modern warehouses, the latest tea packaging machines and storage facilities. The company has also set up its own fully-equipped microbiological lab to do all testing and quality control in-house. In addition, it has invested in an in-house iced tea plant which uses cutting-edge automated machinery for iced tea processing and packaging, maintaining the hygiene quality of RTD bottles in accordance with international standards.

Established in 1890 by the great grandfather of the present Chairman, Anverally and Sons today employs more than 1,000 people and exports Ceylon Tea to over 85 countries. The company's selection of tea ranges from black, green and herbal to organic, health and fruit teas in packing options of bulk, tea bags, packets, metal caddies, bottles, pouches, tea gifts and more. The company has established a range of international brands such as Anverally Tea, Al-Otuor, Sultan, Tea4U, Revna and Taj which represent the regional preferences of tea.

No stranger to awards, Anverally and Sons has received the 'Most Outstanding Tea Exporter' 2012 and 'Best Tea Exporter' 2013-2016 awards presented by the National Chamber of Exporters in addition to the Presidential Award 2015 for the 'Highest Value Added Exporter – Tea Sector' by the Export Development Board and the 'Best Value Added Tea Exporter' presented by the Ministry of Plantation Industries and the Ceylon Tea Board.