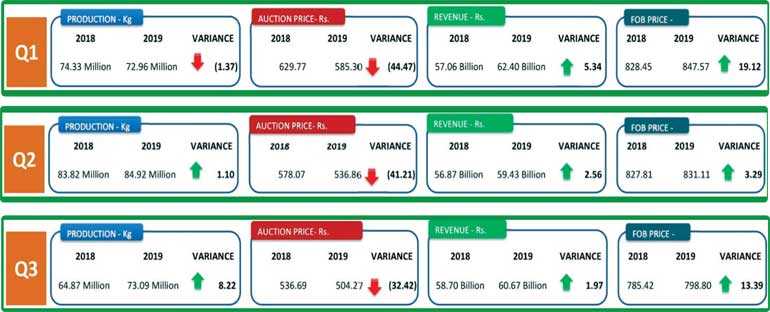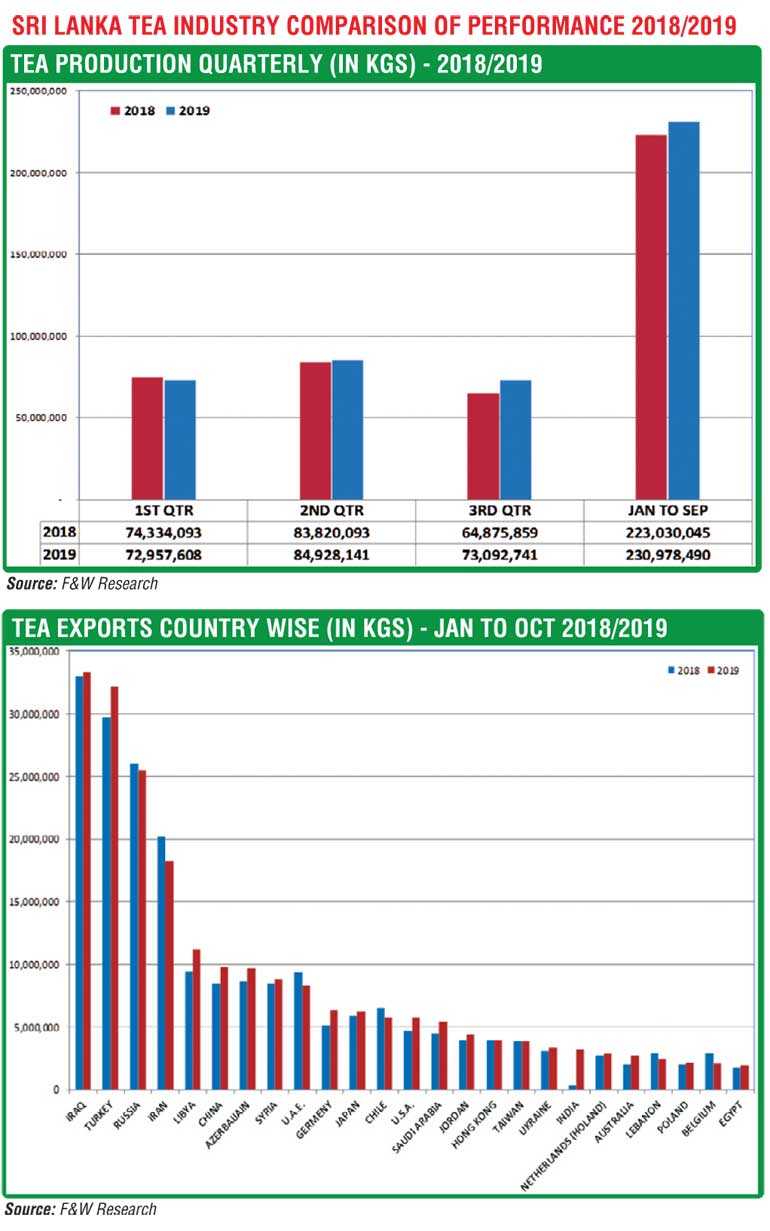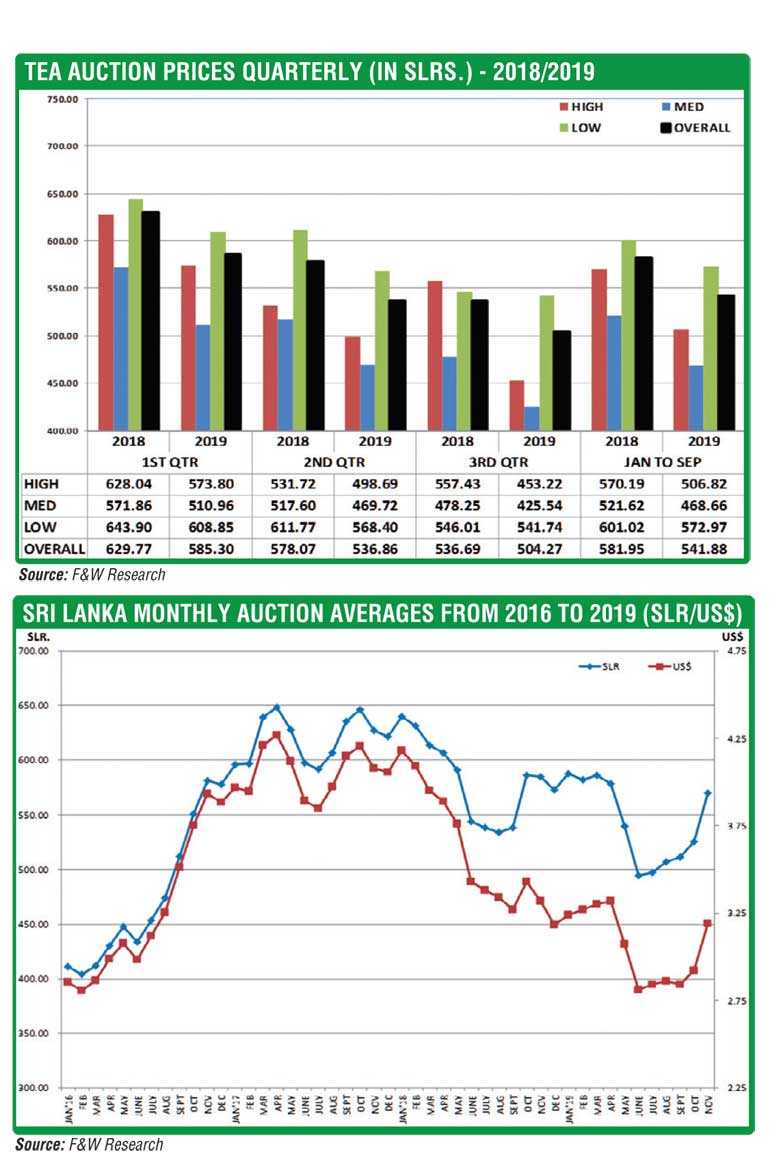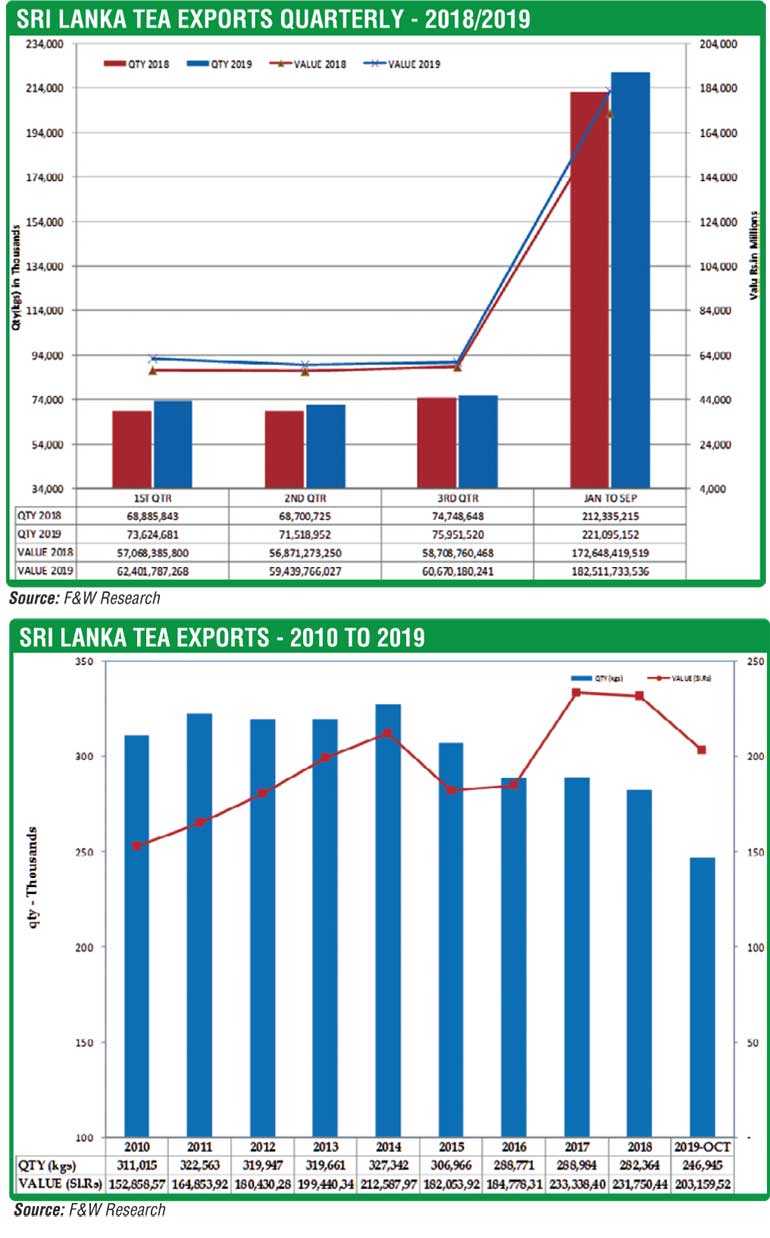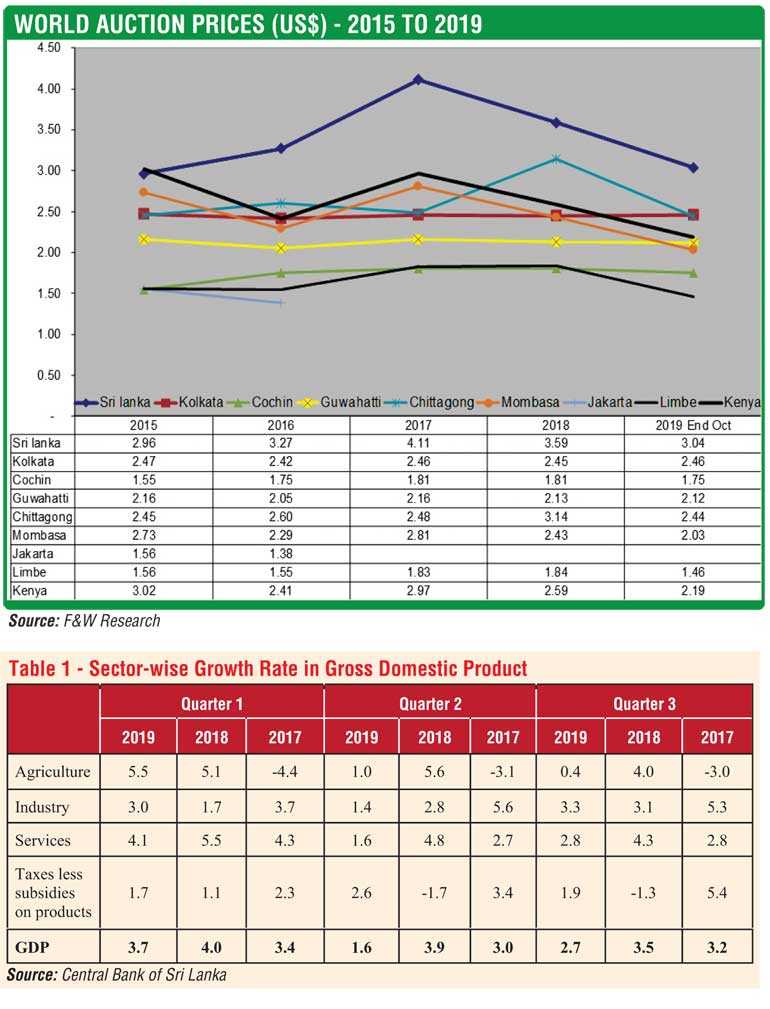 ---
By Forbes and Walker Tea Brokers

Overview

Year 2019 began with a lot of uncertainty from a Sri Lankan tea industry perspective due to the suspension of Russian tea exports, shipments to Japan and the EU being constrained with MRL issues, US sanctions on Iran and internal conflicts in the Middle East.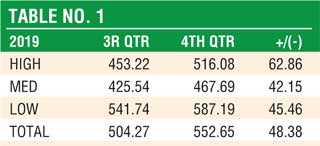 From a global supply perspective, 2019 commenced with a significant oversupply of tea emanating from the African Region comprising primarily of CTC origin, whilst Sri Lanka the primary supplier of orthodox tea to the world market recorded a decrease of approximately 3.8 M/Kgs with annual production totalling 303 M/Kgs. In 2016 following the El Niño drought, tea production slumped to a 292 M/Kgs, whilst prior to 2016 Sri Lanka tea production was in the range of 320-340 M/Kgs during the period 2010 to 2015. Therefore, it would be reasonable to conclude that 2019 began with a short supply of orthodox teas. Notwithstanding the supply shortfall, it was concerning that prices too witnessed a significant lower trend vis-à-vis the corresponding year 2018.

In the case of High and Medium Growns, depressed prices continued to persist till August 2019, although a reversal in prices were witnessed thereafter, yet continued to be at unremunerative levels. Low Growns too saw a turnaround about this time with prices reaching fairly satisfactory levels. However, the sector continued to grapple with the financial ill effects of the trading losses experienced by most bought leaf factories in the private sector, this has eventually led to the closure of a number of these manufacturing units.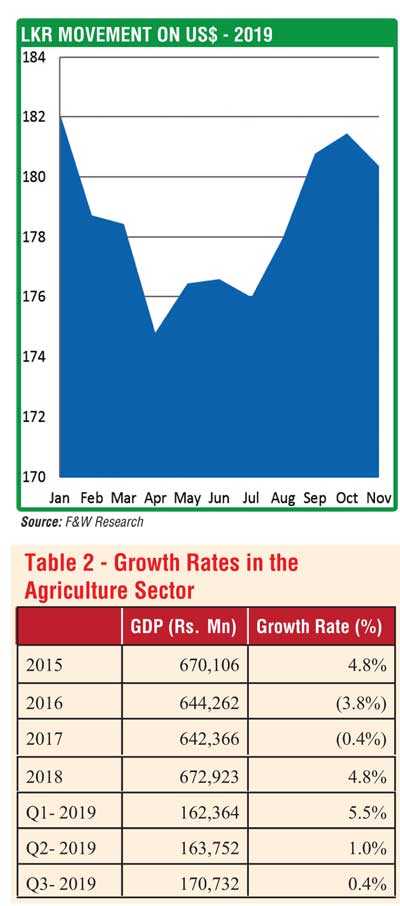 Yet, all is not doom and gloom, and in November, prices at the Colombo Auction gained in respect of all three elevations. It is encouraging to note that at the penultimate sale in 2019 the Auction average for Orthodox Low Growns was higher than 2018 and even 2017, where the total annual Auction average achieved an all-time high. High and Medium Grown prices too saw a turnaround, although they were lower to 2018 levels.
Quarterly update

Production, prices and exports
The 1st quarter commenced with Auction volumes recording 6.5 -7 M/Kgs and thereafter, declining to around 6.2-6.5 M/Kgs with the onset of dry weather by mid-February.

Production: Sri Lanka's tea production totalled 72.9 M/Kgs vis-à-vis 74.3 M/Kgs of the corresponding period, recording a decrease of 1.3 M/Kgs. Medium Growns showed a growth compared to the corresponding period, whilst High Growns and Low Growns recorded a decrease.

Auction averages: Total Auction average of Rs. 585.30 showed a decrease of Rs. 44.47 compared to Rs.629.77 recorded during the 1st quarter of 2018. All elevations showed a lower trend in prices with Mediums recording the highest decrease followed by High Growns and Low Growns.

Exports: Tea Exports totalled 73.6 M/Kgs recording a growth of 4.8 M/Kgs vis-à-vis 68.8 M/Kgs of January-March 2018, whilst earnings of Rs. 62.4 billion recorded a gain of Rs. 5.3 billion vis-à-vis Rs. 57.06 billion of January-March 2018. (See QI)

The 2nd quarter commenced with Auction volumes recording over 6.5 M/Kgs and thereafter consistently maintaining over 7 M/Kgs until the end of the quarter.

Production: Total production of 84.9 M/Kgs recorded a gain of 1.1 M/Kgs vis-à-vis 83.8 M/Kgs of April-June 2018. During the period under review, Low Growns showed the highest growth followed by High Growns. Mediums, however, showed a decline compared to the corresponding quarter of 2018.

Auction averages: Meanwhile, Auction averages totalled Rs. 536.86 vis-à-vis Rs. 578.07 of April-June 2018 recording a decrease of Rs. 41.21. All elevations showed a lower trend in prices. Mediums realised the highest decrease followed by Low Growns, whilst High Growns showed a lesser negative variance when compared to the corresponding period of 2018.

Exports: Exports totalled 71.5 M/Kgs vis-à-vis 68.7 M/Kgs of the corresponding quarter of 2018, thus showing a gain of 2.8 M/Kgs. Meanwhile, earnings of Rs. 59.4 billion showed a gain of Rs. 2.6 billion vis-à-vis Rs. 56.8 billion of the 2nd quarter of 2018. (See Q2)

The 3rd quarter Auction quantities too were mostly around 7 M/Kgs and above, barring Sale No. 32 which was only 4.4 M/Kgs, it being a restricted sale.

Production: Tea production totalled 73.09 M/Kgs showing a fairly significant gain of 8.2 M/Kgs vis-à-vis 64.8 M/Kgs of July-September 2018. All elevations have shown a growth vis-à-vis the 3rd quarter of 2018 with Low Growns recording the highest gain followed by the High Growns and Medium Growns.

Auction averages: Auction average realised Rs. 504.27 registering a decrease of Rs. 32.42 when compared to Rs. 536.69 of July-September 2018. High Growns have recorded a fairly significant decrease in prices compared to the 3rd quarter of 2018 followed by Medium Growns, with Low Growns showing only a marginal decrease.

Exports: Exports totalled 75.9 M/Kgs showing a gain of 1.2 M/Kgs vis-à-vis 74.7 M/Kgs of the 3rd quarter of 2018. Earnings totalled Rs. 60.6 billion recording a gain of Rs. 1.9 billion vis-à-vis Rs. 58.7 billion of July-September 2018. (See Q3)

The 4th quarter Auction volumes showed a decline to the preceding quarter. From the inception Auction volumes were below 6.5 M/Kgs and recorded a further drop towards the end of the quarter.

Production: With the latest available production figures up to end October 2019 and assuming that November and December will achieve 2018 figures, we could estimate that the total production for 2019 will end up around last year's total.

Auction averages: It is heartening to note that the Auction prices have shown a fairly significant turnaround, particularly around November. A comparison of Auction averages of 3rd quarter vs. the 4th quarter (up to the penultimate sale is given in Table No. 1).
Sri Lanka macroeconomic update – 2019
We report below the key indicators of the economy updated as at the time of reporting.

Economic growth: The overall annual growth levels in 2019 are the lowest for the past couple of years. It is worryingly noted that the agriculture sector performed the worst during the year. However, the Industrial Sector growth rates would be on par with 2018.

Agriculture sector, which saw negative growth in both 2016 and 2017, recovered in 2018 to get back to the 2015 levels. That momentum was carried through Q1 of 2019 before falling off to achieve a flat growth in the next two quarters.

Inflation: Inflation – as measured by the National Consumer Price Index (NCPI) was 5.6% in October 2019 and the 12 month annual average inflation as of end October 2019 was 2.8%. The rate of inflation in 2019 is higher than 2018 where it was at 0.1% and the 12 month annual average inflation as at October stood at 3.3%. The NCPI was updated with 2013 kept as the base year and we have now seen a cumulative 31.9% increase in prices. It is to be noted that year 2017 was one of the highest contributors to this increase.

Interest rates: The Treasury Bill rates decreased in 2019 against 2018. The average prime lending rates by banks too decreased. Further, bank deposit rates have declined over the last year. The AWPLR declined further in November and at the weekly rate hovers around 10.5% at the time of writing.

Exchange rates: The Sri Lankan Rupee (LKR) remaining more or less flat against most currencies during the year. However, it depreciated against the Russian Rouble and Ukraine Hryvnia, which was positive for the tea trade.
Outlook for 2020
Predicting the market outlook for the ensuing year in the backdrop of a rather challenging 2019 seems a difficult task. It is important that due consideration be given to numerous factors in predicting tea prices – current global economic situations, uncertainty in key importer countries of Ceylon Tea and equally important, would be climate change and its adverse impact, whilst monitoring the supply and demand equation.

From a global perspective, production in 2019 is likely to record a deficit reflecting the decline in the tea crop in Kenya and a slowdown in China. Analysts predict that whilst overall global production may record a gain of approximately 2% in 2020, which would be in keeping with the average growth per annum in the last 10 years (2009-2018), this would exclude China which is predominantly green tea. Although there would be several factors, the lower growth pattern would emanate primarily due to climate change and its ill effects, lower farmer profits owing to high cost of inputs which would weigh on investment. From a Sri Lankan perspective, non-productivity related wages and low mechanisation in the sector has impacted the competitiveness of Ceylon tea, which has resulted in a high production cost. Production growth in the last two to three years has essentially been from the African Region consisting mainly of CTC teas. From an orthodox perspective, Sri Lanka as a prime supplier together with India and Vietnam have recorded a decline year-on-year. Therefore, if the supply and demand equation would be a deciding factor, it is reasonable to assume that prices in respect of orthodox teas would sustain at these levels as a worst-case scenario.
Tea is the most consumed beverage in the world apart from water and analysts predict tea consumption to be growing steadily driven by China accounting for a significant portion and followed closely by India. The demand for tea is likely to be less exposed to economic cycles than other commodities, which augurs well. Global demand for black tea has had a steady influence from China and is likely to show growth during the ensuing year as well. From a Sri Lankan perspective, exports to China have recorded a significant gain.

Producer countries consumption is on the rise and consequently, lesser volumes of tea may be available for export which would augur well for prices of orthodox teas, in particular, with its limited supply.

Taking these factors in to consideration and that global production during the 1st quarter is usually the lowest during the year, the buoyancy in the market is likely to continue throughout 1st quarter. Prices for large leaf orthodox teas, as mentioned earlier in this report, could be considered to be in short supply in the backdrop of the lower output from Sri Lanka over the past two to three years and therefore, the large leaf type teas would continue to attract a premium for the 1st half of 2020. The demand for liquoring small leaf teas from the High and Mid Grown region are likely to encounter downward pressure depending on the availability from other centres, where a degree of substitution is possible.

The market demand for teas for the second half of the year would no doubt depend on how the global tea industry would progress during the first half. As we have highlighted periodically, we are confident that market demand for 'good quality teas' would certainly command a significant premium consistently throughout the year.

Whilst tea prices are projected to be buoyant in the first quarter of 2020, for long-term sustainability, the industry needs re-engineering to achieve global competitiveness. Cost of producing a kilo of tea in Sri Lanka is amongst the highest in the world. Rising input costs, declining productivity, uneconomic age profile in tea bushes and high social costs have led to declining profits. Perhaps, higher productivity and cost reduction will have to be achieved for enhancing the competitiveness of 'Ceylon Teas' in the world market in the medium to long term. Therefore, global competitiveness of 'Ceylon Teas' will largely depend on how quickly the industry addresses these vital issues.