Agricultural machinery has evolved greatly for the convenience of the farmers aiming at less effort and minimum expenditure. Singer, a household name in Sri Lanka, has introduced many types of agricultural machinery over the years, lifting the standard and efficiency in the local agricultural sector.

Singer has become the sole agent for the Vikyno Farm Master two wheeler tractor in 2013, a handy product from Vietnam which soon obtained the FMRC accreditation certificate from the Mahailuppallama Agrarian Research Centre.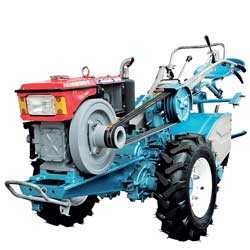 Vikyno Farm Master has become the first choice among the farming community all over the country very soon. Since 2015, Vikyno Farm Master became the most traded land-master in the country, which is a clear testimony to its popularity among the farming community. This two wheeler tractor has high performance, durability, and easy maintenance, which are the key aspects of the two-wheel giant. The Vikyno Farm Master has been designed for tropical countries like Sri Lanka, and Singer imports two models to match with the expectations of our farmers. Vikyno Farm Master FM 250, the heavy-duty machine, comes with a pair of mud wheels, hydrophilic jack, repair kit, and an air pump. The FM 80 tractor too has a bonus including a complete toolbox with all necessary tools.

Singer will have the registration done free of charge for both models making the buyer's experience more hassle-free, and extends a helping hand by giving the first radiator coolant free of charge when buying a Vikyno Farm Master. Coolant is responsible for the proper function of the radiator, which is a vital aspect of a vehicle.

Vikyno Farm Master two wheeler will be an ideal venture not just for farmers but also those who like to invest on a machine.

Apart from these two-wheeler tractors, Singer has introduced a mini-tiller, which is more suitable for hilly terrain. Not only the up-country paddy fields but also the vegetable and potato cultivations will be greatly benefited by this tiller. It is handy, lightweight and easy to handle. Vikyno Farm Master Mini-tiller will help condition the soil and land, while helping to arrange the seed beds. The Mini-tiller too is made in Vietnam, and has a 6 horsepower engine. It digs 10 centimeters deep into the soil in arranging the field. The 36-blade Rotavator too helps to break up, churn, and aerate the soil prior to planting seeds and bulbs. Singer has always won the hearts of Sri Lankan consumers with their incomparable after-sales services, and they assured the same service for Vikyno Farm Master and mini-tiller.

There are special discounts available and easy payment schemes have been introduced island-wide. Singer has maintained its market superiority, has won the Slim-Nelson Most Popular Brand and Consumer Brand awards for the past 13 years, and continues to provide its services with much more excellence.