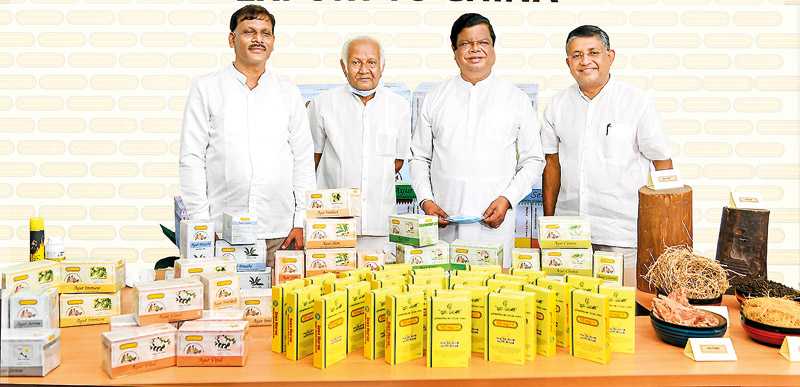 From left: State Minister of Indigenous Medicine, Rural and Ayurveda Hospital Development and Community Health Sisira Jayakody, Hettigoda Group Chairman Deshabandu Ayur. Dr. Victor Hettigoda, Trade Minister Dr. Bandula Gunawardene, Hettigoda Group Managing Director Asoka Hettigoda
---
Hettigoda Industries Ltd., pioneer and leading Ayurveda products manufacturer, Ayurveda healthcare service provider and promoter, with a heritage of over 200 years, passing on to the sixth generation is playing a key role in shaping the future of Ayurveda industry in Sri Lanka and the Asian region, has expanded its product diversification in Chinese market by exporting a range of Ayurveda herbal teas.

Siddhalepa already exports array of Indigenous Ayurveda products to Germany, Russia, UK, France, Czech Republic, USA, China, Japan, Thailand, India, Australia and the Middle East. 

An event to mark the launch of exports to Chinese market took place at Ratmalana, Siddhalepa office complex with attendance of Trade Minister Dr. Bandula Gunawardene, State Minister of Indigenous Medicine, Rural and Ayurveda Hospital Development and Community Health Sisira Jayakody, Hettigoda Group Chairman Deshabandu Ayur. Dr. Victor Hettigoda. 

Speaking at the event Managing Director Asoka Hettigoda said that the growth potential of our country on both Ayurveda products and services exports are high and over the years Siddhalepa has entered in to many such markets and entered china with a range of Ayurveda teas. 

Ayurveda Teas focuses on enhancing general health, well-being and immunisation level and are made of authentic hand-picked ingredients herbs according to stringent manufacturing processes. Siddhalepa Pain Relief Spray for fast relief from pains and aches and Livpro with Heenbovitiya and aloe vera that helps to recover from fatty liver are two recent introductions. 

Siddhalepa always make sure to showcase the heritage and authenticity of 'Hela weda kama' and we have positioned Sri Lanka a top of the mind brand for its indigenous Ayurveda system. Further he commended Government's support and initiatives to look after local industries during current economic down turn due to COVID-19.

Trade Minister Dr. Bandula Gunawardena proclaimed Siddhalepa as the most recognised Sri Lankan Ayurveda brand that has conquered the international market. The arduous journey of Siddhalepa brought fame to Sri Lanka and he extended well wishes for a flourishing growth in both local and international markets.

State Minister Sisira Jayakody commended Siddhalepa's efforts to launch 'Suwa Dharani' Immune Enhancing Medicinal drink according to a concept established by the Ayurveda Department.