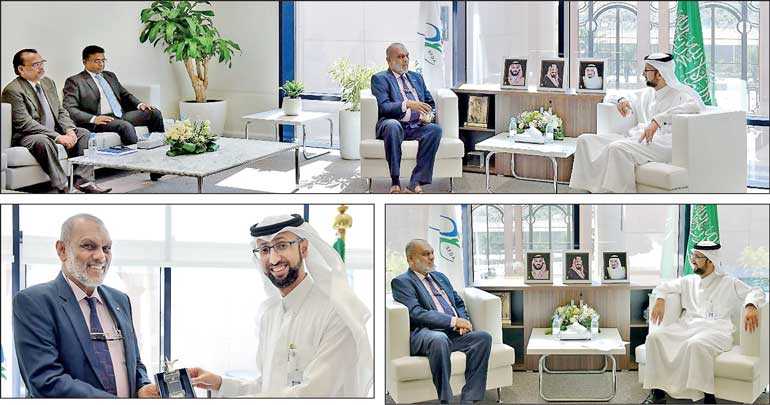 ---
Ambassador of Sri Lanka to the Kingdom of Saudi Arabia Azmi Thassim called on President/CEO of Saudi Food and Drugs Authority (SFDA) of the Kingdom of Saudi Arabia Professor Hisham Saad Aljadhey on 30 October to discuss the modalities in expanding the array of food products exporting from Sri Lanka to Saudi Arabia.

During the discussion, Professor Aljadhey underlined that the SFDA has geared towards the food security initiative of the Saudi Government which includes diversifying and increasing the import base of food products to Saudi Arabia. He also informed that Sri Lanka could also be immensely benefitted from exporting base food products to Saudi Arabia. He further elaborated that rice, fresh and frozen fruits and vegetables, frozen food products which are certified as organic or free from pesticides fetch a good market demand in the Kingdom.

He further requested Sri Lankan tea exporters to continue to export good quality tea and invited them to establish their tea packaging units in King Abdulla Economic City in Jeddah to cater to the growing Saudi consumer base. The Chairmen assured that the SFDA could provide the necessary assistance and guidance for Sri Lankan exporters and investors in this regard.

The Saudi Food and Drug Authority (SFDA) is an independent body which ensures the safety of food and drug for human and animal, and safety of biological and chemical substance as well as electronic products.

Minister Counsellor (Commercial) Sanjeewa Pattiwilla and protocol officer of the Embassy A.L.M Jabeer accompanied the Ambassador at this meeting.