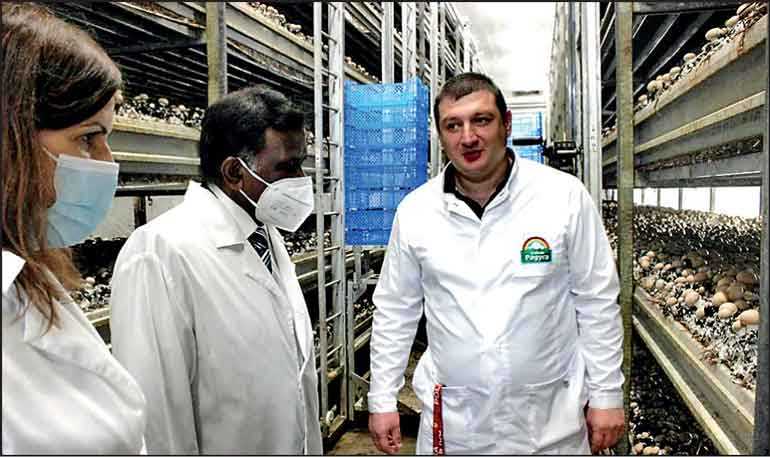 ---
Prominent agricultural institutions and industries in Russia have agreed to assist the Sri Lankan agriculture sector. This was highlighted during the site visits made by the Sri Lankan Ambassador to Russia Prof. M.D. Lamawansa and his staff to one of the most leading agricultural regions of Russia, the Kursk region.

On 31 August the Embassy staff visited the headquarters of LLC Mushroom Rainbow, the leading grower and supplier of fresh mushrooms in Russia. The Sri Lankan delegation was received by Director General, chief technologist and senior specialists of the facility, who arranged a full tour on the premises of the plant, particularly displaying the full-cycle of mushrooms production starting with three-stage fully automated facility where mushroom substrate and compost are produced, zones of mushroom cultivation, divisions of packaging and logistics.

The annual production capacity of the facility is 17,000 tons which is the highest in Russia. LLC Mushroom Rainbow is willing to accept an interested Sri Lankans to on a study tour to its facility.

With the international restrictions posed on the Russian economy, there has been a tremendous effort in Russia to produce mushroom in quantities enough for its consumers. Such efforts have resulted in establishing large scale mushroom growing facilities in several regions of Russia.

The Embassy staff visited the Kursk State Agricultural Academy named after Prof. Ekaterina Kharchenko. The Academy offers more than 130 educational programs including agricultural technology, veterinary medicine, engineering and economics. It has eight scientific schools with significant research work being done in the fields of biotechnology, veterinary pharmacology, agronomy and agrochemistry. Academy is willing to sign a memorandum of understanding for collaboration with Sri Lanka.

The Embassy delegation also visited the Kursk Federal Agricultural Research Institute to discuss collaboration and joint research projects, in the areas relevant to Sri Lanka such as soil conservation, land evaluation, productivity enhancement, food preservation, etc.

Prior to visiting the facilities, the Embassy received inputs from the Sri Lankan Ministry of Agriculture, Post-Harvest Institute, Faculties of Agriculture of Sri Lankan universities, Hector Kobbekaduwa Agrarian Research Institute on the areas that is relevant to Sri Lanka. The findings of the visit will be shared with the agriculture sector in Sri Lanka following which a meeting with the Russian Ministry of Agriculture is planned by the Embassy.