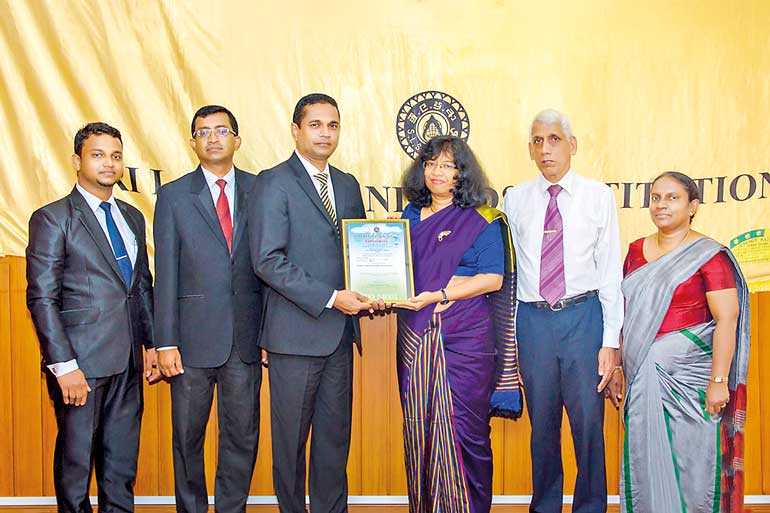 ISO 14001:2015 EMS certificate being bestowed to Royal Cashews. From left: New Product Research and Development Manager Ruwan Danthanarayana, General Manager Nimal Ananda, Royal Cashews Chairman/Managing Director Dr. Ruwan Wathugala, SLSI Director General Dr. Siddhika G. Senerath, SLSI Deputy Director General A. Ekanayake and SLSI Additional Deputy Director General Samanthi Narangoda
---
Royal Cashews (Royal Food Marketing Ltd.), which is Sri Lanka's first and foremost cashew processing company, was conferred with the international ISO 14001:2015 EMS (Environmental Management Standard) certification.
This international certification was conferred to Royal Cashews for methodical environmental management processes adhered to by the company.

The certificate was presented to Royal Food Marketing Company Chairman/Managing Director Dr. Ruwan Wathugala by The Sri Lanka Standards Institution (SLSI) Director General Dr. Siddhika G. Senerath at the SLSI head office.

The audit towards Royal Cashews environmental management processes has been done by SLSI in association with Sri Lanka Industry Development Board (IDB) and National Cleaner Products Center (NCPC).

Royal Food Marketing Company also has ISO 22000, HACCP and GMP standard certifications. It is also the foremost cashew processing company in Sri Lanka conferred with all standard certifications.

Dr. Wathugala speaking of the newest certification said, his company uses world class technology to manufacture and process cashew products.

"We are the only company in Sri Lanka that has been bestowed with all the standard certificates needed for quality cashew processing. The ISO 14001:2015 EMS certificate being the latest certificate bestowed to our company endorses our green-oriented business with cutting-edge technology. This will be good news for our local and foreign loyal customers. We are a green-oriented company. We process cashew products while protecting the environment. We allocate a portion of money earned from our business to protect the environment."

Royal Cashews having 20 outlets is the largest network to sell cashew products in Sri Lanka. These outlets offer hygienic cashew products to local and foreign clients that are manufactured with cutting edge technology.

Royal Cashews outlets are situated at Crescat (Colombo 3), Marino Mall (Colombo 3), World Trade Centre, Liberty Plaza, Arcade (Independence Square), K-Zone (Ja Ela and Moratuwa), Kandy City Centere (Kandy), Southern Highway (Welipenna stop), Kiribathgoda, Nugegoda, Galle, Gampaha and Borella.

With the introduction of 'online delivery system' by the company recently, customers were offered with the opportunity to order products online and get fresh Royal Cashew products delivered to their doorsteps.

Royal Cashews products come in diverse mouth-watering tastes. These products are marketed with 19 tastes in 682 types of containers and in 101 containers specially made for gifting purposes. Royal Cashews products are exported to Malaysia, Japan, USA, UK, New Zeeland, Germany, Australia, Austria, Maldives and Saudi Arabia.

Royal Cashews brand has won many awards, accolades and endorsed with standard certifications. The brand has won Pro Food 2009 and 2011 awards for nature-friendly packaging, MACO business excellence award, Lanka Star President's Gold Award and ASIASTAR 2015 award for Green packaging.

Royal Food Marketing Company has two subsidiaries; Greenway Asia Lanka and Trust Lanka Suppliers.