High Commissioner of New Zealand to Sri Lanka Joanna Kempkers said that she will encourage New Zealand investors to invest in Sri Lankan fisheries projects.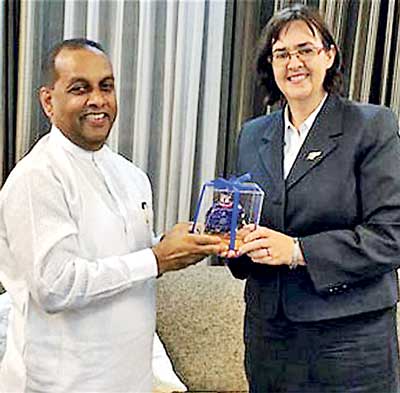 The High Commissioner gave this assurance during a discussion with Fisheries and Aquatic Resources Development Minister Mahinda Amaraweera, at the Minister's official residence recently.

During the discussion, a number of bilateral issues of mutual interest to Sri Lanka and New Zealand were discussed.

New Zealand has been a pioneer in creating a management system for the sustainable development of marine fisheries industry, and the High Commissioner pledged to share New Zealand's experience with Sri Lanka for a sustainable fishing industry in the country.

Accordingly, steps will be taken to provide training on fishery management to the fisheries officials and stakeholders. A project for fish products development based in the Mannar region in the Northern Province is already being carried out with the assistance of New Zealand.

The investors of the project have expressed willingness to further invest in the fisheries sector.

Expressing his views, the Minister said that there are many new trends in the fisheries sector in Sri Lanka. Accordingly, the new national fisheries policy proposed will create a strong background for investing in the fisheries sector in the country, he added.