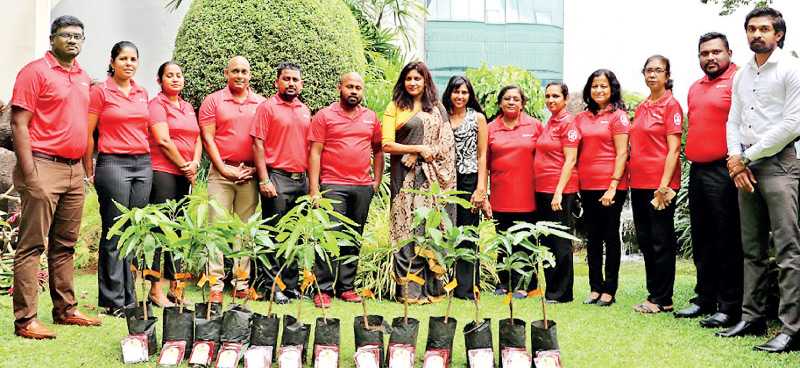 ---
The NDB Home Agri Competition gets underway with 33 participants from the bank's head office and branches. The competition was launched with the donation of a mango plant to all competitors and a set of seed packs containing a variety of vegetable seeds.

The lockdown situation in the island motivated and led many Sri Lankans to start growing their own fresh fruits and vegetables. Even urban Sri Lankans with limited space took up home gardening. The 'new normal' situation and the concerns for safety when procuring essentials, caused many to embrace self-sustainability during the crisis.

As a responsible corporate citizen, National Development Bank PLC (NDB) makes every effort to empower its own employees to live a sustainable life. The 'NDB Home Agri' Project which commenced with the lockdown, culminated recently with the 'NDB Home Agri Competition'. Over 30 employees from the head office and branches were selected for the competition on a first come first serve basis. A variety of seeds (vegetables and fruits) and a mango plant were given to each competitor. The rules are simple; start growing, record your progress, be creative and make use of the learnings and tips shared in the NDB Home Agri Videos, and the three best 'Home Agri Projects' will win valuable agri-related prizes.

The NDB Home Agri Videos covered key topics such as, benefits of home gardening, soil preparation, gardening in a small space, creative use of discarded items as plant pots, organic fertiliser, natural pesticides, natural pots, and easy to grow vegetables, fruits and flowers. A total of five videos were shared over a period, internally as well on social media, and the enthusiasm amongst the staff led to the launch of the competition.

Home gardens provide health and environmental benefits, as well as mental contentment to the gardener. The beauty of Home Agri is that it gives you instant access to fresh produce and you don't need a large space to grow. In fact, you don't really need a garden; a rooftop, front porch, balcony are all viable spots for growing vegetables, fruits and flowers. There are many great reasons to garden, but what many people are unaware of is how amazing these activities are for the environment. Gardening impacts everything from the air we breathe to minimising of the carbon footprint we leave behind.

Plants naturally clean the air and ground and produce oxygen through the process of photosynthesis. They help recycle the carbon dioxide we expel when we breathe into oxygen. They also remove any chemicals and bacteria that may be floating around in the air, providing an overall healthier environment to be within. Most people don't know this, but plants also help to filter chemicals and bacteria from the water in the ground. Plant roots and mulch holds the soil in its place and reduce erosions. This keeps unwanted sediment out of streams, roads, and storm drains. Trees and plants also help to reduce noise pollution by absorbing sound.

Organically growing our own food is sustainable and the use of organic fertilisers nourishes our soil. Home gardening can also be a fun activity the whole family can get involved in and can be used to teach our children the importance of 'going green'. Gardening is well worth our efforts for both personal and environmental concerns. Any sort of greenery that we grow is going to provide a positive impact on our environment.

NDB Bank, crowned as Sri Lanka's Best Bank 2021 by the prestigious Global Finance Magazine of USA, fresh on the heels of being recognised as The Bank of the Year Sri Lanka, by The Banker Magazine UK, is the fourth largest listed bank in Sri Lanka and the parent company of the NDB Group. The only financial services conglomerate in Sri Lanka, NDB Group is uniquely positioned towards assisting the growth and development of the Sri Lankan capital market to provide its customers seamless access to the product and service offerings of all its group companies.