KVPL and TTEL reports to be displayed at Alfred Nobel Museum
Selection qualifies both companies for Global Sustainability Awards
KVPL wins in Business Sector by Products – Tea category
TTEL wins country award for Best Sustainability Annual Report Design
---
Hayleys Plantations subsidiaries Kelani Valley Plantations (KVPL) and Talawakelle Tea Estates (TTEL) of Sri Lanka's leading plantations business sector were recognised as country winners at the prestigious Hallbars Sustainability Report Awards 2020.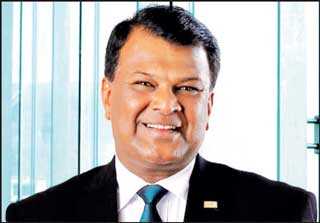 Hayleys Plantations Managing Director Dr. Roshan Rajadurai
---


KVPL's Annual Report for 2017/2018, 'Growth Beyond Measure', was recognised as the country winner in the Business Sector by Products – Tea category, while TTEL's Integrated Annual Report for 2018/ 2019 'Cultured' was recognised as the country winner for the Best Sustainability Annual Report Design.

The awards are designed to showcase and encourage a sweeping shift in international efforts towards sustainability, by evaluating the annual reports of nominees across three main pillars: social, environmental and financial.

In a bid to increase global engagement in sustainability, the reports of all country winners are displayed in a special room at the 'Nobelmuseum' in Karlskoga – a museum dedicated to the memory of the inventor, entrepreneur, donator and founder of the Nobel Prize, Alfred Nobel.

"Being part of an organisation that has championed sustainability in Sri Lanka for many years, it is inspiring to see the promotion of such practices on a prestigious platform. This is a true honour for both companies under the banner of Hayleys Plantations to have been ranked among such globally renowned brands and leaders in sustainability," Hayleys Plantations Managing Director Dr. Roshan Rajadurai said.

KVPL was recognised on par with leading global companies, such as TATA from India and Finlays from the UK, while TTEL won recognition alongside leading corporates from Austria, Australia, Germany, Italy and the Netherlands.

Notably, KVPL and TTEL are now qualified to participate in the Global Sustainability Awards, competing with the reports of other countries in the same category.

The Hayleys Plantations Sector is comprised of Kelani Valley Plantations PLC (KVPL), Talawakelle Tea Estates PLC (TTEL), and Horana Plantations PLC (HPL). All three companies have consistently maintained top ranks among Sri Lanka's regional plantation companies in rubber and tea, respectively. The sector manages 60 tea and rubber estates, and over 26,137 hectares of land, while accounting for 4.5% and 2.5% of Sri Lanka's tea and rubber production, respectively.

Notably, TTEL is Sri Lanka's first plantations company to secure the ISO 50001:2018 for Energy Management System, ISO 14064:2018 for Greenhouse Gases (GHG) Inventory Verification and ISO 14001:2015 for Environment Management Systems (EMS). Similarly, KVPL is also renowned for having become the first company to secure the Organic Rubber Certification.

Hayleys Plantations has consistently won local and global recognition for its pioneering work in the field of sustainability, winning the Presidential Environmental Awards in 2019, as the Best Green Reporter of the year on National Green Reporting System of the year 2019. The company was also presented with the Award for Best Integrated Report at the Asia Best Sustainability Reporting Awards ceremony.

TTEL won accolades for Best Materiality Reporting, Best Environmental Reporting, Best Carbon Disclosure, Best SDG Reporting and Best Report Design in the Asia Sustainability Reporting Awards 2018 and 2019. Locally, the company also won the Best Integrated Report in the Plantation Sector at the CMA Excellence in Integrated Reporting Awards in 2018 and2019. KVPL became the first plantations company to win the overall silver Award at National Health and Wellbeing Award 2019, organised by Japan External Trade Organisation (JETRO) and Chamber of young Lankan Entrepreneurs (COYLE). Also, KVPL and TTEL became the joint Gold Award at the 55th CA Annual Report Awards 2019 under the Plantation Company Category. Similarly, TTEL and KVPL won the Overall Gold Award for Overall Business Excellence in 2018 and 2019, respectively. Also, the winner and Silver Award for Excellence in Environmental Sustainability in the National Business Excellence Awards 2018 and 2019.