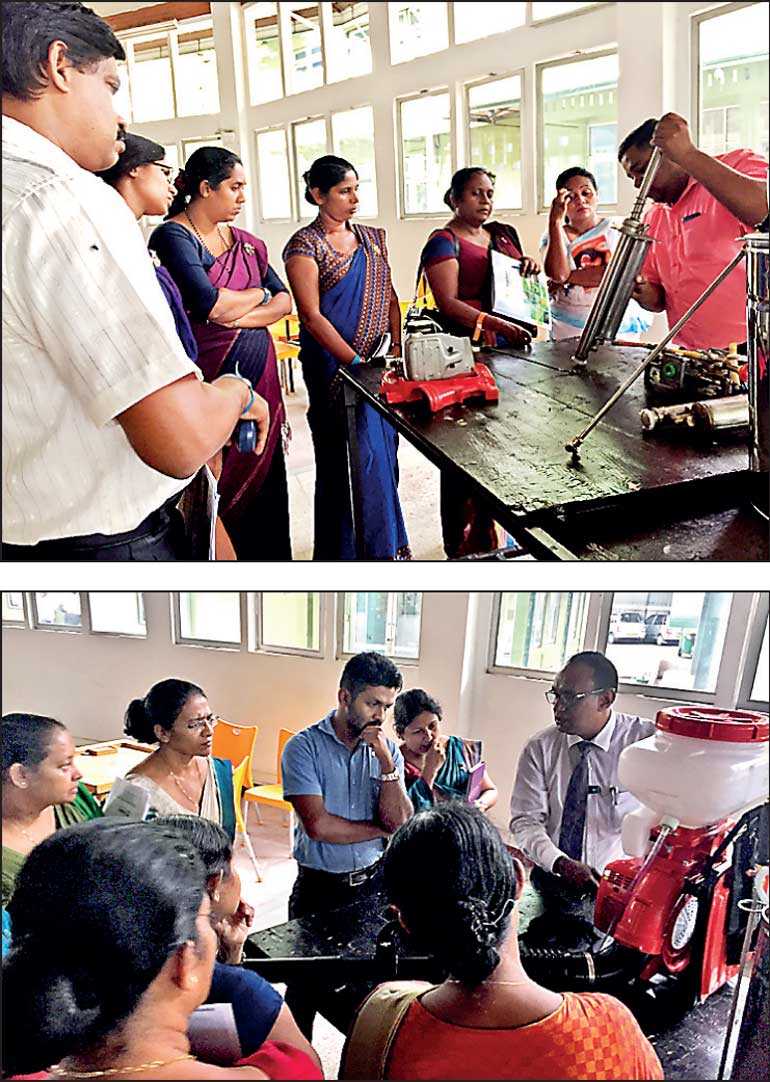 ---
In response to a request made by the National Institute of Education in September, Hayleys Agriculture Training School; a training institution registered under the Tertiary and Vocational Education Commission (TVEC), conducted yet another training program on 'Modern Technology in Agriculture' on 1 and 2 November for 55 A/Level science teachers who hailed from Western, North Western, Central and Southern Provinces.

With the rising of the world population and limited availability of arable land, countries in the developing world are going to face serious problems in the area of food security. According to population forecasts, the world population will rise from 7.4 billion to 8.5 billion in 2030. Experts claim that 90% of the population growth will be observed in developing countries.

There has to be a 50% increase in food production to meet the demand for food. However, only about an additional 10% of current arable, non-protected land will be available for cultivation. Furthermore, it is estimated that approximately 48% of the crops are damaged because of weeds, fungus, and infestation by insects.

In addition, climate change and its impacts such as average increase of global temperature by 0.170C per decade causing frequent occurrences of intense droughts and floods and increase in the number of dry days are posing serious challenges to food production.

Sri Lanka has no option but to follow the developing world and turn to innovative and modern technology in agriculture if we are to overcome these challenges and maintain food security. It is also observed that adoption of technology is not taking place at the required pace in Sri Lanka.

According to a research paper titled 'Factors Constraining Farmers' Adoption of New Agricultural Technology Program in Hambantota District in Sri Lanka: Perceptions of Agriculture Extension Officers' written by K.N.N. Silva, University of Ruhuna, it is seen that a majority of AI officers perceived that only 40-60% of farmers actually adopted a new technology program that had been introduced recently.

As for the percentage of farmers who proceeded to adopt each stage of the multi-stage process, the majority of the farmers in the community progressed to the awareness stage but only about 50% of farmers continued until the final adoption stage was reached.

Among the factors constraining the adoption could be cited incompatibility and complexity of new technology and socio-economic and cultural constraints in addition to lack of resources. Inadequacies in extension intervention, technical training and information were also seen as the main issues that compromised the information and knowledge network.

Therefore it is evident that farmer communities at large should be educated regarding the complexity of some of the technologies which will help better and faster adoption. The training program of Hayleys Agriculture, targeting A/L science teachers is right in line with meeting this need.

The traditional methods of cultivating are not yielding profits with social, economic and political factors changing at a rapid pace. The younger generation is moving away from agriculture to other more lucrative vocations.

Hayleys Agriculture, a trailblazer, trendsetter, and a leader in introducing new technology to Sri Lanka, has embarked on a program to inspire the next generation to take up agriculture in a commercial manner.

The training program consisted of sessions such as agricultural pest and disease management and chemistry, agricultural mechanisation, agricultural irrigation systems, and protected houses, drone technology, and Electro Static Spraying (ESS) technology.