On 25 September, Ambassador Jayatilleka and Sanja Jayatilleka attended a gala dinner organised by the Sri Lankan Tea Board to inaugurate the Ceylon Tea global promotion campaign in Moscow. A large number of guests including high ranking Government officials, members of the trade sector in Moscow, friends and well-wishers of Sri Lanka, media representatives and Sri Lankan nationals were present at the reception.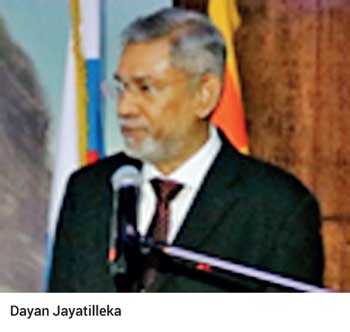 The event started with the opening remarks of Ambassador Jayatilleka and the ceremony of lighting the traditional oil lamp. In his remarks Ambassador Jayatilleka spoke about the importance of tea in the lifestyle of Sri Lankans and people from various walks of life all over the world. The Ambassador underlined the symbolic essence of inaugurating the promotion campaign in the capital of Russia emphasising the unconditional, long-term, warm, friendly and supportive relations established between the two countries.

The guests enjoyed the national dance performance by Chandana Wickramasinghe and The Dancers' Guild and pure best quality Ceylon tea. At the end of the dinner all guests received tea gifts representing seven unique tastes from seven regions of the island where it was produced.

The dinner was preceded by a press conference where the Sri Lankan promotion campaign delegates addressed the representatives of Russian mass media. Senior officials from Sri Lanka as well as Ambassador Jayatilleka made presentations on work to be carried out in 12 countries of the world including Russia, Ukraine, Japan, China, USA, Turkey, Australia, UAE, Germany, Saudi Arabia, Iran and Chili, to facilitate awareness of people and develop export opportunities.

Before the press conference Ambassador Jayatilleka hosted a working lunch for the Sri Lankan delegation including Ministry of Plantation Industries Secretary J.A. Ranjith, SLTB Chairman Lucille Wijewardena, SLTB Director General Anura Siriwardena, SLTB Director (Promotion) Pavithri Peiris, SLTB Consultant on Global Campaign Hasitha De Alwis, SLTB Deputy Tea Commissioner Mahesh Jayawaradane, Rusteacoffee Association Director General Ramaz Chanturiya, and former Ambassador of Sri Lanka to Russia Dr. Saman Weerasinghe, where a new strategic thinking for the next chapter in the history of the Ceylon tea industry was discussed.