By Charumini de Silva

In a fresh attempt to boost exports, Primary Industries Minister Daya Gamage last week urged the spices industry to focus more on value addition and market medicinal benefits if the sector were to enhance export earnings to $1.5 billion.

Minister of Primary Industries Daya Gamage addressing the AGM. From left: SAPPTA 1st VC Yaan La Brooy, Head of Corporate Banking People's Bank Aruni Goonetilleke, SAPPTA Chairman Vernon Abeyratne, SAPPTA 2nd VC Prins Gunasekare, SAPPTA AGM Sub Committee Chairman S.A.Cader and CCC Assistant Secretary General Gillian Nugara
Addressing at the Spices and Allied Products Producers and Traders Association (SAPPTA) Annual General Meeting (AGM) last Friday, he said if the industry could focus more on the medicinal value of the spices we export, the country could earn a better revenue while serving a lot of people around the world.

He pointed out increasing export revenue of the country was the only way out from the current debt-ridden economy.

Despite apparel sector revenue accounting for 43%, he noted that the value addition in the sector was low compared to spices and allied products like cinnamon and pepper.

The Minister said cinnamon was the highest earning crop in the spice exports, where they were expecting revenue of $ 1 billion. However, he emphasised the importance of increasing the value additions and marketing its medicinal values.

According to a survey conducted by the Ministry, cinnamon is exported to only 13 countries and 52% is to Mexico. In addition only 15% is exported after value additions, while the majority is exported in bulk form.

"We have failed to properly market our spices to the world with value additions, despite having the Export Development Board and organisations like SAPPTA. Our export value to the global market is around 13% and value-wise it is 33%. We have not been able to provide Country of Origin for pepper at the point of exporting. These are some vital factors that need to be ironed out in order to increase our export earnings," he stated.

Noting that he travels mostly in his helicopter to save time, it was pointed that except palm oil, estates like coconut, tea and cinnamon have not fully utilised the lands completely. "There is no need to increase the land area. If we can convert those unused lands in the estates, we can easily enhance yields. Unfortunately, our planters and owners of the lands are not very concerned about it."

He claimed that most of the coconut estates were family owned and currently most of them are based in Colombo engaged in white collar jobs while enjoying earnings generated from those estates as a bonus income. The Minister said if those lands are properly utilised, the yields could be tripled.

Further it was pointed out that only a very few companies had invested in sourcing raw materials locally to compete head-to-head with global factories.

The Minister assured low interest loans would be provided to uplift small-scale entrepreneurs with the assistance of the World Bank and local banks. "As I closely work with the businesses, I understand all the hardships that you businessmen encounter on a daily basis. It is a nightmare to obtain a loan from banks without a security. We are now working with the World Bank to get a grant of around Rs.100 million to uplift the primary industries and provide loans with low interest rates of 5%-6%," he added. Gamage said they had already received 1,300 applications and hoped to assist nearly 2,000 business proposals.

In addition he said Ministry officials were in the process of developing a software to collect data, which is important to uplift primary industries in the country.

The Minister categorically asserted that he was not interested in executing any project through the Government, insisting he would do them with private sector.

–Pix by Indraratne Balasuriya
Pepper cultivatorsto get Rs. 200 per kilo subsidy boost
Giving a little breathing space to pepper cultivators in the country, Primary Industries Minister Daya Gamage assured he would put forward a Cabinet proposal s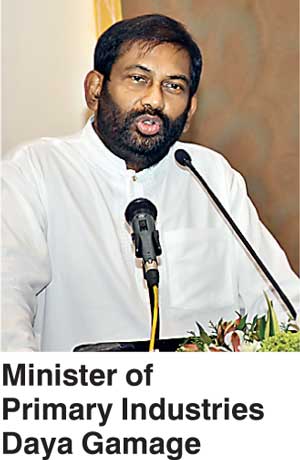 eeking a subsidy of Rs. 200 per kilo in the near future.

He made these remarks at the Spices and Allied Products Producers and Traders Association (SAPPTA) AGM held last week.

SAPPTA Chairman Vernon
Abeyratne said although there were 35,000 hectares under pepper cultivation, the yield was the lowest among pepper cultivating countries.
"Of course we understand that we are not using pesticides, but we have to introduce high-yielding varieties and maintain the pepper plants to increase the yields."

Pepper prices are in the range of Rs. 1,000 to Rs.750-800 per kilogram, mainly due to the falling of the international market in light of increased production from other origins.

"World production has increased over the demand and a further decline is inevitable in January and February when the new Vietnam crop commences in December and January."

Abeyratne also said the 45th Annual Session of the International Pepper Community (IPC) would be held in Sri Lanka from 30 October to 2 November in Kandy. This annual session brings the stakeholders of the pepper industry together to discuss important issues pertaining to the industry.

He believes that this annual session will be a great opportunity for Sri Lankan exporters to meet buyers and negotiate fresh orders, noting that the local crop is in full swing at present.
SAPTA claims Customs discouraging spice exports
The Spices and Allied Products Producers and Traders Association (SAPPTA) claims that export procedures and documentation have been becoming increasingly difficult and more time-consuming in the recent past, discouraging the export of spices.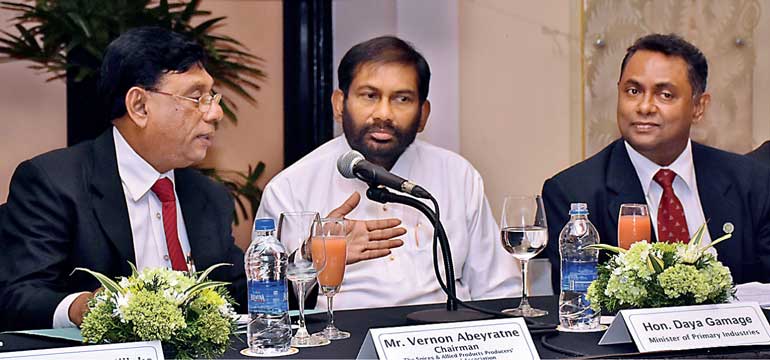 SAPPTA Chairman Vernon Abeyratne, Minister of Primary Industries Daya Gamage and SAPPTA 2nd VC Prins Gunasekare
Elected for the third consecutive year at the SAPPTA AGM held last week, Chairman Vernon Abeyratne urged the Government to iron out the difficulties faced by the spices exporters and insisted the industry concentrate on niche markets to obtain better prices, highlighting quality standards.

Although SAPPTA was successful in getting export cess charged by Customs removed on spices since November 2015, the exporters are yet to get the refund.

Noting that land area and quantities of spices were limited in the country, he said the products however are appealing in niche markets given the high quality.

"We have to increase our yield to meet the increasing world demand and promote plantation companies to utilise their unproductive lands for cultivation of spices, cocoa, garcinia, lemon grass, ginger, turmeric and cashew."

Despite the notable interest seen from plantation companies to cultivate cinnamon and pepper, Abeyratne said there weren't sufficient plantation materials available to carry out the plantation programs. Hence, he called on the Department of Export Agriculture to coordinate with plantation companies to meet their requirements of planting materials.

He emphasised on the need to recognise cinnamon peelers with a suitable designation and increase the facilities available to attract them to the industry, noting that there was a considerable shortage of experienced peelers despite there being two cinnamon training centres in the country.