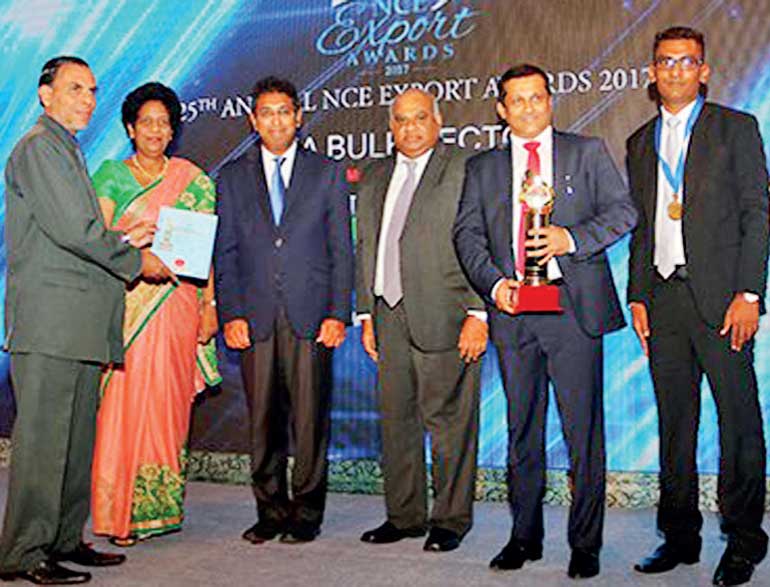 Winning team of Ceylon Tea Land with the award and certificate
Ceylon Tea Land Ltd. could seize the Gold award in the Medium Scale category for the field of tea stock exports at NCE Exports Excellence 2017 organised by National Chamber of Exporters. NCE Exports Excellence 2017 had been organised at Hilton Hotel, Colombo with the outstanding presence of the Prime Minister Ranil Wickremesinghe recently. Though Ceylon Tea Land Ltd. saw its dawn with Dr. M.H.M. Rumie as the Chairman and the Managing Director and Niroza Rumie as the Director in small proportions when it came to its approach to the world of business in 2007, it has been able to elevate itself as a prominent player in the field of exporting Sri Lankan Black Tea and Green Tea under the brand name 'Rivon'. America, Russia, Germany, Ukraine, Azerbaijan, Kazakhstan, Lithuania are not all, but some countries in their package of tea export destinations in Europe and the Middle East. ISO, GMP and HACCP are the quality assurances that have made their way into the family of Ceylon Tea Land Ltd.

Tea sachets which can be dipped right into the bottom of the mug, packets of tea and large bags of tea are exported under the brand name 'Rivon' and Private label too. "Our foreign customers have retained their confidence on our capacity to dispatch tea products of the highest quality with no disturbance in time and speed. We are dedicated to supply products of tea espousing distinguished excellence to meet demands of our customers. We use 100% Pure Ceylon Tea the best raw tea leaves in Sri Lanka for our products of tea. This Gold award is a result of the collective effort of our entire staff. Similarly, it must be emphasised that I bring all our business partners who bring orders to us into my thankful remembrance," said Dr. M.H.M. Rumie evoking on the victory.