By Darshana Abayasingha
There is need for greater cooperation and unity amongst all stakeholders in Sri Lanka's tea trade, and for government and regulators to support the industry's strong fundamentals to secure the future of Ceylon Tea, says Sanje Widyaratne, Chairman and Chief Executive of Walters Bay, USA. Commenting on the future of the global tea trade, Widyaratne believes there are distinct channels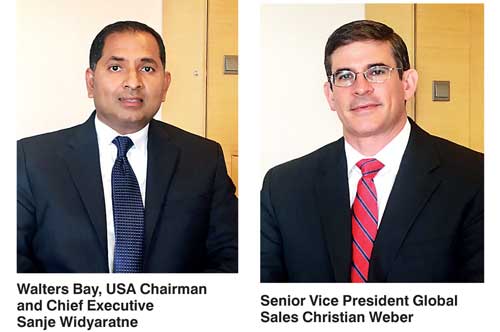 and opportunities emerging in the ready-to-drink segment with over $ 2 billion in value in the United Sates alone, plus, the freshly brewed iced teas and the specialty teas markets. In the US, the ready-to-drink segment has recorded a CAGR of over 16% over the past five years, and Ceylon Tea must be prepared to take on these new channels, he avers.

Widyaratne was in Colombo last month to address the Annual General Meeting of the Tea Exporters Association. His company, Walters Bay, is based in the United States and is a vertically integrated pure Ceylon Tea producer and exporter, with tea estates, processing and packaging factories in Sri Lanka. The company is the largest exporter of value-added Ceylon Tea to the US.

"Something we have done for the Ceylon Tea brand is redefine the concept of value addition. Traditionally, you are a star if you are export 100% of produce as value added. But what is value-added tea? For us, the definition of value-added is quite different and it goes beyond the concept of putting it in a pretty box. We take our teas and ensure they adhere to the highest possible standards of microbial testing. We subject them to ferrous and non-ferrous detection, and then subject to a colour photo spectrometer to measure colour and clarity. We take these certificates and present them to the buyer and say here's 100% purest form of Ceylon Tea and we demand a higher price. That's our definition of value addition. Our customers nowadays demand that; to qualify what we call premium. That's how we think about marketing Ceylon Tea, and this has to be reflected throughout the entire supply chain. Each and every stakeholder in the supply chain has to be unified in this endeavour to produce the very best all the way to end marketing," Widyaratne states.

His company's foray into the US market had been a steep learning curve, avers Widyaratne, who adds it is our moral duty to brand Ceylon Tea before a company markets itself. Walters Bay had aggressively marketed Ceylon Tea in the US, promoting the merits of the Sri Lankan tea industry, focus on sustainability and its impeccable quality. Convincing buyers and consumers to pay almost 40 to 50% more than a competitive product is a challenging task, coupled with the factor that 85% of its market constituted of iced tea, which presents many cheap ready-to-drink alternatives. Waidyaratne adds that in markets like the US exporters and marketers need to consider the elements of the tea leaf, then brewing machines and then water filtration as coast-to-coast the water table in the US is different. In addition, countries like the US present the question of scale. Chains like SubWay have 17,000 locations across the country, whilst even small franchises have close to 6,000 points. Thus, when entering a market like the US, each of these elements including distribution and logistics need to be carefully considered, Widyaratne advises. The Chairman of Walters Bay describes Ceylon Tea as our island's national treasure, adding that it was "a crying shame" that Americans did not know about it. The company then went on to develop a 100% Pure Ceylon Iced Tea, which has become hugely popular in the market, plus, winning the Best Iced Tea award for 14 years running.

The company is also present in the Asia-Pacific region, but Widyaratne says it is relatively easier to market the produce there as Ceylon Tea is better known in the region. However, he points out that every market has different flavour profiles, drinking habits and consumer trends that vary further with age groups, and called on the local industry to be more proactive on tackling every channel. For instance, millennials want substance with their product; they need to understand what they are consuming, is it sustainably produced and driven, the quality aspects or is it just sheer economics – it must contain a tangible value proposition rather than title it just premium. They will question 'why should I pay an extra price for a particular product' and marketing to them becomes a lot tougher.

Senior Vice President Global Sales, Christian Weber, delved further into the marketing aspects of Ceylon Tea globally. "Modern consumers have a lot more questions, so you need to have all your ducks in a row. If the story is not right, they will figure it out and they are very brand unloyal. The moment you take a different turn with your approach, you are yesterday's news. For tea, the consumer direct marketing space shows a lot of promise, but large volumes are still going through institutional buyers. So, for us the challenge is convince buyers to market directly to groups like the millennials and tell them we have what they looking for in Ceylon Tea. The big challenge in the US is the education part. For instance, with iced tea there was never really a consideration on its origin. So, we are trying to bring a premium orientation to a market space that hasn't cared about origin. The pitch for us is different, and for the competition it is about price, equipment programmes, service and branding. Our entire sales approach is about education – why drink Ceylon Tea. The US is probably the biggest importer of tea, and Sri Lanka the biggest exporter in terms of dollars. So why was there a mismatch in the two in terms of volume. Part of it is education. The US is a market that wants premium that wants quality, but they don't know Ceylon Tea."

In a milieu where margins are becoming tighter, Ceylon Tea faces stiff competition from countries such as Kenya and Argentina, which produces at a significantly lower price. Price remains a significant challenge for quality Sri Lankan teas, but higher price brings benefits for the entire value chain locally, ensuring the sustainability of the industry. With most of Sri Lanka's tea ending up at the auction, where it is then sold and blended with other international brands there is need for a greater cohesive branding and communication effort Widyaratne asserts.

"With Ceylon Tea, Sri Lanka has all the fundamentals elements nailed down. Sustainability, worker wagers, good agricultural practices; but it is unfortunate that this message of sustainability is not broadcast to the rest to the world. If the regulator and policy makers are out there helping us with digital and print campaigns broadcasting the message of sustainability with respect to Ceylon Tea, that would make a massive difference. Walters Bay is out there branding Ceylon Tea as the world's best, but if the regulator can give us a helping hand broadcasting it then there is third party endorsement and we can point to that and say this is the what the government of Sri Lanka is adding. If you look at the stakeholders in the industry, each stakeholder is disconnected from the other. Whether it's economically or politically driven they all tend to operate in their own silos. Therefore, it is challenging to have a cohesive marketing strategy for Ceylon Tea because of these disconnects. We hope for a unified strategy and vision and a singular goal, where all stakeholders have solidarity. It will be challenging, but it must be done," he adds. Is Ceylon Tea ready to take on the world and its new challenges and demands? The answer it appears is no.

Walters Bay exports over 2 million kilograms of tea to the US from Sri Lanka and a further 1 million kilograms globally, through a fully vertically integrated operation. The company says the model guarantees the quality of teas, and allows origin traceability and ability to track teas through every step of the process through growing, hand-plucking, production and packaging.