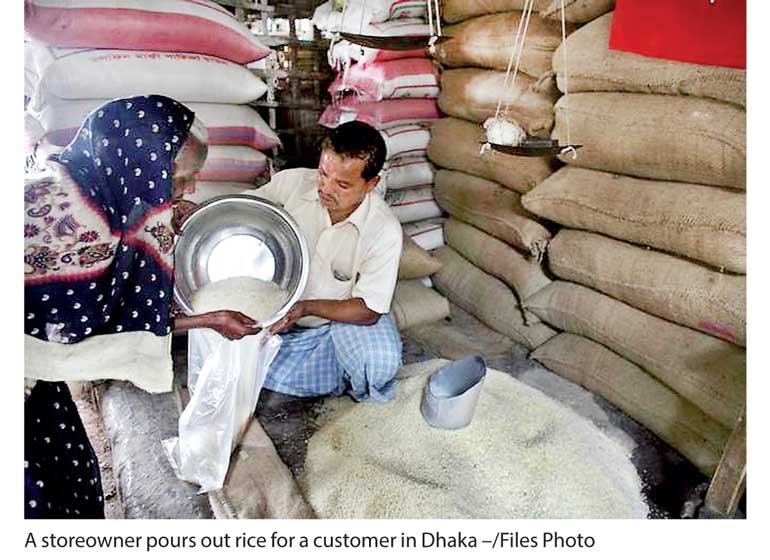 Second cut in rice duty in less than two months
Bangladesh a major rice importer after floods cut output
High prices a worry; Dhaka seeks to buy 1.5 m tones
Bangladesh demand could stoke Asia rice prices
DHAKA (Reuters): Bangladesh will slash the duty on rice imports to cool high local prices of the staple grain, the country's food minister said on Wednesday, the second cut in less than two months.

The import duty on rice will be lowered to 2% from 10%, Food Minister Kamrul Islam told reporters, down from 28% in June.

Bangladesh, the world's fourth-biggest rice producer, has emerged as a major importer of the grain this year due to depleted stocks and record high local prices following flash floods in April that cut around 1 million tons of rice production.

"We have taken the decision anticipating major floods that could further cut rice production," Islam said, adding the circular outlining the cut would be issued in a day or two.

Growing demand from Bangladesh could help stoke Asian rice prices that hit multi-year highs in June.

The government is making a frantic effort to build buffer stocks as it aims to import as much as 1.5 million tons of rice in the year to June.

Bangladesh has bought 250,000 tons of rice from Vietnam in a state-to-state deal and is issuing a series of tenders after its initial plans to import the grain from Thailand and India suffered a setback over high prices.

The government is in talks with Cambodia and Myanmar to import rice while it is also engaged in a second round of discussions with Thailand and India.

Rice is a staple food for Bangladesh's 160 million people and high prices pose a problem for the government which faces a national election next year.

Bangladesh produces around 34 million tons of rice annually but uses almost all its production to feed its population. It often requires imports to cope with shortages caused by floods or droughts.

Bangladesh also has a major wheat import need after floods damaged its crops but tough state purchasing conditions and slow ship unloading in ports mean trading houses are unwilling to sell grain to the Asian country.