GSC Report highlights opportunities and challenges
Green Space Consultancies'(GSC) latest report, 'Understanding Farmer Perspectives on Proposed Tobacco Growing Ban and Opportunity to Diversify', underscores some of the deficiencies in Sri Lanka's agriculture policy; a country which for centuries past was self-sufficient with agricultural commodities and cash crop. The rot stems from nearly five decades ago, beginning with the nationalisation of the plantations, and this was effectively narratedby former Ceylon Tea Board Chairman Rohan Pethiyagoda.

"By itself nationalisation was a retrograde step, it didn't help the industry at all. The huge body of intellectual capital that was represented by the plantation community at the time, was virtually expelled. They went off and became our principal competitors by setting up a rival tea industry in Kenya. So, we made a huge strategic mistake. As important as land reform was, we set about it in the most unprofessional way," he averred during an interview last year on The History of Ceylon Tea. Sri Lanka lost a great many things during that regime, andsince then inept policies coupled with ignorant leadership have rendered the damage almost irreparable.

A successful agroecosystem includesscientific and strategic selection of plant species, planting process, machinery, fertiliser and pesticides, consider impacts of climate change, irrigation andextends to funding, marketing and cost management. It is safe to say that almost every aspect of this ecosystem today is flawed and grossly mismanaged by authorities. This year, a section of farmers switching from paddy to pumpkins due to the lack of irrigation reaped a bumper harvest, but prices plummeted due to oversupply.

Officials should have offered thoughtful direction to farmers on crop selection considering market requirements and opportunities. Sri Lanka's milled rice imports grew much as 1,674% in 2016, as the country crossed four-figures as much as three times over the last ten years. This comes amidst claims of large consignments of rice stocks going to waste at various government and private stores island wide. This year, Sri Lanka has so far imported 78,000 metric tonnes of frozen coconut kernel to control increasing prices and to sustain export markets as drought hampered domestic production, whilst more and more coconut land is cleared for real estate and other requirements.

In the early 2000s, we witnessed countless farmer suicides spurred by continual financial stress and debt burden, which continue to this day. Policymakers even dared to sully the prestigious image of Ceylon Tea, considering to make way for blended teas via cheap imports, which would seriously damage the unique value of this premium global brand. DilmahChairmanMerrill J. Fernando had presented his views on the matter to the same program. "Our cost of production is the highest in the world. Every kilo of tea imported into the country has to be below the prevailing price of Ceylon Tea, to blend. Our trade is such that they cut each other's throat to get the business. We will have a free for all here. We will be importing tea for 50 or 60 US cents, mixing with our tea and saying packed in Sri Lanka. Packed in Sri Lanka is Ceylon Tea to anybody in the world. So, if that happens I give our tea industry six months. When you start blending cheap tea, there will be no bottom," he stated.

The recent mess over the glyphosate ban and the sorry state of the State Plantation Corporation and JEDB also offer ample evidence on how we have mismanagedwhat used to be our greatest assets.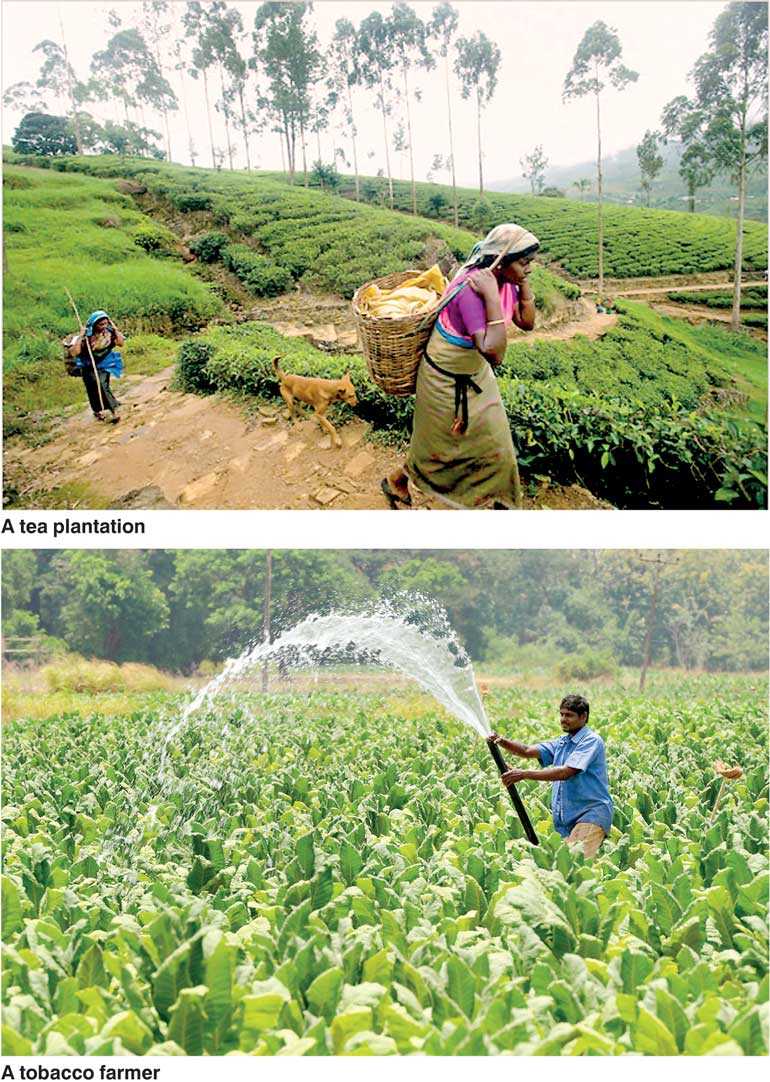 The above presentsbrief snapshotsof a much larger and complex problem that affects our complete agricultural value chain including farmers, traders, service providers, retailers, consumers, local and national economy. The Central Bank Annual Report for 2017 states "considering the importance of the agriculture sector for the overall wellbeing of the population, the government provided enhanced support for the sector."

However, there is a need to translate such statements into meaningful action on the ground to ensure sustainability and profitability. For instance, some of the subsidy and welfare schemes that on offer are laudable, but they are often marred by red tape and inconsistencies with standard process. Also, irrigation is often a political decision as opposed to a scientific or strategic one.

Tobacco farmers by and large have been immune to the challenges faced by their counterparts. This is largely due to the healthy income they earn on the back of a guaranteed price and marketplace for their produce, effective crop planning and continuous inputs received from the Ceylon Tobacco Company. Over 90% of farmers polled by the study by GSC state they engage in tobacco farming in rotation with other crops due to its high profitability, whist 78% acknowledged the high-level of inputs they receive in terms of agricultural best practice and others.

The socio-economic conditions of tobacco farmers in three different value chains (1. For smokeless tobacco, 2. beedi and cigars, 3. Cigarette manufacturing) have gone up significantly due to the healthy income they earn. In addition, the reportreveals that tobacco consumes only one-seventh of the volume of water in comparison topaddy, andalso refers a University of Peradeniya study that affirms incorporating tobacco in crop rotation does not cause instability in soil. These success storiesare the result of effective research-based interventions from the private sector in the sector for close to a century.

However, this ecosystem too is now under threat due to the purported ban on tobacco cultivation come 2020. Though the ban is still not a certainty, it has created a great deal of uncertainty amongst the 30,000 plus farmer families engaged in the industry. Over 47% of farmers polled during the GSC research say there is no viable alternative crop to tobacco offering the same economic assurance and ease, and farmers "expect a value chain that provides them the same conditions, and believe they need support from government in identifying feasible diversification options".

This serves as an adequate argument since it is the government that envisages they must move out from a cash crop that has served these families well for generations. On average, over 80%of farmers also told GSC that the government should Appoint a Committee to Lead Crop Diversification, Involve Agriculture Department More on Crop Management, Government Should Conduct More Research, Provide Financial Relief to Farmers to Switch, or Reduce Cultivation Gradually.

The research was led by Dr. Chatura Rodrigo who asserts that governments need to pursue more evidence-based policy making to understand and quantify possible impacts, which it should do in this case with tobacco farmers, and as it should have done with glyphosate before banning it and then reversing its decision.In the case of a ban on tobacco growing, Dr. Rodrigo points out that this measure will only serve to restrict one supply side, at the expense of delicate livelihoods.The government needs to engage with the relevant industries, reputed experts and personnel at the Department of Agriculture before implementing ad hoc pieces of policy. A nation's agroeconomy cannot prosper as per the whim and fancy of individual agendas, politics and tribulations of international NGOs. It must instead become a collective local process from the grassroots.

The Department of Agriculture must play a larger and more significant role across the board with relation to crop planning, farmers and agroeconomicprocess, he says. Speaking to the Daily FT, Dr. Rodrigo adds: "The Department should offer better guidance.As I always argue, policy has to be evidence based.This means this particular policy needs to be backed by proper research.In terms of crop diversification, the ministry should take the lead. Private sector will not do that. Independent researchers will not have resourcesto do this either. There is enough money at the Department through the agriculture modernisation project to look at export-oriented value chain development. Therefore, the Ministry can start with some value chain analysis. Then it should be followed by field experiments for crops that are suitable for diversification efforts.There is an opportunity to do some good value-added value chains that are export oriented with these farmers. But farmers will need to see proof and numbers. So, experiments will have to run for a couple of years and examine feasibility. It will also allow the Ministry to see the feasibility of what the GSC has suggested as crop diversification models."

To effectively resuscitate the agricultural sector, the Government needs to engage and further empower the private sector and create the necessary environment to flourish. The tobacco farmers' experience serves as a fine example of where private sector involvement has given rise to an efficient ecosystem and business model, which has boosted productivity all round. There are a great many learnings to draw from that experience. How can we replicate that ecosystem in different sectors, primarily tea, paddy and coconut?We need to give companies ownership of the industry and its sectors, so that it becomes directly linked to profitability. This in turn will help boost revenues and farmer livelihoods island-wide. The Government simply needs to establish the relevant regulatory framework; set the minimum wages, standards of employment and price control. The private sector gave rise to the plantations that still stand today as pillars of our economic strength, albeit a cracked foundation. Give them the opportunity and the impetus to resurrect the pride and place of the plantations of past.Companies could even operate with 'out-grower' models if the right framework is put in place to manage and effectively merge business and economic expectations with social sensitivities such as land ownership. Again, it is only a cohesive public-private partnership that can address the burgeoning issue of manpower, or labour, in plantations and provide workers with necessary inputs to give them pride and security with jobs in the field. What companies need is the guarantee of sustainable and effective policies to invest. It needs a conducive environment for risk-taking, to create additional value to compete and capture global markets.At this moment in time, everyone is on 'wait-and-see' mode, and rightly so.This incessant battle between right-wing policies and the rhetoric of the left atop a fickle voter base gives very little hope and promise to adopt a long-term view.

Some industries and companies have prevailed in these trying conditions, as we are fortunate to have several entrepreneurs who built a considerable degree of value addition into the chain to helppreserve our trade. They have saved our skin on countless occasions, just as Cargills did earlier this year when they came forward to assist distressed pumpkin farmers languishing with excess stock. Sri Lanka's agriculture sector is in dire need of a Cinderella story, where the pumpkin can transform into a beautiful carriage. The private sector is the magic wand that can effect that change;we now need a Government with a good heart to wield that wand!