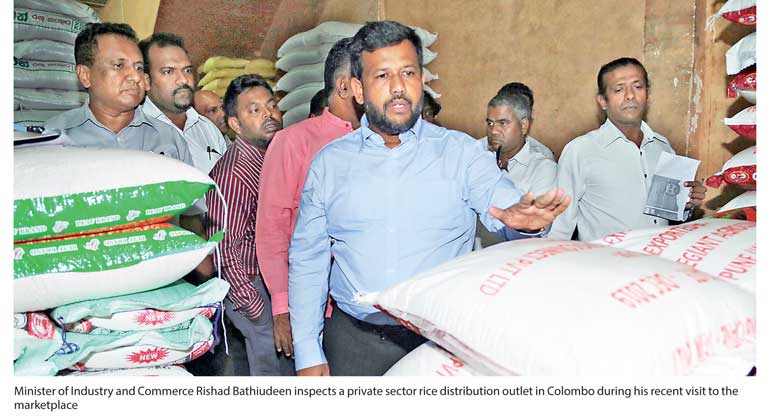 More coming from India: Rishad
Govt-to-Indian pvt. sector orders placed
CWE releases milled PMB paddy to the market
Indian private sector prices competitive: Rishad
Sri Lanka has started infusing locally milled rice to the markets and has also inked an agreement with Indian private suppliers for immediate rice tranches to Colombo.

"We are also going ahead with the Indian rice orders," said Minister of Industry and Commerce Rishad Bathiudeen yesterday, while in discussions with his top officials on the latest moves by his Ministry on domestic rice supplies.

"On the directions of President Maithripala Sirisena, we released 52000 MT of locally milled rice to the markets by last weekend," said Bathiudeen. "These rice stocks were milled from the paddy from the Paddy Marketing Board. We are also going ahead with the Indian rice orders -they are giving us a very competitive price."

Accordingly, last Friday the Ministry of Industry and Commerce and its Cooperative Wholesale Establishment have in a Government-to-overseas private sector MoU placed an order for the supply of 70,000 MT of nadu rice to Sri Lanka. This tranche is expected to land here in mid-September. Another MoU with Indian private sector for 30,000 MT of samba rice is to be inked in Colombo soon. This rice stock is expected to arrive during late September.

On 31 July, the Cooperative Wholesale Establishment (CWE) under Bathiudeen began local pulling paddy stocks for milling. On the orders the Cost of Living Committee on 26 July, the CWE started extracting 80,000 MT of paddy with the Paddy Marketing Board's warehouses to mill in CWE's own mills as well as through the private millers.

CWE sources said that 52,000 MT of milled rice from these paddy stocks have already been delivered to Lanka Sathosa during last weekend to be sold to the public at the lowest possible price. The 52,000 MT tranche consists of a variety of rice types. As a result of Indian purchases and domestic paddy milling, a total of 152,000 MT of rice will be in the market, of which 52,000 MT is already in the market.