NSBM Industry Partnership Programmes Evening of Partnership Building and Fellowship together with Prospectus Launching Ceremony was successfully completed under the distinguished patronage of Minister of Skills Development and Vocational Training Chandima Weerakkody on Friday, 4 August at NSBM Green University Town, Pitipana, Homagama

This event hosted Chief Executives Officers, Heads of HR and Talent Acquisition Officers from over 125 prime companies and employer organisation in Sri Lanka. NSBM's Career Guidance Unit ceremonially exchanged MoUs with a few selected industry partners namely Bharti Airtel, Ernst & Young, J.L. Morison Son & Jones, MTD Walkers, MTI Consulting, NDB Securities, Third Space Global and ACCA Sri Lanka at this ceremony.

The event was graced by a Guest Speech by Dr. Ravi Liyanage, Co-founder, Chairman and CEO of Raigam Group of Companies who shared views under the theme 'Whose responsibility, is it? – Bridging the employability gap with a three-way partnership – universities, industry and students'. The keynote speech was done by Prof. Ajantha Dharmasiri, Professor in Management, Director and the Chairman of the Board of Management of PIM which was focused on 'Academia: Nurturing the 'ideal candidate' to suit global and local (glocal) industry standards via academic knowledge and values'.

The launch of 'NSBM Prospectus 2017/18' and 'NSBM Journal of Management' was also done by presenting the first copy to Minister of Skills Development and Vocational Training Chandima Weerakkody by Prof. Colin N. Peiris, Head – Academic Development, Quality Assurance and Postgraduate Programmes of NSBM together with Dr. A.A.C. Abeysinghe, Chief Editor of NSBM Journal of Management.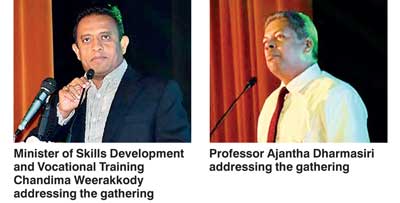 NSBM 'Industry Partnership Program' is designed to optimise synergies among the industry partners and NSBM in relation to Entry Level Talent Acquisition (Internship/Training), Employer Brand Building, Knowledge Sharing, Corporate Brand Building, Special Projects, Incubation/Entrepreneurship Development and Talent Acquisition of fresh graduates.

All undergraduate programs of NSBM are designed to enable the students to start the much-needed Industry Exposure, on full time basis, from the end of second year of study onwards where lectures for third and fourth years are conducted only on weekends. This is a unique feature of NSBM which assures the employability of graduates.

NSBM Green University Town (www.nsbm.lk) is a fully pledged University Town built on a 26 acres premise at Homagama. It has over 9,000 on-campus students at the moment which will record the highest student population among the state and private universities by the end of year 2018. NSBM offers UGC approved and foreign undergraduate and post-graduate programs in three streams namely Business Management, Computing and Engineering.

P. Ranepura – Secretary of Skills Development and Vocational Training, Nadun Fernando – Chairman of NSBM, Members of the Board of Directors of NSBM, Members of the Academic Governing Council of NSBM, Dr. E.A. Weerasinghe – Vice Chancellor of NSBM, Academic and Non-academic members of NSBM and other distinguished invitees were among the participants.