The panel discussion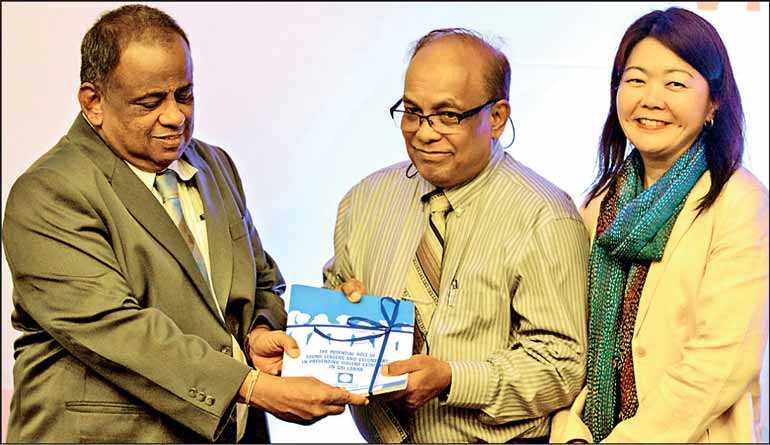 Presenting the key findings of the study on 'The Potential Role of Young Leaders and Volunteers in Preventing Violent Extremism in Sri Lanka'. From left: Ministry of National Policies Secretary V. Sivagnanasothy, Regional Centre for Strategic Studies Executive Director Professor Gamini Keerawella and UNFPA Representative in Sri Lanka Ritsu Naken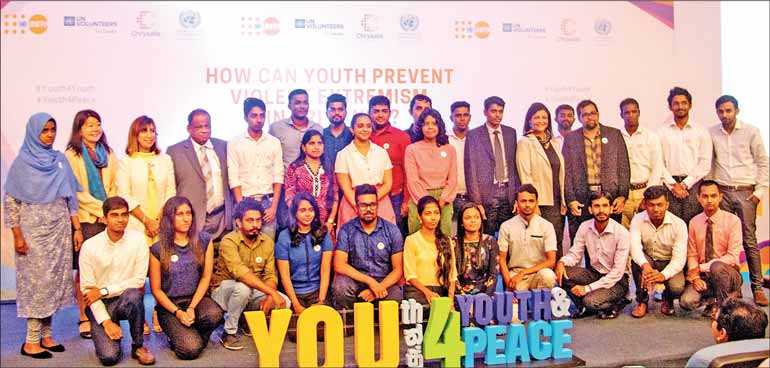 Youth Peace Panel
---
Capitalising on youth potential to prevent violent extremism in Sri Lanka
By Aysha Maryam Cassim

The United Nations Population Fund (UNFPA) in Sri Lanka marked International Day of Peace with the launch of the key findings of a study on the potential role young leaders and volunteers in preventing violent extremism in Sri Lanka and the inauguration of the Youth Peace Panel.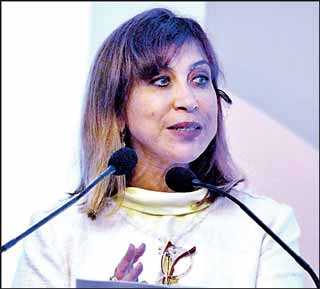 UN Resident Coordinator Hanna Singer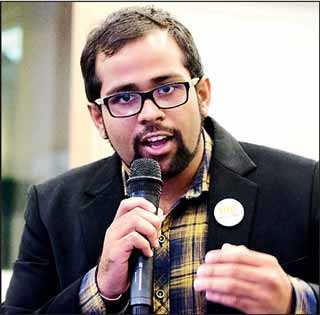 The event was held at the Lighthouse Auditorium and Lawn in Colombo, convening Government officials, members of the diplomatic community, UN agencies, academia and youth organisations. The session also featured a vibrant panel discussion, focusing on the role of the private sector and media in assisting young people to steer their aspirations to prevent violent extremism.

The surge of unarmed attacks on civilians around the world has exacerbated conflicts and torn apart the social fabric of communities. The problem has become a grave global concern that stresses the issue of the unprecedented threat from violent extremism and terrorism. In post-war Sri Lanka violent extremism has manifested in many forms over the past decade, resulting in the recent devastating Easter Sunday attacks.
Presentation of the key findings of the study
The UNFPA and UN Volunteers (UNV) commissioned a study on 'The Potential Role of Young Leaders and Volunteers in Preventing Violent Extremism in Sri Lanka' in September 2018. The study which was conducted by the Regional Centre for Strategic Studies with a sample size of 2,800 young people from Northern, Eastern, Central, and Southern Provinces, revealed that 25% of Sri Lankan youth form the four provinces believed that their peers were attracted to ideologies of violent extremism.

By delving deeply into the findings, the analytical notes from this study can be used in the implementation and improvement of national policies and early detection mechanisms that can eliminate the risk of radicalism and violent extremism in Sri Lanka.

Presenting the key findings of the study to the audience, Regional Centre for Strategic Studies Executive Director Professor Gamini Keerawella said: "Sri Lanka is sitting on top of a volcano when it comes to violent extremism and its potential to lure in youth. While a majority of young people are of the view that conditions within the country have improved since the end of the war, we cannot be complaisant. A well-coordinated plan of action at national and provincial levels to utilise the skills and capabilities of youth leaders and volunteers must be systematically set-up."
The Youth Peace Panel
The 'Youth Peace Panel' introduced 30 young peace advocates representing all nine provinces of Sri Lanka, giving them a voice in the conversation on peace building and creating a platform for them to engage with peers.

As part of the UNFPA's 'Youth4Youth' program delivered in partnership with Chrysallis and supported by the UN Peace Building Fund, the Youth Peace Panel represents the interests of youth regardless of their ethnicity, ability, religion, race, gender and geography. The independent and nonpartisan group aims to engage young people at community-level while empowering them to participate in the country's development and peacebuilding processes as equal partners.

UNFPA Representative in Sri Lanka Ritsu Naken stated that their organisation strived to ensure that every young person achieved their fullest potential by providing an open and safe space for youth to exercise their right to actively participate in decision-making and sustaining peace.

"Through the Youth Peace Panel, we hope that young people will be more informed to shape a more equitable, peaceful and just future for all. The devastating Easter tragedy and the ensuing outburst of ethnic riots called for a reflection and a renewed commitment to peace. Many of the issues were related to reproductive health – misinformation of family planning instigated communal violence, triggering fear and hatred. This is not right."
Celebrating diversity as a strength, not a threat
Speaking on the importance of the Youth Peace Panel, UN Resident Coordinator in Sri Lanka Hanaa Singer said that communication could contribute to positive social cohesion in Sri Lanka.

"Extremism flourishes when discourse is absent, aspirations of inclusion are ignored and too many youth lack prospects and meanings in life. Meaningful conversations open the door to understanding and embracing the diversity and complexity of other communities instead of seeing the world through simplistic narratives. In Sri Lanka, there are 4.4 million young people – each and every one has the potential to be the voice of peace and tolerance and fight forces that seek to divide us from within."
Integrating youth as agents of change in the development process
Over the last three years, UNFPA has been engaging local youth across the country via Youth4Youth programs. Its regional symposiums encourage the active participation of youth in the process drafting provincial youth action plans – in line with UN resolution on Youth, Peace and Security which recognises the inclusive representation of youth for the prevention and resolution of conflict, including when negotiating and implementing peace agreements.

The resolution calls on Governments to include youth in institutions and mechanisms to prevent violent conflict and to support the work that is already being performed on peace and security.

Addressing the gathering, Chief Guest Ministry of National Policies, Economic Affairs, Resettlement and Rehabilitation, Northern Province Development, Vocational Training and Skills Development and Youth Affairs Secretary V. Sivagnanasothy said: "As a nation, we must ensure that systematic approaches are in place to harness the energy of young people to ensure peaceful coexistence."

Speaking on national ownership and leadership with the youth-related peace initiatives, Sivagnanasothy commended UN agencies for mobilising young people to build peaceful societies.

"The UN has extended its support to our Ministry through UNV in the development work – from planning to programming, policymaking, monitoring and evaluation, youth have been incorporated into our programs and so far it has been successful."