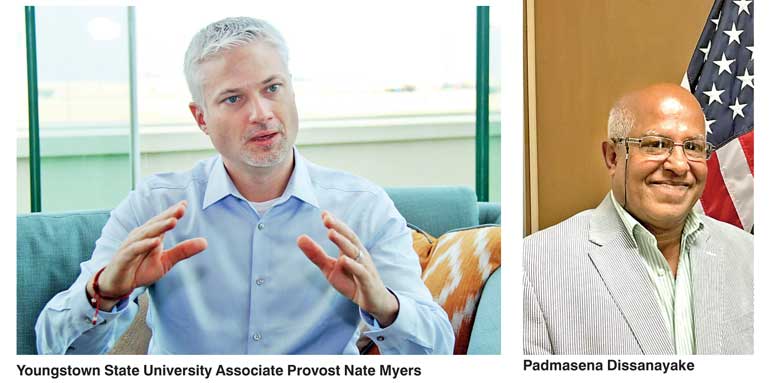 By Shannon Jayawardena

Scholarships for USA, a Sri Lankan based program that sends middle class students with the determination to gain higher education to USA, recently joined hands with Youngstown State University. Scholarships for USA co-founder Padmasena Dissanayake's long time vision and the reason for creating such a foundation has always been to help middle class students from all over the country fulfil their dreams. He believes that every child deserves the opportunity to strive despite their financial states.

Like Dissanayake, Youngstown State University Associate Provost Nate Myers too is a visionary who is with the goal of finding talented youth from all corners of the world to educate them and create a good platform for them.

Myers who is now one of the top most international administrators at the Youngstown State University invited Dissanayake to join hands to create global employability for all students. Youngstown State University is a perfect place with the most affordable curriculum for anyone and everyone.

Together they shared insights on their goal of recruiting young talent and providing them the chance to climb the highest of mountains while reaching the top most levels in life. Following are excerpts of the interview:

Q: Scholarships for USA is really striving, having recruited so many students to the States who are now doing remarkably well. How did the idea come about to start this foundation?

Dissanayake: Scholarships for USA started in 2001 quite by accident when our elder daughter insisted on going to USA for her Bachelor's Degree while the parents did not have all those millions. Long story short, we got a fantastic offer from an unknown private liberal arts school which provided everything for her. The Director who took the chance and offered her this opportunity said that she was the perfect ambassador and my wife wrote back to him saying there are hundreds more from where she came and all they do not have is the money. She told him that if he was willing to take that same risk, we could be the bridge between and this is how we began our story.

Q: Many local students who wish to complete their higher studies in foreign countries mostly go to Australia, Singapore and elsewhere as USA is known to be quite expensive. So why USA?

Dissanayake: It was a small school that my daughter went to but these mid-western people are unbelievable, the areas are so safe and they care so much, she told us. She said that she really didn't know how she found this place as it was by fate but she really enjoyed it. There are many schools and universities in the States with the most affordable prices that are yet unknown. This is why we chose to recruit students to USA.

Q: What are your views on Youngstown and in your opinion how do you plan on expanding this partnership further?

Dissanayake: Youngstown is really a perfect place and is most affordable. When we met they didn't have a single Sri Lankan and today there are four while the numbers are rising. I believe that the future is not just taking a couple of students each year but bringing their education to Sri Lanka, working in collaboration. We have already spoken to several private universities such as SLITT who are very keen to get Youngstown's collaboration to help improve their standards.

Q: Dissanayake described Youngstown as a perfect university that could really provide all students the opportunity to reach their highest potential. Could you give us a brief introduction as to what you offer at the institution?

Myers: Founded in 1908, we are the most affordable university in the United States. It's true once you look at the total cost of our tuition plus our scholarship value which we offer. We do offer over 150 undergraduate programs, 45 masters programs and three doctoral programs.

Q: What makes Youngstown stand out from the other universities and what do you think makes it most approachable for international students?

Myers: Typically in order to get in to the honours college we select students with a 1300 or higher SAT and once we're able to apply scholarships we can often get the tuition down to $4000-5000 per year. We offer undergraduate programs from health science to nursing, arts, engineering, dance, history, computer science and so forth. We are also a very much working and academic focused university. Students should likewise complete 15 hours of social service per semester that help them build their inner capabilities through a social and cultural experience.

Q: How do you plan on making this a long lasting strong collaboration that will benefit larger numbers of local students?

Myers: We have 500 international students at the university in total from 55 countries and are now working to recruit more and more local students through this collaboration.

Dissanayake: All of us share the vision that Sri Lanka's future is with the professionals who are providing professionals to the rest of the world. We have a very committed and smart younger generation who could do wonders with the US education. We have witnessed through the years how countless children have flourished with that liberal arts education.