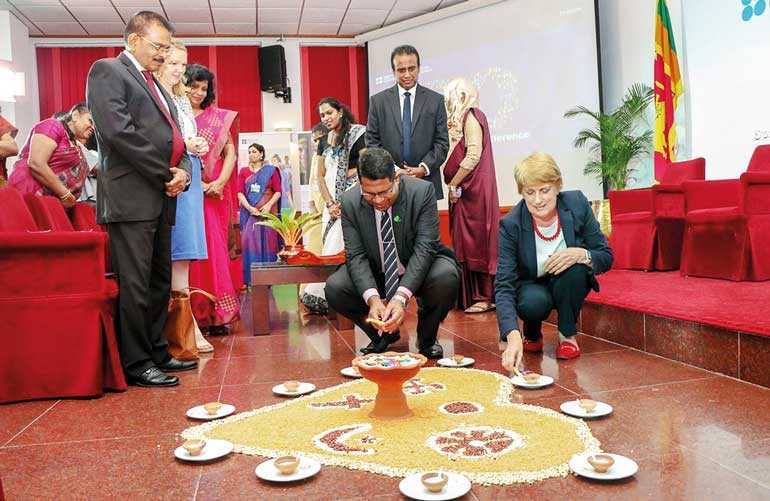 British Council Country Director Gill Caldicott and Muslim Aid Sri Lanka Country Director Faizer Khan light the Oil Lamp designed by the students of the VTA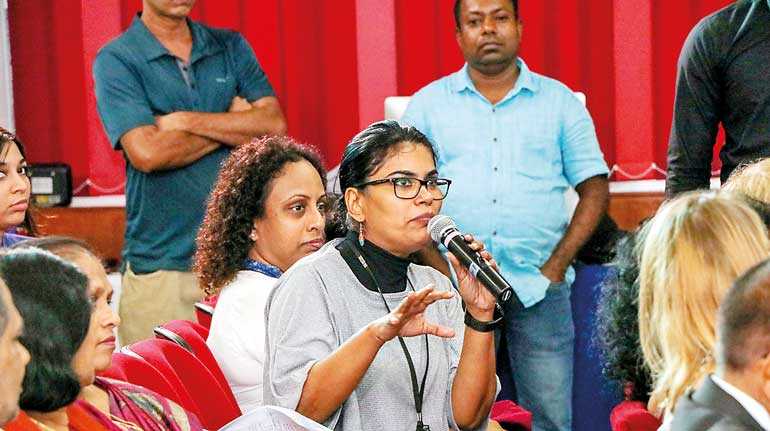 Panel discussion – Q & A session with the audience
---
In September 2018, Muslim Aid Sri Lanka supported by the British Council teamed up with the Vocational Training Authority (VTA) of Sri Lanka to instigate the Youth and Community Resilience (YCR) Program – an initiative that aimed to reach youth engaged in technical education by providing social skills development training that have been identified as essential to perform as an effective employee, entrepreneur and overall as a responsible "active citizen" of the country.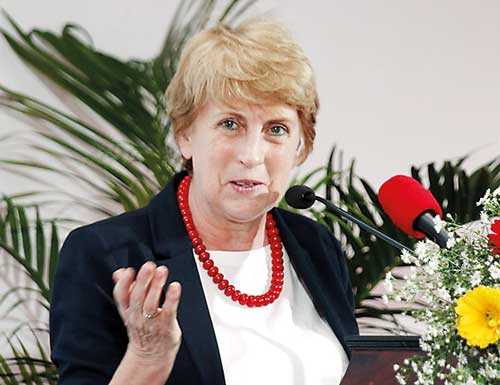 British Council Country Director Gill Caldicott delivering her keynote address
The purpose of the program was to enable students to understand different cultures, communities and their norms and values through group work and activities under social skill development. The YCR program has succeeded in this regard, as stories from the active citizens serve to prove so. Students who were part of the program have become socially aware and this is a promising development; as it has the potential create a paradigm shift in their communities regarding socio-political issues. The program has thus created a network among students and provided them an invaluable platform to build professional relationships among them.

Hundred youth who were enrolled for technical education courses at Vocational Training Centres, and twenty five VTA lecturers from different religious and cultural backgrounds were trained through the Active Citizens Training Framework & Toolkit used in the British Council's Global Active Citizens (AC) program by the British Council.

To honour and celebrate the completion of the training and successful implementation of Social Action Projects by the VTA staff and students, an Awarding Ceremony and Project Showcase was held on 29 October at BCIS Olympus Auditorium, BMICH. The occasion was graced by VTA Sri Lanka Chairman Ravi Jayawardana as the Chief Guest, and other distinguished guests British Council Country Director Gill Caldicott, Muslim Aid Sri Lanka Country Director Faizer Khan, British High Commission of Sri Lanka Peacebuilding and Reconciliation Advisor First Secretary Amy O'Brien, and VTA Sri Lanka Director General Chulangani Perera.

The event featured a video documentary, depicting the journey of the YCR program participants and its impact, followed by a 6-chair panel discussion moderated in all 3 languages, which was a sharing of experiences by students and an instructor of the Vocational Training Authority Sri Lanka, an Active Citizen Master Facilitator and a parent of one of the students. Vinoja, a VTA student from Batticaloa, who successfully implemented a community project and attended the awards ceremony expressed her thoughts on the program, saying, "I was a shy and quiet person, but through the Active Citizens Training I have gained leadership skills and improved my ability to communicate effectively. At the same time was given the opportunity to build good relationships with other youth and communities who follow a different faith, particularly the Muslim community." A showcase of 10 community projects conceptualised, developed and delivered by the VTA Active Citizens from 3 districts (Anuradhapura, Batticaloa and Trincomalee) was later declared open for viewing, where guests were able to witness the efforts of Active Citizens, their immediate achievements and the outreach of social initiatives that had potential to resolve community issues in the long run. Speaking at the event, MASL Country Director Faizer Khan said: "I believe that by building community resilience, the youth will emerge as leaders and be able to adapt to changes and face any challenges they may face. This will create community cohesion and positively contribute to the sustainable development process of the country."

Following the success of Phase One, the YCR program is expected to extend its reach beyond the three districts of Anuradhapura, Batticaloa and Trincomalee. This customized social skills development program using the active citizens core methodology (with additional input sessions) is projected to be institutionalised at Vocational Training Centres to reach almost 35000 youth in 212 centres of by the Vocational Training Authority in Sri Lanka as a complementary learning module to the technical skills curriculum.