Airtel has opened its doors to the undergraduates of the Department of Marketing Management, Faculty of Management Studies and Commerce of University of Sri Jayewardenepura under the Airtel Industry Partnership Program – a joint academic cum industry work exposure program that helps undergraduates understand the essence of business at large.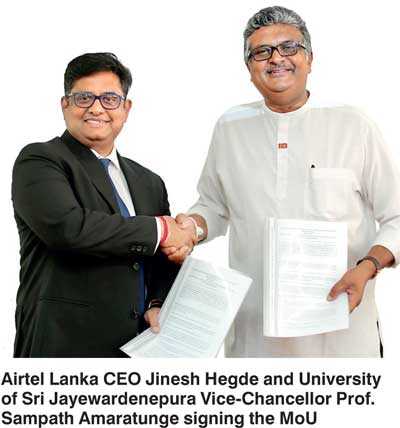 The program will offer undergraduates of the University of Jayewardenepura an opportunity to gain practical industry knowledge that encompasses a series of experimental learning and team projects.

"Once again we hope to create market-ready graduates, as we partner with the University of Jayewardenepura," said Bharti Airtel Lanka CEO Jinesh Hegde. "We will continue to deliver our promise in bridging the skills gap for students in Sales Management and Retail Marketing, with the objective of empowering the Sri Lankan youth."

The University of Jayewardenepura stands among Sri Lanka's leading higher education institutions, providing undergraduate and postgraduate programs in numerous fields of study.

"This is a remarkable step forward to elevate the teaching and learning philosophy for the betterment of the future marketers produced by the University of Sri Jayewardenepura," said University of Sri Jayewardenepura Head – Department of Marketing Management Dr. Lalith Chandralal. "I express my sincere gratitude to Bharti Airtel Lanka for coming forward and making a strong tie with us to uplift the quality of higher education further."

"According to my vision, I have always given prominence for International and Local collaboration in the areas of research and business," noted University of Sri Jayewardenepura Vice-Chancellor Prof. Sampath Amarathunga. "Within the knowledge economy of the world, the most growing business is Telecommunication. With Airtel Lanka coming to the University of Sri Jayewardenepura, I get the benefit to send my sons and daughters to a multinational company for not only training but for them to experience the live practical scenarios faced in the market. Whilst the students get to expand their knowledge and obtain a corporate exposure, this program would ultimately result in making good citizens for Sri Lanka."

"We are in a global economy where the private sector is the engine of growth, therefore the University of Sri Jayewardenepura is promoting our students to seek their employment mostly in the private sector. All our curricula, extra activities, research and focus is on private sector development and this is also the world trend. I thank Airtel Lanka for this collaboration and adding the Airtel AIR values to our students' lives,"Amarathunga added.

Bharti Airtel Lanka, a subsidiary of Bharti Airtel – the world's third largest mobile operator by subscribers, across 17 countries – was the fastest network to reach the one million customers mark and continues to sustain its growth momentum in the youth segment.