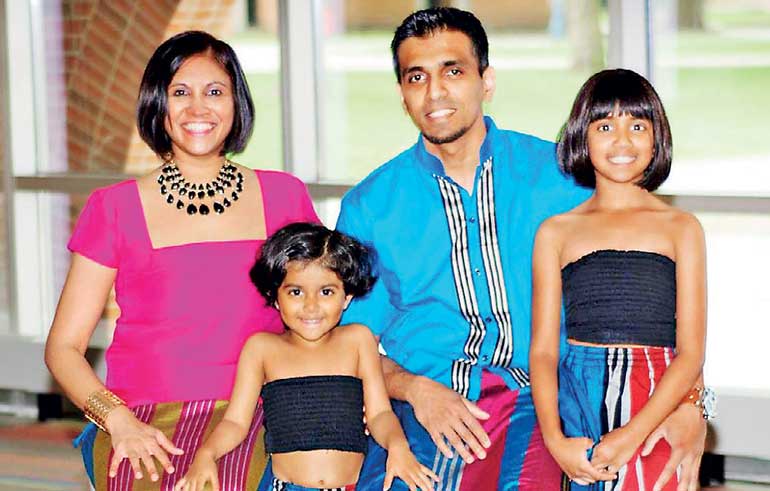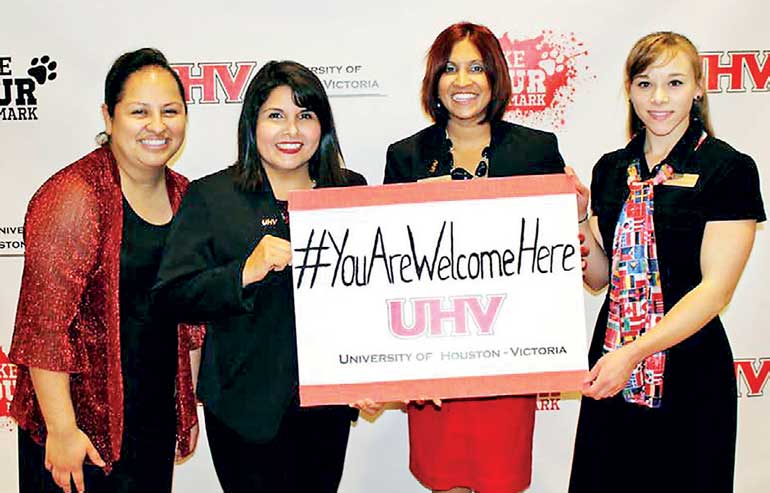 Ludmi Herath, holder of multiple degrees in the US began her career as an international student 17 years ago. Today, she is the Director of the International Programs office, at the University of Houston-Victoria, where she overlooks all internationalisation aspects for the university including international student services, as well as Study Abroad and Faculty internationalisation initiatives. Following are excerpts from an interview with Herath:


Q: How did it feel when you first moved in to university studies in a foreign country?

A: I did not know that my parents were planning to send me overseas. My father was a professor who was involved with the A/L examinations well before my time. When doing A/Ls I had to select a field; I did not like the typical fields such as Commerce, Languages, Medicine and Engineering. But I had a keen interest in Zoology. However, I guess because of my father, I had no choice but to follow the medical field. It was not an easy task and with extra effort I managed to improve the marks, but not the overall grade. At this juncture, my parents suggested that I could go overseas to complete my studies. I finished my A/L exams and then, on my father's firm insistence, I embarked on a journey to the US. Leaving my family and familiar settings was not easy and yet it was something I had to do to 'make my mark in the world'. Looking back, I realise that it was the best decision I had ever made.


Q: What was your experience when you started applying for studies?

A: It was a very long process back in the day. With limited information, everything had to be done from scratch. My father, a former Fulbright Scholar, was aware of certain processes and with his guidance I did much of my research at the American Corner and the Sri Lankan Fulbright Centre. With the help of Ms. Senadira, the current principal of Museus College, I managed to get most of the information I needed. Being the common trend back then, I followed TOEFL and SAT classes at the American College of Higher Education. Upon completion of these exams, I applied to five campuses and received admissions from all.

Obtaining a visa was a hard task with almost 90% applicants getting rejected back then or so we thought as we were quick to ask from others if they secured the visa. I was very fortunate that despite having to stay in a queue from 4 a.m. and seeing many students getting rejected, my visa was granted with ease.

Students today are fortunate that many university and college representatives are here to assist them. There are more scholarships, funding opportunities, services and most of all information readily available for international students. Back then, even the concept of email was one that we used very sparingly.

Today, I help many Sri Lankan students understand the process and the reality of what it is like to study overseas.


Q: Tell us what it was like studying in the US?

A: After a 10-month long processing period, I decided to join the first campus that sent me the immigration document (i-20) because I felt they really cared.

It was indeed quite an eventful journey, with many ups and downs. I met friends from all over the world and even came out of my shell and learned a lot of unique skills, while controlling my new-found independence.

Even though I had enrolled for Speech Language Pathology, I soon realised that my passion was elsewhere. I still remember my international advisor sat me down and said, "Ludmi you should change your Major to Public Policy and become an International Advisor." At that point of time, I didn't know if it was the right thing to do but I did change my program and after graduation I enrolled for a Master's in Public Administration and Human Services.

Being a graduate assistant in the field of International Programs, it was easy for me to climb the ranks, first as a Recruitment Coordinator, then Programs Coordinator and now a Director. I have 15+ years of experience ranging from graduate assistant to Director, which combined with my personal struggles as an international student, qualifies me as one of the best people to advise Sri Lankans, as well as other international students. I act as a voice for the students and advocate for them as the reality hits home. I remember the struggles ever so well. Studying abroad is not easy especially when funding is scarce. However, if you work really hard, you will see the light at the end of the tunnel.


Q: Did you ever encounter situations during your own overseas studies that you found hard manage on your own?

A: Absolutely. Working 20 hours and taking 4-6 courses was very hard. I knew I had to work on campus to find some of the funds despite my father offering to pay for me. I only got him to pay for my first year and the rest of the years (Bachelor's, Master's and PhD) I did it on my own, without asking for a single penny from my parents, which is not the case anymore at US campuses. Back then, from the 20 hours I worked, there was a portion going back towards tuition and fees and they would let us register for the following semesters given that we paid regularly. Funding yourself, balancing work, studies and life was the hardest challenge. I quickly trained myself to multitask and after the first year you become an expert in it.


Q: What do you look after as Director of the International Programs Office?

A: As the Director of the International Programs Office, I oversee international students, American students studying abroad and faculty and staff globalisation efforts. As a Director, I have aligned the International Programs to be the hub for all international aspects at the university. We are working on internationalising and diversifying our university one step at a time. The campus is a small state-owned public university accredited by the Southern Association of Colleges and Schools (SACS).

Since I took charge of the International division, I have advocated for students entering the US for better education and a better future, as well as providing American students with opportunities to expand their horizon by travelling abroad and experiencing other cultures. We also offer guidance to faculty to create an internationalised curriculum to offer students a global perspective and help them to graduate as global citizens.

Q: What are the general challenges a foreign student would face when studying abroad?

A: The major challenges are typically funding and visa issuance. Some struggle with making friends too.


Q: What are the procedures you/your team have introduced to make student life more comfortable for international students?

A: I have personally advocated for, and helped launch, three types of scholarships for international students, to relieve them from some tuition expenses. We have also introduced multiple events, programs and services for international students, while serving as the hub for internationalisation initiatives at the University. In addition, we organise a community event called the 'International Festival' to bring the University and its community closer together where we showcase our culture.

Importantly, we are a 'home away from home' for our international students. Our international students are respected and welcomed by everyone in our community. In a recent study conducted by The Houston Chronicle, our university was ranked second in campuses increasing international student applications in Texas when much of the campuses were declining in this area.

Our initiatives for internationalising our campus have been greatly supported by our University President Mr. Morgan, Provost Dr. Cockrum and our entire leadership team.


Q: According to your experience what are the things students should look at when selecting foreign universities?

A: My best advice for students is look at the following:

Accreditations of the programs and the university as US have over 4,500 universities. But not all campuses are accredited by governing bodies.

Secondly, they should look at funding and scholarships being offered. Third, the return on their investment which will include the pace at which they secure jobs and the services offered by the university post-graduation as well as awards won by faculty and staff. Students should research on the universities and work on getting into the university that resonates well with them as well as their academic and career choices.


Q: What will give them the best chance of getting-in when applying?

A: Students should apply at least 6-10 months before the anticipated start date. Once the application is submitted they should provide the supporting documents such as O/Ls and A/Ls certificates, bank statements, test scores TOEFL/IELTS, SATs and GRE and GMAT for graduate students.

They should complete the scholarship and application process. Our campus offers the quickest admission within 3-5 days. We recommend that students receive the immigration document on or before 1 June for fall semester and 1 December for spring semester, giving them ample time to prepare for the US visa interview before arriving in the US.


Q: How and when should a student start to plan the life after university life, employment as an example?

A: As an international student, upon graduation they are eligible to apply for Optional Practical Training (OPT). This opportunity offers international students work authorisation to work in the US, to receive work experience in the US. The Science, Technology, Engineering and Mathematics (STEM) fields will have 36-months work authorisation (requirements apply) and all other fields a 12-month work authorisation. In the US at University of Houston-Victoria we encourage students to plan their 'life after graduation' during their second year for bachelors and first year during their Master's. We encourage students to start planning for internships as this provides real world work experience while gaining course credit. According to business professionals seeking young university graduates, it is best to have at least two internships prior to graduation. Apart from the internships, the university offers career fairs where potential employers visit the university to recruit new graduates.

One year prior to graduation, University of Houston-Victoria offers mandatory sessions on 'Life After Graduation' to map their final year.

The US is great in that way, offering these opportunities to international students so they are able to receive experience in the US, which increases their marketability around the world.