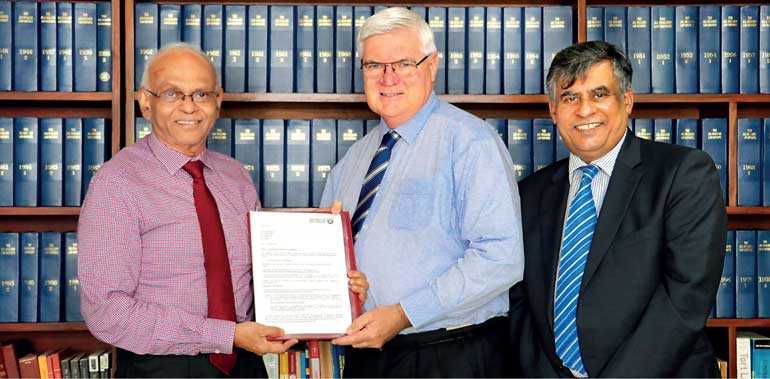 Associate Professor, Gary Noble of the Faculty of Business, University of Wollongong, hands over the formal Letter of Recognition to BMS President Dr. W.A. Wijewardena in the presence of SBS's Dean Nelson Perera, who also holds the post of Head, School of Accounting, Economics and Finance at the University of Wollongong
The Sydney Business School (SBS), a part of Australia's University of Wollongong, recognised the Graduate Diploma in Management (GDM) awarded by the Business Management School (BMS) for progression to its Master of Business Degree. SBS's Master's Degrees in Management are ranked at 77 in the globe, while the University of Wollongong is ranked within the top 250 universities by QS ranking of world universities. This recognition allows BMS's GDM students to acquire a master's degree from one of the leading business schools in the world.

The University of Wollongong, one of the best modern universities in the world with a student population of more than 130,000, has earned excellence in both academic and personal support to students. It provides numerous services through its course directors and peer academic coaches in resolving both academic and personal issues such as health, medical and childcare, faced by students. These services allow students to not only aspire for advanced career prospects at an internationally-reputed university, but to also fulfil their dreams of experiencing a comfortable lifestyle in Sydney, the largest and most cosmopolitan city in Australia.

At this brief event, the BMS President said, "We are delighted to develop a progression pathway partnership with one of the top Business Schools in the world." BMS is committed to providing international degree pathways for its students to become productive members of not only the local workforce but also that of the globe. In line with the mission, BMS takes pride in transforming lives and influencing the future through transmission of knowledge and skills.

Managers and middle-managers seeking to develop their knowledge and skills in two specialised fields of business are able to enrol themselves for a Master of Business (Double Specialisation) at SBS. The program enables students to undertake industry-based research with an international flavour and benefit from wide networking and immense employment opportunities available.