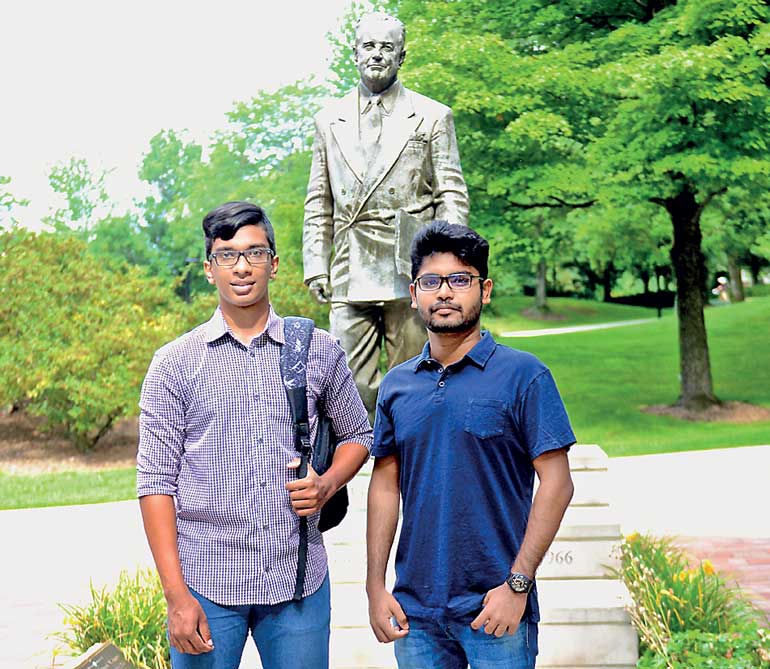 Two Sri Lankan students starting college at Youngstown State University in the Unites States say that their new life has been an adventure, and adjusting to the differences in food, climate and culture has beeneasier than they expected.

Sachith Kodikara, 19, and Mihidul Chandrasena, 18, are first-year students at YSU, a mid-sizedurban research university in Northeastern Ohio. They were friends and classmates growing up in Panadura, Sri Lanka, but have chosen to live separately at YSU as part of their shared desire to be independent and form new friendships in the US.

Kodikara originally planned to stay in Sri Lanka and find employment in the accounting field. He landed an internship with an auditing firm but discovered he didn't enjoy the work. "After three months, I found it very monotonous, crunching numbers all day, and I knew I didn't want to do that for the rest of my life," he said.

He and his parents met with an agent to explore international study opportunities – the same agent also assisted Chandrasena. With his excellent grades, Kodikara qualified for a generous international scholarship from YSU, and that was a key factor in his decision to choose Youngstown State.

"I think most people think that the idea of studying in the US is farfetched. It is so far away. I used to think that," he said. "But people here are so nice, and they help you get things done. I found out that it's not out of reach, and there's a lot of opportunities here."

Kodikara, now a freshman in the university's Williamson College of Business Administration (WCBA), arrived in May and started classes this summer. His long-term goal is to start his own company, so he hopes eventually to get involved in the WCBA's Entrepreneurship program.

He also shares an off-campus apartment with a fellow international student – a roommate from Nepal. "It's an adventure, but it's kind of a limited adventure because we don't have cars," Kodicara said, laughing.

He's taken advantage of city buses to explore shopping, restaurants and other amenities in the region. An amateur photographer, he discovered an ideal spot for photo opportunities in Mill Creek Metro Park, a large metropolitan park near campus, and his favorite eatery so far is an Indian restaurant in a Youngstown suburb.

Chandrasena, a Mechanical Engineering major who started at YSU in January, said he planned to study in the US, and YSU has the kind of high-caliber engineering program he was looking for. The university also offered him a generous international student scholarship, based on his excellent academic record in Sri Lanka.

He spent his first semester in a residence hall on campus but now lives in an off-campus apartment with a roommate from Nigeria, also an international student. So far, he says chicken with waffles is his favorite American food and he likes baseball – he's studying the rules in his spare time.

Chandrasena's first and prevailing impression is how friendly Americans are. "People you don't know will say 'hello' on the street, or they'll start a conversation. That doesn't usually happen in my country," he said. "And the weather is perfect – not too hot and not too cold. Even the winter is ok, when you get used to it."

There are some misconceptions about the USA in his country, he said, mostly based on films and television. "People in Sri Lanka have a lot of concerns about drunken fraternity parties, drugs and guns," he said. "I want to tell them, it's not like that, not even close."

Youngstown State University is a comprehensive urban research university that offers nearly 13,000 students more than 135 undergraduate and graduate programs. As a major educational and economic development resource in the region, YSU is known for its focus on academic research and creative programs that transform its students into successful professionals, scholars and leaders.

Located in the heart of the Tech Belt between Cleveland, Ohio, and Pittsburgh, Pa., YSU provides opportunities for students to actively participate with accomplished faculty, often in one-on-one settings, on advanced research and creative collaborations. The beautiful 145-acre campus includes high-tech classrooms, state-of-the-art labs and performance facilities, a variety of on-campus housing options and recreational facilities among the best in the nation.

For more information about international study opportunities at YSU, visit the International Programs Office website, chttp://cms.ysu.edu/administrative-offices/international-programs-office/ipo-home, or email: intadm@ysu.edu.

Mihidul and Sachith reached Scholarships for USA Ltd. (SUSA) with a request to find them a reputed US university with an affordable price tag and a decent scholarship. Both were from Lyceum International Panadura with whom SUSA has had a close relationship helping its star achievers to enter US colleges and universities with amazing scholarships, considerable credit transfers (based on A/L results) and internationally marketable internships. Both were placed at Youngstown State University, Youngstown, Ohio USA.

Since '01 SUSA has been passionately committed to make US higher education increasingly affordable to deserving Sri Lankan stars and has so far helped over 300 such stars across the nation including the North and the East. Being the only local recruiters to work exclusively with US colleges and universities travelling across US each summer discovering even more affordable schools, SUSA has perfected a resume based instant admissions and scholarship offers from all its partners, saving considerable time, effort and money for prospective candidates.