Coinciding with the momentous Lunar New Year holidays in the Republic of Korea, Ambassador of Sri Lanka to the Republic of Korea Dr. A. Saj U. Mendis was invited to deliver a special lecture on Sri Lanka with particular emphasis on the touristic attractions and attributes of the country.

This special lecture was organised by the Good News Corps Overseas Volunteer Program of International Youth Fellowship (IYF), an organisation which has sent out nearly 10,000 university students and graduates to approximately 100 countries around the world to contribute to volunteerism, cultural exchange, mutual understanding and informal diplomatic activities, amongst others.

The IYF is a highly recognised and reputed body in the region, which deepens and widens bilateral relations on a people-to-people basis and enhances the understanding and awareness of cultures, values, ethos, religious beliefs and unique characteristics of different and diverse ethnicities and nationalities in myriad countries. The program has sent a significant number of Korean university students and graduates to Sri Lanka as well, and most of them were present at this special lecture.

Before Dr. Mendis' 90-minute address, the volunteers of the IYF Good News Corps Overseas Program showcased a number of Sri Lankan cultural performances and sang traditional Sri Lankan melodies, which they had learned during their stay in Sri Lanka. A total number of over 800 university students, graduates and parents of students, travel writers and guests were present at this ceremony.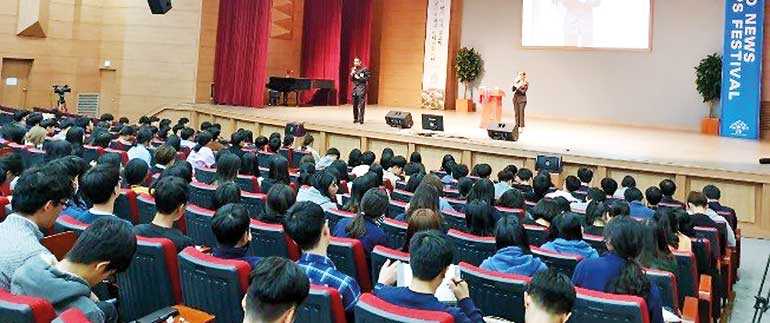 Ambassador Dr. Mendis delivering the address at the Good News Corps Overseas Program of International Youth Fellowship with focus on Tourism of Sri Lanka
---


During the address, Ambassador Dr. Mendis expressed that Sri Lanka is a country which has a temperature ranging from 6 degrees to 35 degrees Celsius, within less than a five-hour distance by road, at any given time of the year. This was stated particularly in the context that the temperature in Seoul, on that day, was -12 degrees Celsius. He stated that an island nation which is two-thirds the geographic extent of South Korea could offer drastically varying temperatures, thus enabling people of the country or visitors to the country to pick and choose the weather and temperature that they wish to experience. Most of the audience, who had not been to Sri Lanka, were highly impressed by this fact. Dr. Mendis further stated that many people and travellers are not aware that Sri Lanka offers almost every attribute and feature that is highly sought-after in touristic destinations that any other country could offer, except snow-capped mountains and skiing.

Since most of the Koreans and people of other nationalities who were in the audience were highly concerned about the ongoing Coronavirus epidemic, Dr. Mendis stated that Sri Lanka is very safe and basically immune from the scourge. He further added that "Lonely Planet, National Geographic, BBC Good Foods, and CNN, to name a few, have chosen Sri Lanka as amongst the most desired touristic destinations in the entire world".

Dr. Mendis added that this was a country where one could witness both the largest living creature in the world, i.e. the blue whale, and the largest creature on land, i.e. the elephant, within a space of three hours with absolute safety and security. No country in the world would be able to offer these attributes to any tourist or visitor in any continent, he claimed. Since most of the millennials who were in the audience are eager to engage in active outdoor sports, such as hiking, snorkelling, scuba diving, mountain climbing, trekking, and wildlife spotting, Dr. Mendis elaborated on most of the places that the Korean tourists and visitors could visit to enjoy their vacations at a relatively competitive cost compared to any European country.

At the end of the lecture, in which Dr. Mendis encompassed economic, financial and commercial opportunities and vistas of the country as well, brochures and pamphlets, including those from Sri Lanka Tourism, were distributed to the audience, and most were delighted since they were in the Korean language.