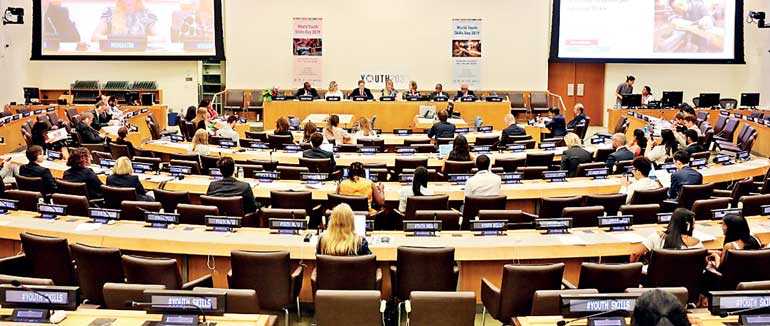 The United Nations General Assembly adopted a resolution in 2014, declaring 15July as "World Youth Skills Day" which will be celebrated every year.
World Youth Skills Day 2019 was marked on 15 July at the UN Headquarters at New York, organised by the Permanent Mission of Sri Lanka to the UN, Permanent Mission of Portugal to the UN, Office of the Secretary General's Envoy on Youth, UNESCO and ILO, and spearheaded by Sri Lanka.
Learning to learn

The theme of the event was 'Learning to Learn for Life and Work'. The objective of the event was to discuss 'Learning to Learn' in the future of work and in the age of technological innovation, social and demographic transformations and climate change threats. The lifelong learning perspective was considered as the central focus of the 2030 agenda for sustainable development. Under the leadership and direction ofPrime Minister Ranil Wickremesinghe, and in his capacity as the Minister on the subject of Youth Affairs, the Ministry initiated national-level programmatic interventions through the National Youth Corps and National Youth Services Council (NYSC).

The Sustainable Development Goal (SDG) 4 in particular pays special attention on inclusive and equitable quality education and promoting lifelong learning opportunities for all. Technical and vocational education and skills development was considered as an essential building block for inclusive development and decent work. Technical and vocational education and skills development is perceived as a necessity for people at all ages and of all socio-economic backgrounds. Further digital technology offers an array of opportunities to learn anytime anywhere. Therefore, it was noted that it is a necessity to inspire young people to develop a passion for learning skills and to pursue excellence.



More than 150 participants from the Government sector, UN agencies, private sector, academia, representative of the civil societies and youth organisation attended this event,co-chaired by the Permanent Representative of Portugal, Francisco Antonio Duarte Lopes and Charge d' Affairesof Sri LankaSatya Rodrigo. The event discussed that the skills, knowledge, vocational training and education of youth are essential to manage planet, service delivery, peace, partnerships, prosperity, and to achieve sustainable development.

UN General Assembly President Maria Fernanda Espinosa, Under Secretary GeneralAna Maria Menendez, UNESCO Director General Audrey Azoulay, ILO Director General Guy Ryder, and UN Secretary-General's Envoy on Youth JayathmaWickremanayake, were present at the event.
Technical and vocational skills

The Ministry ofNational Policies, Economic Affairs, Resettlement and Rehabilitation, Northern Province Development and Youth Affairs, which comes under the direct purview of Prime MinisterRanil Wickremesinghe, is mandated to empower the youth community, said MinistrySecretaryV. Sivagnanasothy, delivering the Statement representing the Youth Affairs Ministry of the Government of Sri Lanka. The Ministry engaged in interactive dialogue,and the following key aspects were discussed:
The importance of demand-driven, industry-focused, labour-market oriented high quality technical and vocational education and skills development are fundamental and important to generate youth employability. Further, the quality is to be improved in Primary, Secondary and Tertiary education.
Redesigning of Technical and Vocational Education Training (TEVT) programs with courses and curriculum in close collaboration with industry, private sector and Chambers to ensure that demand-driven, futuristic-oriented skills and career guidance are required to guide the youth and need to be strengthened with Tracer Study and Labour Market Survey to address the skills mismatch. Furthermore, an Industry Sector Council has been established in Sri Lanka in the TEVT programs to bring industry and private sector perspective and thereby redesigning a course to address skills mismatch. It is also emphasised that the apprenticeship mode of trainings is to be strengthened in the TEVT program.
A quality National Vocational Qualification (NVQ) system is essential to ensure career path for the youth who have acquired practical experiences and skills. Also, to recognise their talents, prior learning, and skills including soft skills such as leadership, personality development, risk taking ability and communication skills are fundamental.The youth should be encouraged and promoted to engage with the Micro Small and Medium Enterprises sector rather than overly depending on Government sector career path.
The youth should also receive exposure in aesthetic skills, special talents, sports, spiritualism, and social and voluntary work including extracurricular activities in order to develop their personality, potential, discipline to be productive citizens of Sri Lanka.
In terms of skill building programs, the National Youth Services Council (NYSC) has provided support to 'YowunPuraya' (City of Youth) and Youth Parliament programs. Similarly, the National Youth Corps has initiated soft skills development programs. Institutions such as Technical Colleges, Vocational Training Centres, National Apprentice and Industrial Training Authority (NAITA), Small Enterprises Development programs, Skills Sector Development Program (SSDP) funded by the Asian Development Bank (ADB) to reform and reorganise the programs and the dedicated Youth Affairs division of the Ministry of National Policies, Economic Affairs, Resettlement and Rehabilitation, Northern Province Development and Youth Affairs are providing extensive support to the youth development programs. In parallel,under the leadership of UN Sri LankaResident Coordinator Hanaa Singer, United Nations Development Program (UNDP), and other UN agencies are extending their technical support to empower the youth.