The Sri Lanka Institute of Marketing (SLIM) recently held their Inauguration for the Postgraduate Diploma in Marketing, first intake in 2018. The event was organised on a grand scale with a large crowd of Advanced Level students, marketers at executive and middle managerial levels of corporates and other members of the business community. Non-Marketers who are interested in a career change, also gathered together to take the step forward which would enhance their Marketing careers and boost their futures.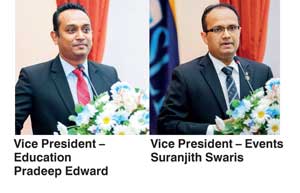 The SLIM Postgraduate Diploma in Marketing (SLIM PGDIP) is a 24 month, part-time program which consists of four levels which gives students competencies in Marketing from Operational to Strategic levels, and culminates in an Integrated Research Project. The SLIM PGDIP will benefit its students immensely as they are provided with a detailed understanding about the Marketing tools as the strategic level delves into concepts such as Sustainability and Strategic Marketing Planning. Holders of the SLIM PGDIP are assured of excellent employment prospects and career growth as this Diploma is widely endorsed by top corporates in Sri Lanka. Those who enrol for this programme can complete the course at the SLIM Business Schools in Colombo, Kandy and Matara.

In his welcome address, SLIM Vice President Pradeep Edward stated that the SLIM PGDIP in Marketing is one of the most recognised courses on marketing in the country. "Students will be guided by well-qualified resource persons, including practicing Marketers who hold senior positions in top corporate companies. Visiting lecturers will attend and share their industry experience, which will give students a comprehensive picture of Marketing with examples from the local and international arena. Furthermore, students can also participate at events of committees in national level events such as the SLIM Brand Excellence, Effie Awards, NASCO, SLIM Trainings and SLIM Toastmaster," he said.

The Guest Speaker Dulani Nissanka, Director, Group Chief Human Resource Officer in Laughs Holdings Ltd., commended the qualification and said that the prospective students are making the right decision by selecting the best marketing program which is recognised by many corporates in the country. We as HR believe that every marketing vacancy advertisement carries SLIM PGDIP as a requirement for the job, which ensures that the candidates are well qualified to take up professional challenges in Marketing. Also SLIM lays the foundation for further studies in Marketing and their course route is the quickest one to an MBA."

In a Special Message delivered by SLIM Vice President Suranjith Swaris, stressed that the corporate world is very challenging and competitive. "Thus, marketing is the profession where you are able to differentiate yourself, your brand and your company from the rest. It is a very disciplined and energetic profession which has been producing well-known corporate heads and entrepreneurs," he noted.

SLIM CEO Sanath Senanayake observed that SLIM makes constant efforts to update the PGDIP syllabus, textbooks and course content in keeping with current industry requirements and the delivery of education through well qualified and industry expert resource panel. "The program is crafted with the right blend of assignments and exams along with individual and group presentations. Our curriculum is always updated in order to produce well-qualified Marketers who can adapt to any situation."

SLIM is the renowned National Body for Marketing in Sri Lanka with nearly 50 years of excellence and experience in marketing instruction. SLIM's constant efforts towards continuously developing the future of Marketing in Sri Lanka and its commitment towards the profession is second to none. For budding marketers interested in a career in this field, there is no better place than SLIM as it is the premier Institute for marketing education in the country.