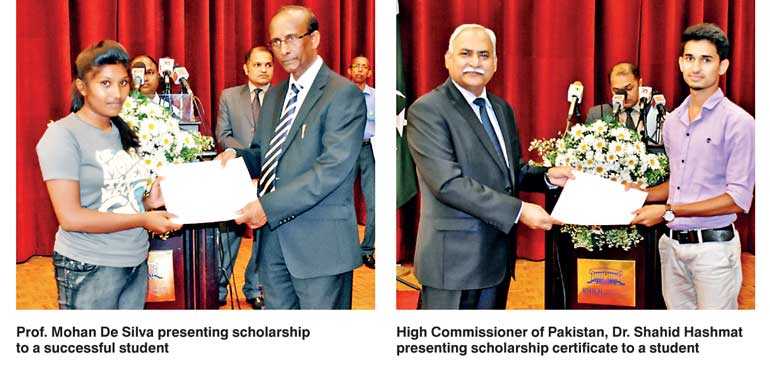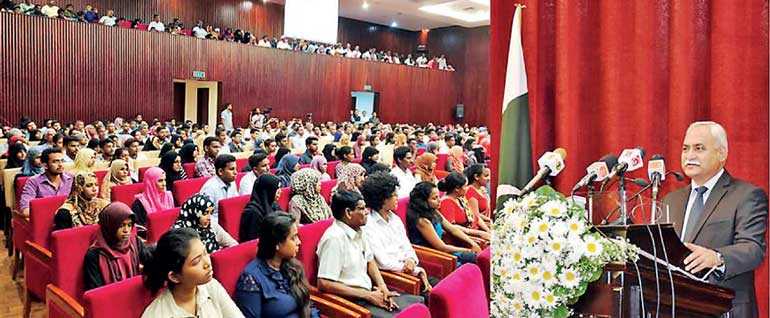 The Pakistani Government, through its High Commission in Sri Lanka, has awarded scholarships to 182 meritorious Sri Lankan A Level students under the prestigious Jinnah Scholarship program.

The award ceremony was held at the Bandaranaike Memorial International Conference Hall (BMICH) on 23 April in the presence of a large gathering which included University of Sri Jayewardenepura Vice Chancellor Prof. Sampath Amaratunga, University of Moratuwa Vice Chancellor Prof. K.K.C.A. Perera, Ven. Bhante Olande Ananda, Rev. Fr. Quintus Fernando and parents of the successful students.

Sri Lanka University Grants Commission (UGC) Chairman Prof. Mohan De Silva was the Chief Guest at the occasion.

Pakistan High Commissioner Dr. Shahid Ahmad Hashmat, while addressing the gathering, said that Pakistan and Sri Lanka share an important and growing relationship which is built on strong people-to-people links. He congratulated the awardees for their achievements and expressed hope that they would continue to excel in their academic pursuits.

He reiterated Pakistan's continued support of Sri Lanka in enhancing the younger generation's nation building capacities with better educational opportunities. The High Commissioner further highlighted that in addition to the Jinnah Scholarships, the Government of Pakistan offers scholarships in medicine, engineering, pharmacology, dentistry, etc. to Sri Lankan students to pursue higher professional education in Pakistan every year.

UGC Chairman Prof. De Silva in his speech paid a rich tribute to the founder of Pakistan, Quaid-e-Azam Muhammad Ali Jinnah, for his efforts in creating the country. He recalled the robust nature of relations between Pakistan and Sri Lanka and conveyed his appreciation of the Jinnah Scholarship scheme which has benefitted numerous Sri Lankan students since its inception.

The Pakistani Government has been awarding the Jinnah Scholarships since 2006. During the past 13 years roughly 1,500 scholarships have been awarded.