Prof. M.W. Wickramarachchi and Prof. Colin N. Peiris flanked by CA Sri Lanka's President Lasantha Wickremasinghe, Chairman of the School of Accounting and Business Heshana Kuruppu, CEO Aruna Alwis and other officials including Director of the School of Accounting and Business Dr. T.B. Andarawewa


A total of 121 students were conferred with a BSc. in Applied Accounting Degree at the 2017 convocation of the CA Sri Lanka School of Accounting and Business which was held in December.

The convocation was held under the patronage of Emeritus Professor M.W. Wickramarachchi of the University of Sri Jayawardenepura and Emeritus Professor Colin N. Peiris of the University of Peradeniya. This was the second batch of students to graduate after completing their three-year course of study and internship.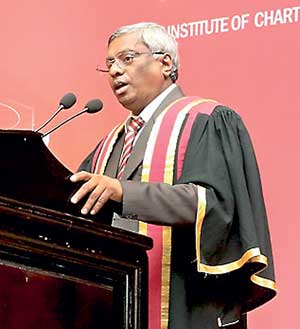 Speaking at the event, Chief Guest Prof. Wickramarachchi said that the new trend in developed countries was to modify the accounting degree curriculum to satisfy the requirements of professional accounting institutions.

"If they do not modify the curriculum, student enrolment in accounting degree programs may diminish; income generation may become low. This may not be directly applicable to Sri Lanka due to our taxpayer-funded higher education system," he said.

He however noted that it was important to be aware of these characteristics of international accounting education systems.

"Professional accounting institutions in Sri Lanka have to take necessary actions while understanding the socio-political culture and socially accepted values," said Prof. Wickramarachchi.

Addressing the graduates, CA Sri Lanka President Lasantha Wickremasinghe said that the degree the graduates were conferred with would be their global passport to achieve lifelong professional success. But he also advised graduates to continue to update their knowledge if they were to remain relevant. Wickremasinghe also noted that possessing a qualification alone did not end a graduate's need to be a relevant professional, as it was only a foundation.

"So, you must gain more experience and skills if you are to achieve holistic success. Even though you possess a recognised qualification, it does not mean you can sit back, relax and take it easy and everything will fall on to your lap," he said.

Within a few years, the BSc. Applied Accounting Degree has gone on to become one of the most sought-after degree programs offered in Sri Lanka. The program is not only followed by local students but has also attracted foreign students since its launch in 2013.

"Although we started the degree program with a mission to reduce the gap in the increasing dearth in recognised higher education opportunities in Sri Lanka, the fact that our degree program is now followed by foreign students can also be considered an important stepping stone in helping position Sri Lanka as a destination that offers quality higher education opportunities for non-Sri Lankan students," Wickremasinghe added.

This is the second convocation ceremony conducted by the School of Accounting and Business of CA Sri Lanka, which is the only professional body in the country to offer a professional qualification and an academic degree in accounting.

The inaugural convocation was held last year where 75 students received their BSc. In Applied Accounting, which is also approved by the University Grants Commission and has also been internationally accredited by the Association of Chartered Certified Accountants (ACCA) and CPA Australia, while Australian universities such as Deakin and La Trobe offer transfer opportunities to students following the CA Sri Lanka Applied Accounting degree.