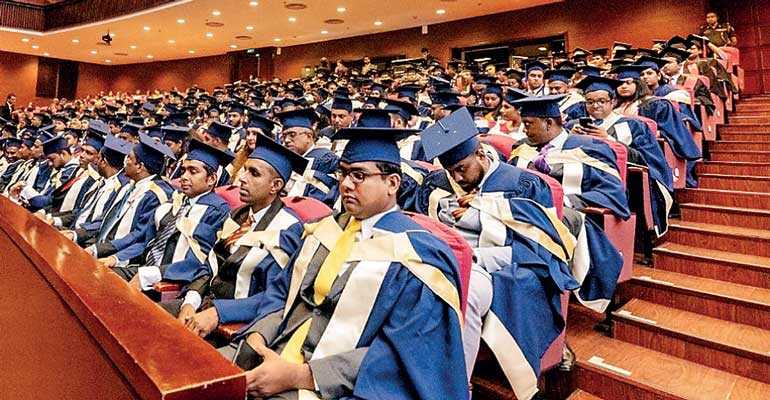 The $ 93 billion Sri Lankan economy which is driven by the private sector contribution of around 70% plus, will be pivotal for the reviving of the economy that has just grown by 1.6% GDP in Q2 2019, said Clootrack – Sri Lanka, Maldives and Pakistan President/CEO Dr. Rohantha Athukorala which is the foremost Artificial Intelligence global company that serves the top Fortune 500 companies. He was the keynote speaker at the Birmingham City University partner graduation – Next Business School at Nelum Pokuna.

He commended the Birmingham City University discipline and the academic rigor by which the students are trained, given that Sri Lanka requires the best talent to rebuild the country post the Easter attacks.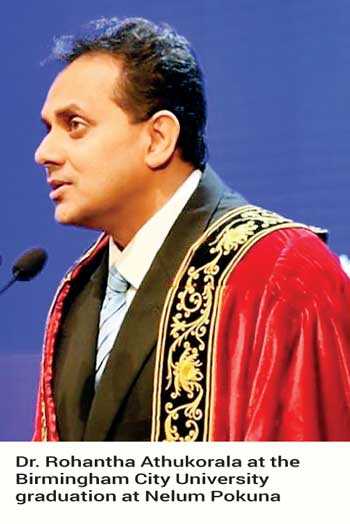 "1.6% GDP growth means no body in Sri Lanka will even feel the development. In fact it is a de-growth when inflation is factored in a market," said Sri Lanka Tourism and Sri Lanka Export Development Board former Chairman and Sri Lanka National Council for Economic Development former Executive Director. "Organisations like yours will be key for churning out the talent that Sri Lanka require in 2020," voiced Dr. Athukorala.

He emphasised that the new key presidential candidates are focusing on bringing in education reforms from what we have heard, and specifically the MBA education will be pivotal.

"I know of a university that offers an MBA program from UK, accepting that the product they offered was substandard and reduced their student fee from £ 1000 to £ 750 and sadly, this was pocketed by the local university partner than passing down to the students, which is the low standards that Sri Lanka's education has come down to. In fact the total faculty that were industry professions quit teaching. We need strong regulation at postgraduate studies," said Dr. Athukorala.

Artificial intelligence is the way forward in the world from medical diagnostics to perception management of brands. We now see that this year's election brand marketing companies are using AI for strategy development hence we have to up the game in Sri Lanka.

For this to happen, the overall quality of post-graduation education is key, said the keynote speaker.

Next Business School Chairman Dusty Alahakoon who is a qualified mentor and coach from Insead Business School whilst being a CEO of a top private sector company highlighted that "quality will not be sacrificed for profits at any cost" which is the strong link that private sector education must have in the country he commented.

Over a 1,300 graduates passed out under the Birmingham City University branding at Nelum Pokuna in the 2019 graduation.