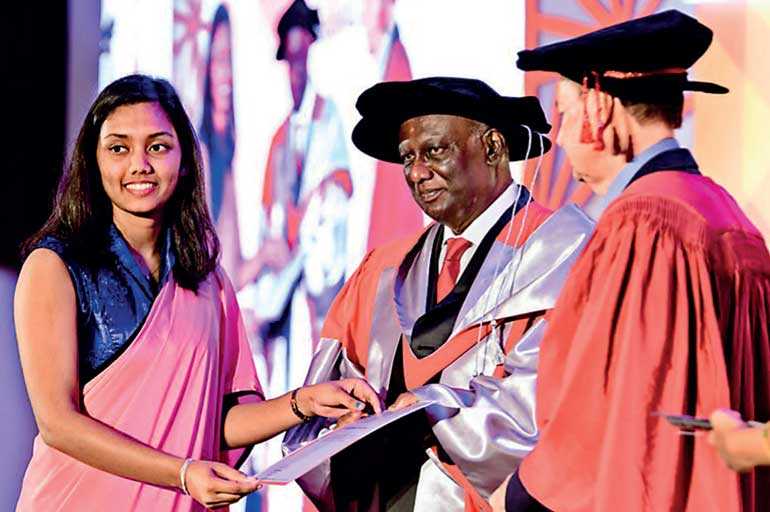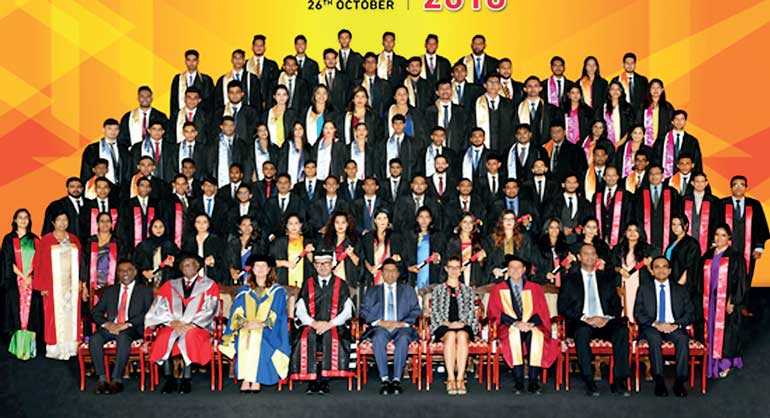 Celebrates achievements of 284 students
Nawaloka College of Higher Studies (NCHS) held its 4th graduation ceremony at the Galadari Hotel, Colombo, celebrating the accomplishments of 284 students who will commence their second year of studies in Australia and Malaysia by February 2019. The graduates followed their graduate studies in Business and Engineering Foundation and UniLink Diploma in Business, IT, Engineering and Health Science at the Nawaloka College of Higher Studies.

Enabling Sri Lankan students to follow their academic aspiration on par with the highest international standards, NCHS provides quality education via an exclusive partnership with the Swinburne University of Technology. The graduation ceremony took place with the participation of the NCHS Chairman and Directors, Swinburne University of Technology staff members, NCHS staff as well as parents of graduating students. The Chief Guest at the occasion was Higher Education and Cultural Affairs Minister Dr. Wijeyadasa Rajapakshe, while Deputy High Commissioner for Australia Victoria Coakley, Swinburne University of Technology Deputy Vice Chancellor David Coltman and Swinburne University of Technology Pro Vice Chancellor Professor Monica Kennedy graced the event as special guests.

Addressing the graduates and those who were present, Dr. Wijeyadasa Rajapakshe stated: "First of all, congratulations to the graduating students. You have succeeded in surpassing an important milestone in your young lives. Education plays a central role in shaping a well-adjusted and intelligent future generation that can work towards the country's progress. I wish you all courage and strength to excel in your chosen fields and become leaders of tomorrow."

NCHS is located in the heart of Colombo 03, and provides students with world-class facilities, including purpose-built engineering and computer laboratories and a resource-oriented library. NCHS Kandy Campus provides students in the area access to a conveniently located academic platform, along with cutting-edge technological facilities to pursue their preferred academic discipline. NCHS Kandy Campus employs experienced and qualified academic staff to guide the students. The campus also offer relevant information and facilitate various administrative aspects on behalf of the students from the suburbs.

"Working with the understanding that high quality education is of paramount importance in moulding highly perceptive, creative and resourceful individuals, we consistently facilitate academic excellence to our students. Our exclusive partnership with the Swinburne University of Technology enables us to provide our students with exceptional academic opportunities and material," commented NCHS Deputy Chairman/CEO Victor Ramanan.

"We have pledged to ourselves to never compromise on the quality of education that we provide our students. Supported by our talented and experienced academic staff, we provide our students with guidance and scholastic material designed to promote creativity, inventive thinking and substance of knowledge that would help them compete with the best minds in the world," commented NCHS Dean of Studies Dr. Alan Robertson.

NCHS facilitates diploma studies in Business, IT, Engineering and Health Science for the duration of 8 months, and foundation programs in Business and Engineering (8 months). The academic staff at NCHS possesses the expertise and experience to guide students to achieve academic success.