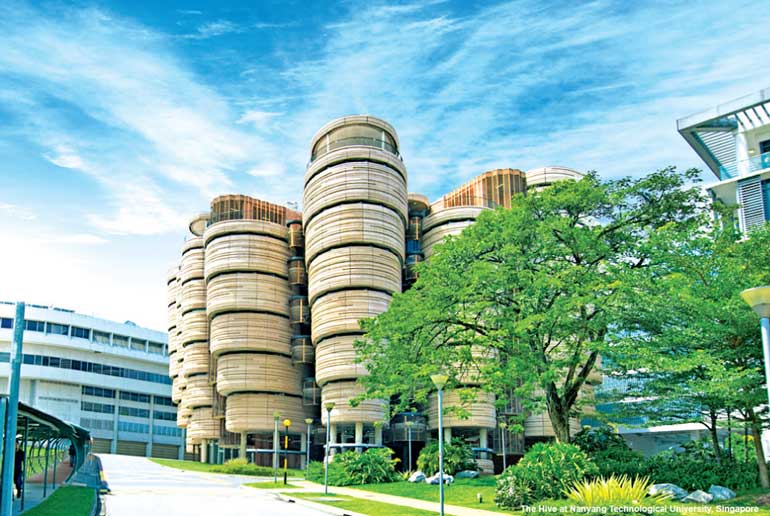 NTU is ranked among Asia's Top 5 universities for the third consecutive year. The Hive at NTU is the centrepiece of the university's flipped classroom pedagogy, a new education model in the digital era. (Credit: NTU Singapore)
Nanyang Technological University, Singapore (NTU Singapore) has retained its position among Asia's Top 5 universities in the Times Higher Education Asia University Rankings released this week.

This is the third consecutive year that NTU has been ranked among Asia's Top 5.

In October 2017, NTU was crowned Asia's top university in the Quacquarelli Symonds (QS) University Rankings in Asia. In June 2017, NTU climbed to 11th place in the Quacquarelli Symonds (QS) global league of universities, the highest ranking ever by a university in Asia.

In the latest Times Higher Education ranking that lists more than 350 top Asian universities, NTU achieved a higher overall score compared to last year, improving in the areas of research, international outlook and industry income, while maintaining its high score for citations per paper.

NTU President Professor Subra Suresh said: "NTU has made impressive progress in a very short time, having risen from No. 11 when the Times Higher Asian rankings began in 2013. NTU continues to make overall progress including in the areas of research, international outlook and industry engagement."

The improved performance sees NTU in the top spot among Singapore universities in three areas – citations per paper, industry income and international outlook.

"The latest rankings reflect the continued impact of NTU not only in education and research programs, but also in NTU's impact on industry and society," said Prof. Suresh.

Commenting on the region, Prof. Suresh said: "The commitment of Asian countries to higher education and R&D (research and development) puts their universities in a good position to take advantage of the technological revolution that is sweeping across the world. As long as Asian countries continue to invest in higher education and quality research for the long term, the future promises to be bright for Asian universities."

Singapore universities will face growing challenges as they compete with the rest of Asia and the world for the best talents and resources. Prof. Suresh commented: "Singapore is new to the global innovation game, and will face formidable competition from the traditional Asian giants, China and India that have young and dynamic populations, and other universities that are steadily catching up. The challenge for us is to be nimble and to continue to attract, nurture and retain top talent and establish strategic partnerships with leading academic and industrial organisations."

NTU has more than 400 partnerships worldwide, including joint and dual PhD programs with prestigious universities and research collaborations with leading industry partners that include Rolls Royce, BMW, Delta Electronics and Singtel.

Prof Suresh, who became NTU President on 1 January, recently announced his vision to transform NTU into a Smart Campus that embraces digital technologies.

In line with the NTU Smart Campus initiative, NTU and Volvo Buses announced last month that they would team up to develop driverless electric buses in Singapore in 2019. In the same month, NTU also launched Singapore's first flash-charging electric shuttle, in partnership with BlueSG, a subsidiary of Blue Solutions owned by Bolloré Group, a global logistics and transportation giant.

In calculating the Asia University Rankings, Times Higher Education used the same 13 performance indicators as its World University Rankings, but recalibrated the indicators to reflect the attributes of Asia's institutions in the key areas of teaching, research, citations, international outlook and industry income.