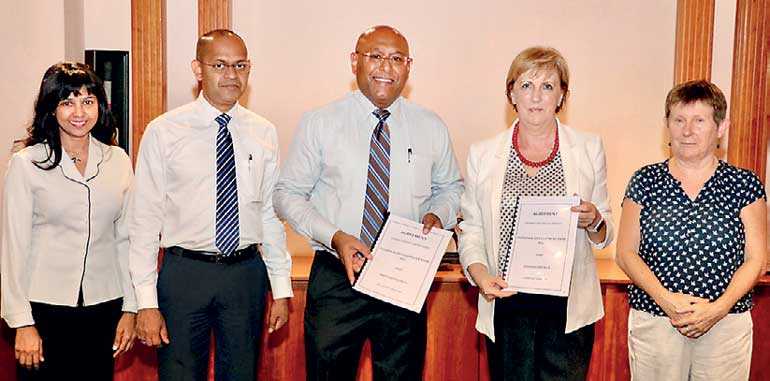 From left: Senior Manager – Corporate Sustainability Sharon De Silva, Vice President – Marketing and Customer Experience Sanjaya Senarath, NDB Director/Group CEO Dimantha Seneviratne, British Council Sri Lanka Country Director Gill Caldicott and British Council Sri Lanka Manager English Language Training (ELT) Projects Lesley Dick
NDB recently partnered with British Council for the sixth consecutive year to improve the skills of Secondary English Language Teachers of Government Schools in Sri Lanka through an enhanced teacher training and delivery method supported by language training.

This project aims to build on the bank's previous initiative in improving the skills of English language teachers in Sri Lanka through the provision of an in-service teacher training course aimed at training state school English teachers to incorporate 21st Century Skills into their classroom teaching.

21st Century Skills are the six core skills now recognised as essential for preparing young people to live and work in the globalised 21st century economy. They are: critical thinking and problem solving; citizenship; collaboration and communication; digital literacy; creativity and imagination; student leadership and personal development.

The project will identify teachers who have already taken the NDB English for Teaching course, or similar training courses with British Council involvement. As their English language skills and teaching methodology have improved by their participation in the previous NDB English for Teaching Project, teachers are ready to move to the next level and develop their ability to teach the core skills vital for their students to live and work successfully in a globalised 21st century economy.

NDB Bank which is the first and to date the only corporate in Sri Lanka to officially be certified with EDGE Certification, the leading and only global certification for gender equality at work place, is the parent company of the NDB Group, one of the fastest growing financial services conglomerates in Sri Lanka, with the strategic mission to be the dominant leader in the financial services and banking sector.

From its inception, the group which includes NDB Bank, NDB Capital, NDB Investment Banking, NDB Wealth, and NDB Securities has been a catalyst in the development of the nation, strengthening and empowering entrepreneurs, corporates and individuals from all strata of the economy. Customers across all group companies have benefited from the product and service offerings of the NDB group.