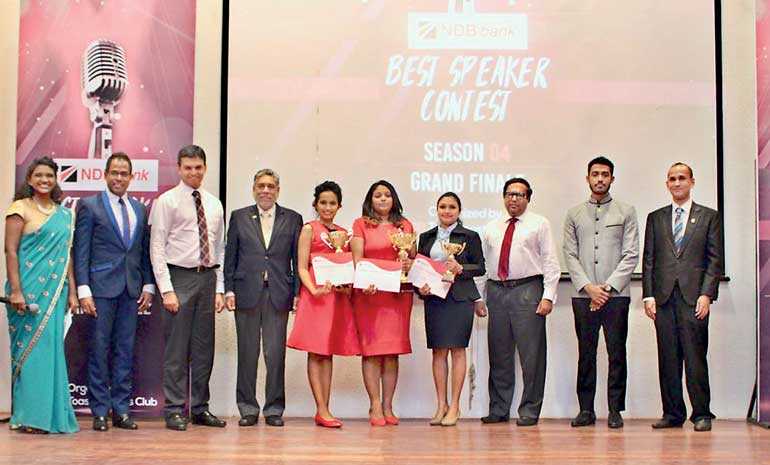 The NDB Toastmasters 'Best Speaker Contest 2018' Grand Finale organised by the NDB Toastmasters Club in collaboration with the NDB HR Department was held in great celebration at the DHPL Auditorium of the NDB – EDB Towers.

The contest commenced with a number of applicants representing all areas of the bank and the entirety of the NDB Group resulted in eight finalists.

Shivalatha Sivasundaram won the NDB Best Speaker title and the Best Amateur Speaker title followed by Saranga Perera and Hashini Premanath in second and third places. Hashini Premanath was also voted the Most Popular Speaker.

Furthermore, Sunesh Rodrogo – DGM, Group HR at MAS Capital Ltd. graced the event as the keynote speaker while the Chief Guest was Buwaneka Perera – VP (Cooperate Banking), NDB Bank and the Guest of Honour was DTM Ajantha Jayawardene – District Director, Toastmasters International District 82.

The event was attended by the senior management and the staff of the bank and invitees from the toastmasters' fraternity.

The NDB Toastmasters Club was initiated by NDB on 31 October 2013 and joined the Global Toastmasters fraternity. Since its inception, NDB Toastmasters Club has helped many individuals, including staff members to improve on their communication and leadership skills whilst giving them confidence to participate in many professional forums. The Best Speaker Contest 2018 was yet another event in which many individuals successfully showcased their public speaking talents.

NDB remains dedicated to guide its customers to success whilst being committed to support them accomplish their lifelong ambitions and uplift their standards of living through the range of services that is accessible through its growing branch network. Further details on NDB's many products can be obtained from its 24 hour Call Centre, by calling 011 2448888 or by visiting NDB Bank's website on www.ndbbank.com.