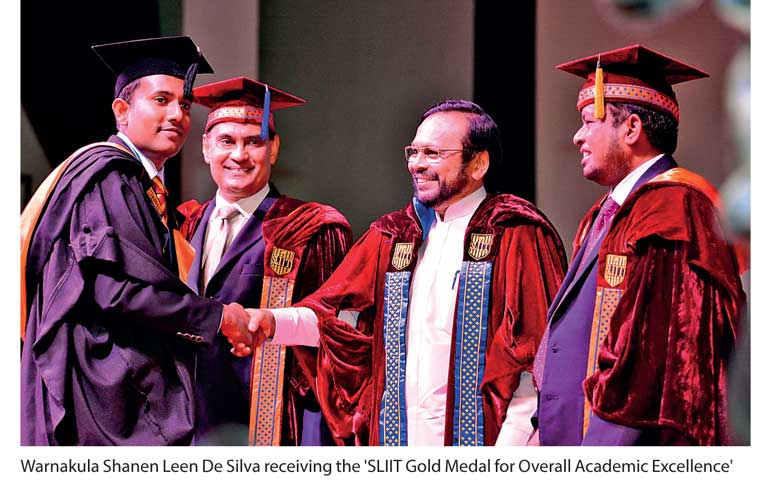 SLIIT, the nation's premier higher education institute held its 17th Graduation Ceremony at the SLIIT campus in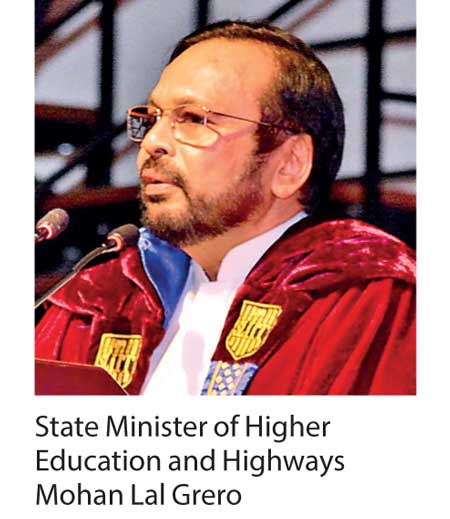 Malabe recently conferring Bachelors and Masters Degrees.

The Convocation celebrated the academic achievements of 240 graduates, from the June 2013 academic year. These students graduated in various disciplines including Information Technology, Engineering and Business Management.

State Minister of Higher Education and Highways Mohan Lal Grero graced the occasion as the Chief Guest. Congratulating all the graduates on their success, Mohan Lal Grero said, "This is not the end but the beginning of an era. You are all fortunate to have the backing of SLIIT. Remember graduation and gratitude go hand in hand and now that you are graduates think about those who supported you throughout."

Commending SLIIT on producing over 30,000 professionals since its establishment, especially in IT towards the development of the country, he added, "You have studied in a prestigious institution like SLIIT, You are the cream of the country and Sri Lanka needs your support."

Advising all graduates he said, "Give back something to the world, to the country. Innovate, find new things that are marketable and can improve economy. That is what is expected from you. This is your launchpad to take off and in my opinion you belong among the stars. Work to inspire future generations, who walk through SLIIT's corridors."

In recognition of their special academic excellence, several students received medals during the graduation ceremony. Rajendran Praveen received the 'SLIIT Gold Medal for Overall Academic Excellence' from the Faculty of Business, Narmada Dushmanthi Udumalagala Gamage and Warnakula Shanen Leen De Silva were awarded the 'SLIIT Gold Medal for Overall Academic Excellence' from the Faculty of Computing, Kajendran Alagaratnam received the 'Best Overall Performance Award for BSc in IT Degree', and the 'Best Performer Award – University of Bedfordshire, BSc (Hons) Computer Science and Software Engineering Degree was presented to Samarasekara Pathiranalage Ushan Kavinda.

Addressing the gathering, SLIIT CEO Professor Lalith Gamage said, "I congratulate all graduands today for their hard work and diligence in achieving this important milestone. As you embark towards your future careers, ensure you use the unique skills and experiences acquired from SLIIT to contribute and make a true impact in society."

"We believe our graduates are the next generation of leaders and change makers who will not only make a great difference in their respective fields of practice but are also well equipped to meet the demands of an ever-complex world," Prof. Gamage added.