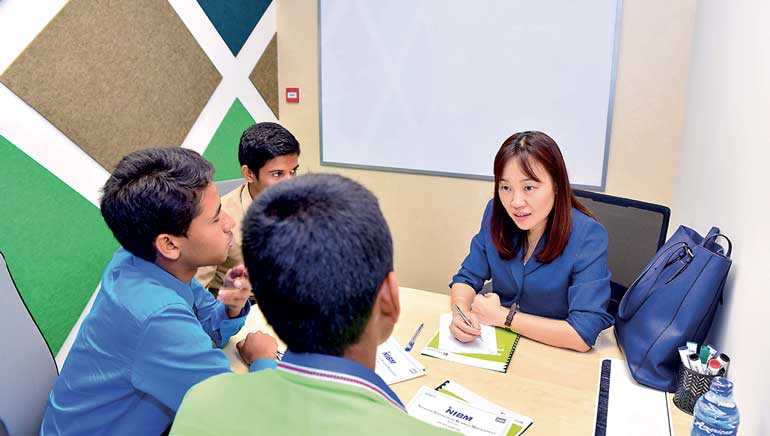 Microsoft SEANM General Manager Sook Hoon Cheah leading a career coaching workshop

The recipients of the Certificate in Computer Science - NIBM
---
Microsoft recently hosted a career development workshop and certification ceremony in collaboration with Sarvodaya Fusion and HSBC. The event, which was held at Microsoft's corporate headquarters in Sri Lanka, encouraged upcoming employees to build a roadmap to their career destination.
Over 25 participants were certified by Microsoft for their performance in the Computer Science Fundamentals course conducted by the National Institute of Business Management (NIBM). Last year, the company held learn to code workshops for up to 5,000 young adults alongside Sarvodaya Fusion and HSBC. Of those 5,000 people, 700 were offered to complete a diploma in Computer Applications while only 50 of them could enrol in the certificate course.

Senior executive leaders and career coaches from Microsoft, Sarvodaya Fusion and HSBC assessed each participant's suitability for different occupations, particularly in Information Technology (IT). The workshop introduced participants to the SMART criteria, an action plan used to explore career options with technology. The plan helped participants identify and realise their career goals through personal consultation and goal setting. It also encouraged them to break down their long term goals into smaller actionable steps to make them easier to focus on. Sri Lanka's workforce is becoming more mobile, more connected, and more diverse than ever before. In light of these changes, organisations are seeking guidance on how to help grow the careers of their employees and contribute to higher levels of engagement, productivity and business growth.

"At Microsoft, one of the most important drivers of our success is our culture," said Microsoft Sri Lanka and Maldives Country Manager Hasitha Abeywardena. "We believe that everyone can grow and develop through a growth mindset. It's this type of mindset that allows us to empower every person and every organisation on the planet to achieve more."

"To support our growth mindset culture and meet the learning needs of our employees around the world, we offer a diverse range of learning and development opportunities," said Microsoft SEANM General Manager Sook Hoon Cheah. "At Microsoft, we're working with governments, the private sector, and non-profit organisations to make the benefits and opportunities of technology accessible to everyone."

"Technology is rapidly and irrevocably transforming the way we do everything. New platforms such as artificial intelligence, robotics, and Virtual Reality are already impacting the pace of change and how we work," said HSBC Sri Lanka and Maldives CEO Mark Prothero. "At HSBC we see it as an opportunity to thrive. Understanding how our next generation can meet the challenges of this workplace of the future is fundamental in this regard. Up-skilling youth through programs like this is definitely a step in the right direction."

Microsoft has invested over $ 11 million in Sri Lanka, offering technology skills training and connections to employment, entrepreneurship, and continued education.