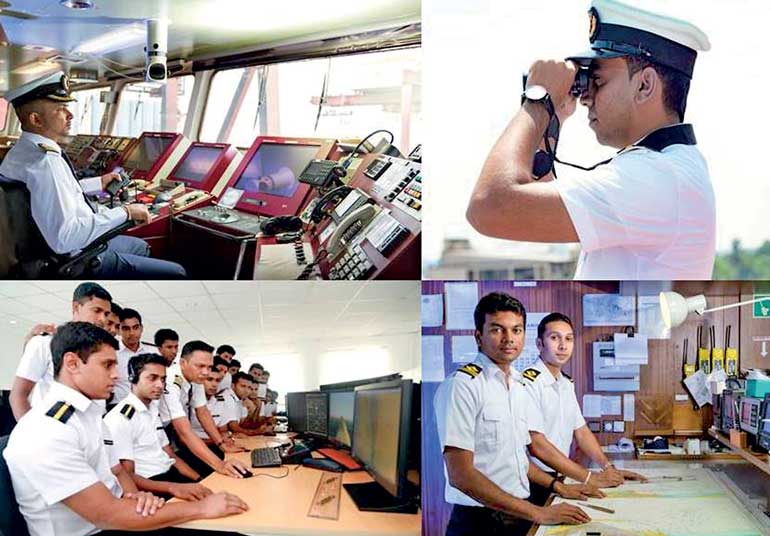 The Merchant Shipping Secretariat – Ministry of Ports and Shipping has taken the initiative to broaden the entry criteria for Merchant Navy Cadet Officer training to include GCE A/L Technology stream students, in a bid to create more opportunities for Sri Lankan youth to embark on lucrative seafaring careers. The entry criteria for Engineering and Navigation Cadet Officer training was previously open only to GCE A/L Mathematics and Bio Science stream students with emphasis on physics and math. With the newly introduced changes to the criteria, technology stream students who fulfil below minimum requirements are now eligible to enrol for Cadet Officer training.
"S" pass for Engineering Technology and one other "S" Pass.

"S" Pass for Bio Technology and "S" pass for science for technology.

"S" pass Science for Technology' and one other "s" Pass.
"Recognising GCE A/L Technology students' eligibility to pursue their career as Merchant Navy Officers is a timely initiative by the Merchant Shipping Secretariat. As the foremost merchant navy training academy in the country, Mercmarine Training has always emphasised on the importance of building a strong force of Sri Lankan seafaring professionals. By creating more opportunities for our talented youth to pursue seafaring careers, we are correctly positioning our country to reap maximum benefits from the rapid growth of the industry. We are thankful to the Merchant Shipping Secretariat for making right and timely decisions and we hope to act on this and open the doors for more young blood to join this thriving industry," remarked Mercmarine Group COO Captain Rohan Codippilly.
The Education Ministry took the important initiative of introducing Technology as a subject to A/Ls. This was with the aim of moulding tech savvy youth, equipped with knowledge and skills to thrive in the modern technology driven world. Initially implemented in 200 schools, technology subjects are now taught to thousands of students around the country. The Merchant Shipping Secretariat's decision to open doors for technology students to pursue seafaring careers is an important milestone in realising the full potential of Sri Lankan youth.
Mercmarine Training, in line with new changes made by the Merchant Shipping Secretariat, has extended registration deadlines for Navigation Cadet Officer and Engineering Cadet Officer intakes to accommodate technology stream students interested in the merchant navy profession. Thus, students who sat for their GCE A/L examination in the technology stream and fulfilled the minimum requirements can now apply and register for the 2018 intake at Mercmarine Training. Those who wish to obtain more information regarding the courses can contact Mercmarine Training via e-mail: apply@mercmarine.net or by telephone: 011 7476100/0769 387477.
Mercmarine Training was established in 1986 as the training arm of the global maritime giant Mercmarine Group, in order to fulfil the group's internal requirements. The institute later proceeded to train world class seafarers to meet the demands of the entire industry as a Merchant Shipping Secretariat approved institute offering internationally recognised maritime education.
Mercmarine Training derives its' unique strengths as a maritime trainer from its' mother company, Mercmarine Group which has over 100 years of experience operating in the businesses of ship owning, ship management and crew management. This gives Mercmarine Training the ability to keep pace with advances in shipping technology and provide guaranteed onboard practical training to its trainees, which an important requirement to qualify as a merchant navy officer. Mercmarine Training has obtained the ISO 9001:2015 Quality Management System Certification from DNVGL.