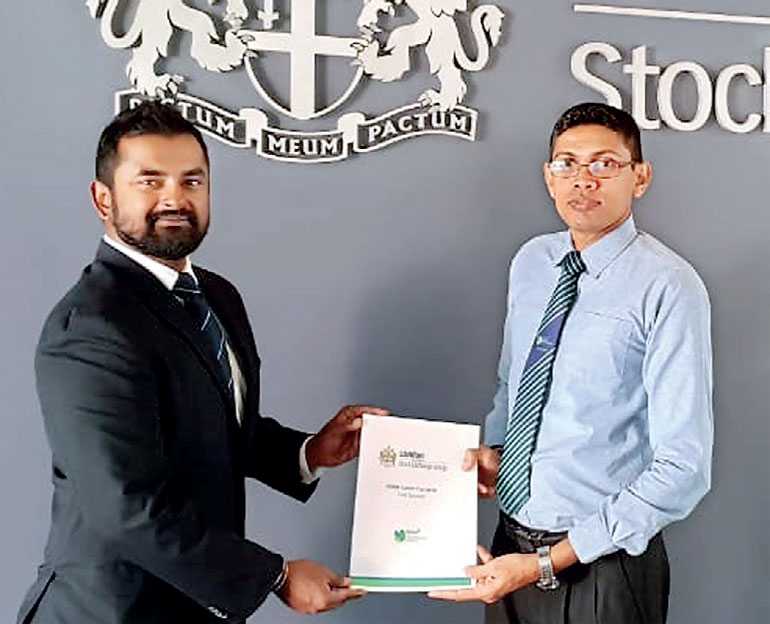 Shanaka Abeywickrama, Head of Marketing and Communications – Sri Lanka and Group Technology of LSEG and NSBM Manager – Career Guidance Kapila Liyanage exchanging the partnership documents
---
London Stock Exchange Group (LSEG), a leading developer and operator of high-performance technology solutions, including trading, market surveillance and post trade systems for over 40 organisations and exchanges, has partnered with NSBM Career Fair – 2018 as a Gold sponsor. The Career Fair will be held on 1 and 2 December at NSBM Green University Town, Pitipana, Homagama.

Head of Marketing and Communications – Sri Lanka and Group Technology of LSEG Shanaka Abeywickrama expressing his views at the signing event said: "As an organisation, LSEG takes pride in investing in our future of technologists. We are happy to come on board as a Gold Sponsor for the NSBM Career Fair 2018. The Career Fair is a great opportunity for the students of NSBM to identify their career prospects, align their interests and career aspirations with market opportunities, and make a milestone decision on which organisation would best complement their career aspirations. LSEG provides new recruits the ideal environment to identify their strengths and develop their skills. We are keen on the continuous nurturing of young minds and grooming them to become competent managers and organisational leaders in the future. We invite students to speak to our Recruitment Team and identify their aspired career path from the range of career opportunities we offer at LSEG."

Manager – Career Guidance Kapila Liyanage added: "NSBM Career Guidance Unit motivates all undergraduates to obtain hands-on work experience while still being final year undergraduate, expose themselves to professional environment as well as inculcate work ethics, professionalism, positive attitude toward work and other soft skills that are expected by employers. We believe organizations like LSEG are able to contribute a lot to this mission of NSBM."

This Career Fair is an opportunity to meet over 1,100 graduates from the School of Business and over 600 graduates from the School of Computing and 50 graduates from the School of Engineering who are graduating in December 2018 and are available for employment. Companies and employer organisations will be able to meet the above student groups, to inform them about their career opportunities, conduct interviews and recruit fresh graduates and interns at the event.

The first day of the Career Fair (1 December) will have a greater focus on business management related opportunities while the second day (2 December) will focus on IT/computing and interior design related opportunities.

Over 50 companies have confirmed their participation for the Career Fair as of now. This includes companies such as AIA Insurance, AISEC, Apigate Sri Lanka, Baker Tilly Edirisinghe & Co., BDO Partners, Calcey Technologies, Cambio Software Engineering, Ceylon Biscuits, Ceylon Economic Development Corporation, Cinnamon Hotels & Resorts, Cloud Solutions International, Codegen International, Creative Software, Daraz, Decathlon Sri Lanka, Diesel Motor Engineering (DIMO), Direct FN, Duo Software, EasyBooking, Embla Software Innovation, Empite Solutions, Eureka Technology Partners, Fidenz Technologies, Fortude, hSenid Business Solutions, h Senid Mobile Solutions, Hayleys Group, Hemas Manufacturing, IFS R&D International, Imperial Tea Exports, ISM Apac, HSBC Global Service Center, HSBC Sri Lanka, i-Context, Imperial Tea Exports, Itelasoft, John Keells Holdings, John Keells Logistics, Live Room, London Stock Exchange Group, Olanka Travels, Omobio, Rainco, SimCentric Technologies, Synergen Health, Unilever Sri Lanka, Virtusa, Vision Care, Vizua Matix, Zone24x7 and Z Messenger which will provide internships and entry level employment opportunities related to business management and IT/computing and interior design at the Career Fair.

London Stock Exchange Group (www.lseg.com) is an international markets infrastructure business. Its diversified global business focuses on capital formation, intellectual property and risk and balance sheet management. LSEG operates an open access model, offering choice and partnership to customers across all of its businesses. MillenniumIT, GATElab and Exactpro are among the Group's technology companies.

NSBM Green University Town (www.nsbm.lk) is a fully-fledged University Town built on a 26 acres premise at Homagama. NSBM offers UGC approved and foreign undergraduate and postgraduate programs in Business Management, Computing and Design.

Students and companies can reach NSBM Career Guidance Unit via emailing careerguidance@nsbm.lk or calling on 011 544 5067 for registration for the Career Fair.