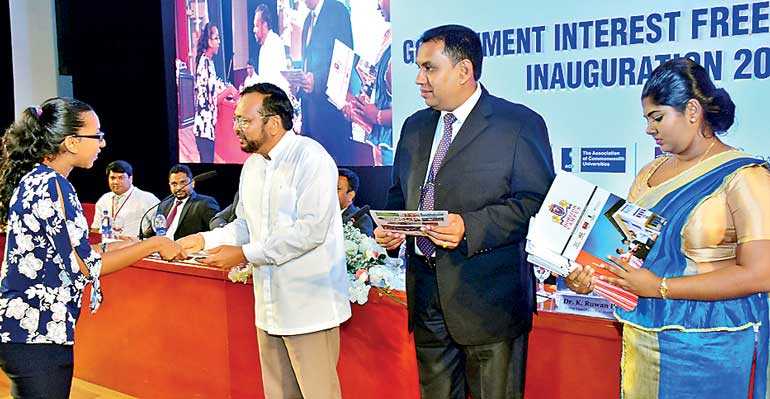 The Interest Free Higher Education Loan Scheme launched by the MOHE to ease off the financial constraints of higher education for students as well as to provide opportunities for those who miss State University entrance due to capacity constraints, received over 4,000 student applications for this loan scheme this year, out of which 1,160 students had selected Horizon Campus as their institute of choice. This is the second year in succession that Horizon Campus has been a top institute of choice amongst students for this loan scheme.

Hence, 1,160 students representing 25 districts, were handed offer letters at the launch ceremony to study one of the eight job demand oriented degree programs offered by Horizon Campus that comprises of the Bachelor of Science in Business Management (HRM), Bachelor of Management Honours in Marketing, Bachelor of Science in Information Technology, Bachelor of Information Technology in Networking and Mobile Computing (Honours) and Bachelor of Education. Under this scheme, an interest fee loan to the amount of Rs. 800,000 for tuition fees and a further stipend loan of Rs. 300,000 for transport and living expenses aggregating in total to a sum of Rs. 1,100,000 will be granted. Students will enter into the loan agreement with the Bank of Ceylon who will provide the loan facilities, with a loan repayment period extending up to 10-12 years. The commencement of payment will be upon gaining employment.

Horizon Campus Acting Vice Chancellor Dr. Ruwan Perera welcoming the new students selected for this year's scheme stated that Horizon Campus was proud and privileged to have had the chance to nurture the talents of students in our country by utilising this scheme last year. He said that seeing the benefits gained by these students had been very rewarding and thanked the Education Ministry for helping to launch such an initiative He added, "Our aim through partnering this scheme is to produce the thought leaders that will develop and drive new businesses for our country."

Horizon Campus Chairman Upul Daranagama added that initiatives of this nature was a solution for the country to retain their talent pool and prevent brain drain, providing both the opportunity and accessibility for students to qualify and remain in the country to improve local industries and businesses through new and innovative approaches, that will also result in improving the country's local economy.

Mohanlal Grero, the Chief Guest at the occasion informed that the Government has at present spent over 35 billion on higher education, which showcases the importance that they place towards producing a nation of qualified youth to serve our local industries. He said that students must therefore take the responsibility of making the best use of these opportunities by studying and learning the skills that will make them well qualified, employable youth that will be an asset to any organisation in the country.

Horizon Campus with their endeavor to strive for excellence in the field of higher education, firmly believes that this new interest free loan scheme will be helpful towards enhancing educational opportunities for students in the country and in ushering in new horizons in the Sri Lankan tertiary education market.