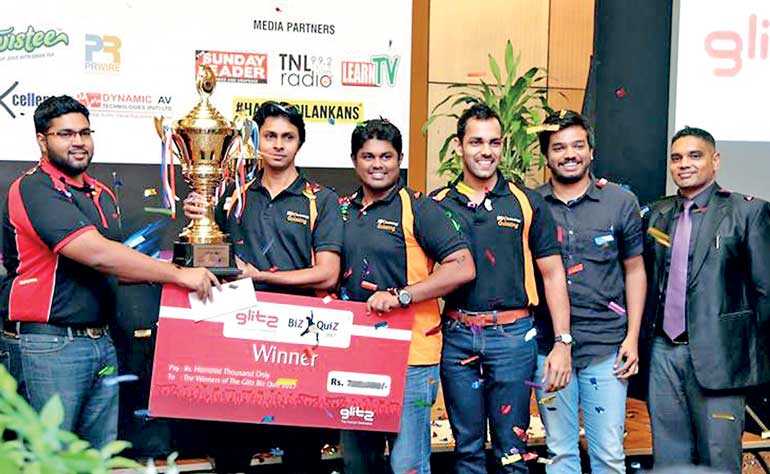 Glitz Biz Quiz, Sri Lanka's premier corporate quiz competition organised exclusively for companies in the mercantile sector will be held on Sunday 20 May at the Galadari Hotel from 3 p.m. onwards. Organised by 'Dashing Events' for the sixth consecutive year, Glitz Biz Quiz attracts Sri Lanka's top corporate masterminds annually.

This is a table quiz where each team comprising of five members will collectively answer 50 general knowledge questions over five rounds covering a wide area of topics including: Current Affairs, Geography, History, World Politics, Creative Arts, Sports, Entertainment and of course business.

In addition to selecting the Mercantile Quiz Champions of Sri Lanka, the competition will also recognise winners from various categories including Banking and Finance, IT, Telecom, BPO, Apparel, Travel and Hospitality, Advertising and Media, Shipping and Logistics, Pharmaceuticals and more. Past winners include DFCC Bank, People's Bank, Dialog Axiata and 99X Technology. Glitz is the Title Sponsor of the event and Shehan Kumar, one of Sri Lanka's top Quiz Masters will host the quiz. Dashing Events the organisers of Biz Quiz, is a popular event management company in Sri Lanka handling a wide variety of events including corporate launches, conferences, get-togethers, kiddie's parties and weddings. The company has organised several successful quiz programmes in the recent past and is fast building a reputation in this niche market.

Registrations for Glitz Biz Quiz 2017 will be limited to the first 40 teams, and more information could be obtained by calling Shehan on 0727-249324 or by emailing shehan@dashingevents.biz.