This year's annual convocation held at the Malabe Campus of SLIIT, Sri Lanka's premier higher education institute, to confer Bachelor's and Master's Degrees in Information Technology, Engineering, Quantity Surveying and Business Management was made more colourful by the presence of a galaxy of eminent Vice Chancellors and Heads of the Institute's partner universities from overseas.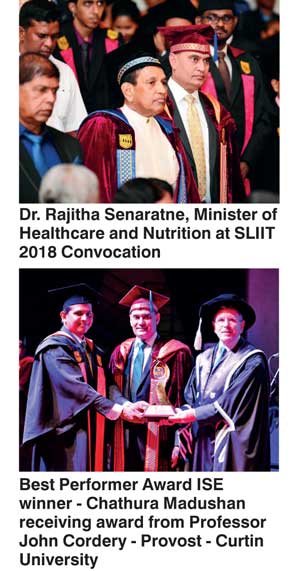 The two-day convocation was held on 2 and 3 March in six majestic sessions with an eminent Chief Guest adding grandeur and grace to each segment with each delivering a Convocation Address.

On the first day of the graduation ceremony, the Chief Guests who graced the occasion were Prof. John Cordery, Provost, representing the Vice Chancellor of Curtin University, Australia, Prof. Nigel Weatherill, Vice Chancellor of the Liverpool John Moores University, UK and Prof. Roger Eccleston, Pro Vice Chancellor of Sheffield Hallam University, UK.

Prof. John Cordery in his keynote address offered words of encouragement and advice. He said: "You are now a graduate of an educational institution that is exceptionally highly regarded both in this country and internationally."

In his address he explained: "The jaundiced view of the world does not stack up against the evidence. Let's compare it to the world that existed 30 years ago when I was a newly minted PhD graduate. In 1988, more than a third which amounts to 37% of the world lived in extreme poverty; this compares with less than 10 % today. In South Asia there is a 40% reduction in the number of people living in poverty from 55% to 15% and in East Asia, it has reduced from a whopping 81% to 3.7%. Over the period of time the real average per capita income around the world has grown by 60% in just 30 years. Global life expectancy has grown from 63 years in 1988 to 72 years in 2018 a rise of 12 %. Infant mortality has halved globally at the same time."

Prof. Cordery assured the new SLIIT graduates: "You are part of a world that is getting better, not worse. The world is full of promise."

On the second day, the Chief Guests were Dr. Rajitha Senaratne, Minister of Healthcare and Nutrition, Dr. Mano Sekaram, CEO and Co-founder of 99X Technology and Dr. Tilak Siyambalapitiya, Founder of Resource Management Associates Ltd.

Dr. Sekaram delivered the day's keynote address and said: "While celebrating your achievements we need to pay homage to the institute that made this possible. Sri Lanka Institute of Information Technology had a humble beginning in the year 1999. Over a period of 20 years it has become a pioneering and one of the most sought after institution for higher education in the country. Over 15,000 students have graduated over this period and around 1,000 students graduate annually. I sincerely want to pay homage and a special tribute to Prof. Lalith Gamage and the academia for building this institute brick by brick, executing an idea to perfection instilling values, contributing to the growth of the industry and epitomising the success of a private and a public partnership. Today the institute is a shining example of how universities should be run, with good values, discipline, and collaboration with industry, investing in research, competent academic staff and offering current and relevant overseas and local degrees. To my knowledge this institute has never been closed, due to a protest, nor to a strike or nor have I heard of any serious instance of ragging. This is a tremendous feat for a university in Sri Lanka. Today SLIIT graduates are in par with graduates from the University of Moratuwa, Colombo or Peradeniya and one of the most sought after graduates for well-rounded education."

Students who excelled in academic and extracurricular activities were recognised with special awards. SLIIT Gold Medal for Academic Excellence in Bachelor of Business Administration Best Performance was presented to Dulara Sachinthana Athukorala and SLIIT Professor Lakshman Ratnayake Gold Medal and Best Performance Award winner was Sajana Sathsara Meddaduwage.

Professor Lalith Gamage Gold Medal for the Most Outstanding SLIIT Graduate who also won the IFS Gold Medal for Academic Excellence and the Best Performance Award – Computer Systems and Networking (MIT) was clinched by Sivaguru Shasini Koshila Padmaseevili.

The array of Best Performance Awards bestowed for diverse courses were generously sponsored by Dialog Axiata, Lankabell, MAGA Engineering, Walkers CML, Bank of Ceylon, Kent Engineering Ltd., Epic Lanka Ltd. and E-Wis Career Centre.