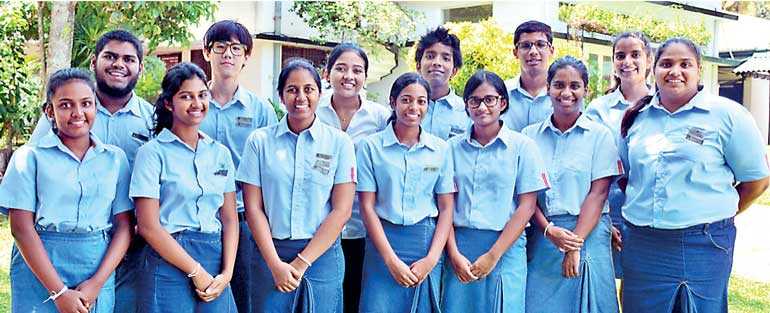 Elizabeth Moir School students have been offered places at six of the world's top ten universities. This includes the current top three in The Times Higher Education World University Rankings – Oxford, Cambridge and Stanford – as well as UPenn, Imperial and UCL. Other students have won scholarships to Cornell, another Ivy League college, and NYU Abu Dhabi, each worth over Rs. 10 million per year.

"It is immensely rewarding for educators to be able to find financial assistance for students who would otherwise not be able to get the opportunities their talent and hard work deserves," says Head of School Elizabeth Moir. "I was recently told by a university admissions officer that many of the applications and essays from Sri Lanka are similar in theme, style and content. We encourage our students to avoid clichés and to stand out even if it means taking a risk or two, because the competition for places at top universities is so stiff. In addition, our past students are willing and able to assist our current students. They encourage them to grab any opportunity they can to challenge themselves to grow as people and applicants."

Last year, a team of Moir students represented Sri Lanka in the inaugural First Global Robotics Olympiad in Washington, D.C. This may have helped the students' applications stand out over others with top academic results. Team member and Moir Head Prefect Akash Gnanam won a place on Stanford's renowned Computer Science course, Vinidu Jayasekera will be studying Computer Science at Ivy League UPenn, and Ishini Gammanpila, has been awarded a 90% scholarship at Cornell.

The school's other Head Prefect, Aanya Gunawansa, who achieved 11 A* grades in her IGCSE examinations and won the World Prize for English Language, has been offered a place to study Veterinary Science at Sidney Sussex College, Cambridge. Anjali Attygalle will read Chemistry at Magdalen College, Oxford.

Two students have been offered coveted places to study Medicine in the UK. Arshad Dahlan has been offered a place at Cardiff and Naveen Kulasingha at Queen's University Belfast. Both epitomise the all-round ability that medical courses look for: Naveen is both one the stars of the school's football team and a brilliant violinist, with an A in A Level Music to accompany his 10 A* grades at IGCSE, while Arshad is President of the Debating Club. Many students face tough choices. Arpana Giritharan had to reject Imperial College London in order to accept an offer from UCL to read Human Sciences. Amjad Hamza also has to choose between two Top Ten universities, UCL and UPenn, to read Politics, Philosophy and Economics; while Maya Weerasinghe has a choice between New York University and UCL to read Economics.

Many top US universities now have branches in Asia. Tripti Mathews was offered a place at Yale-NUS while Asel Kularatne has become the school's 10th student to be offered a full scholarship at NYU, Abu Dhabi in the past seven years.