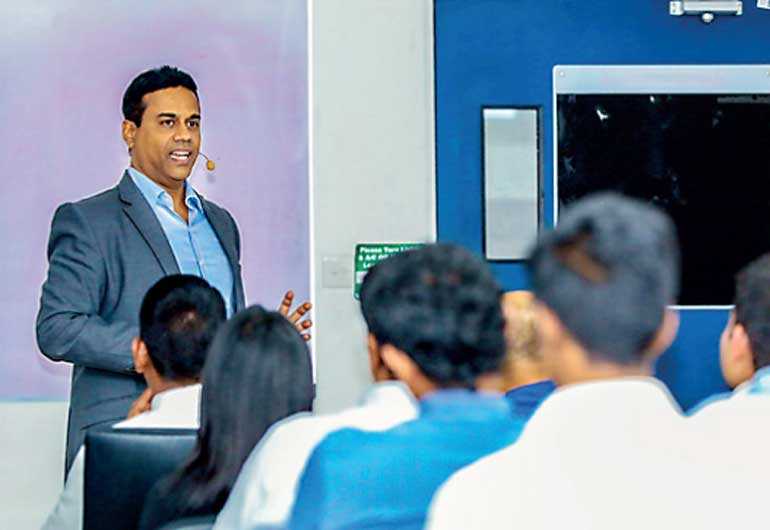 Sri Lanka's largest private sector higher education network, ESOFT Metro Campus, demonstrated its commitment to inclusive education, treating its MBA students to a special engagement session with eminent business leader Kishu Gomes.

Students of ESOFT's 2018 Masters of Business Administration (MBA) program, one the most highly-rated MBA programs in the island, were presented this unique opportunity at its facility in Colombo, as part of its specialised curriculum where students are provided the opportunity to engage with renowned entrepreneurs, management specialists and personalities for a holistic learning opportunity.

Employing his unique individual style of presentation, Kishu Gomes underscored the need to fully comprehend the challenges in the operating environment before students and managers are able to effectively embark on a refreshed vision. He presented many revolutionary theories, practices and perspectives based on his three decades of experience and exposure working for two of the largest multinationals in the world. He got students to transform their way of thinking, to embrace new management and leadership practices, to become more competitive leaders in the modern challenging environment. He inspired the batch of over 200 MBA students and corporate executives using examples of his own journey to success beating expatriates. He concluded with evidence that Sri Lankan corporate leaders are as good as best in the world.

Following his presentation, the MBA students were treated to an engaging question and answer session, whilst they were also allowed to get up close and personal with Kishu Gomes during fellowship.

Over 100 students have enrolled with ESOFT's MBA programs this year for Business and Data Analytics offered in partnership with the prestigious London Metropolitan University. ESOFT Metro Campus provides an ideal learning environment for students at its new campus building at Colombo 4, backed by an experienced expert panel of lecturers. ESOFT Metro Campus entered into an exclusive strategic partnership with London Metropolitan University in 2012, a collaboration which has grown stronger whilst shaping some of Sri Lanka's brightest talent. The syllabi are updated alongside advancements made in UK and the rest of the world, providing ESOFT students access to the very latest in education.

The special program with Kishu Gomes was conducted in the presence of Dr. Dayan Rajapakse, Chairman and Managing Director of ESOFT Group, and its CEO Nishan Sembacuttiaratchy. ESOFT Metro Campus was inaugurated in 2000 and has grown to be the largest private sector higher education network in Sri Lanka with 40 branch operations empowering over 35,000 students each year. Its educational partners include the University of Colombo School of Computing, Pearson – UK's largest awarding body, London Metropolitan University, and is also accredited by the British Computer Society. ESOFT has received ISO 9001-2008 certification for its advanced education processes.