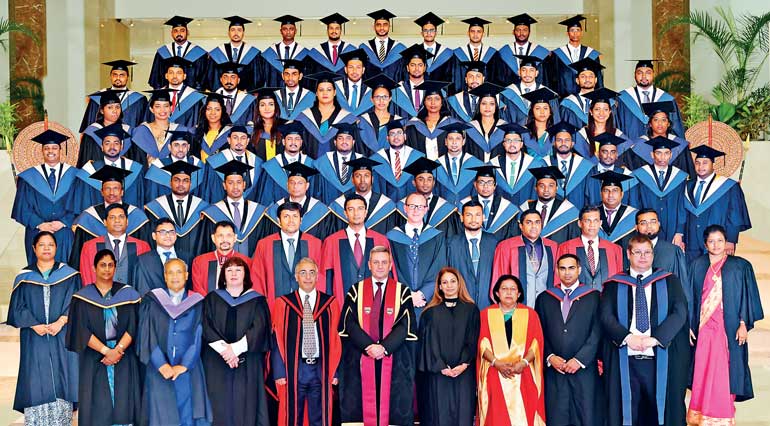 A few years ago students had limited choice when it came to further education particularly in the private sector. Nowadays, students are spoilt for choice, in fact, one just has to open the newspaper and find hundreds of institutions offering various degree programs affiliated with various US, UK and Australian universities. This makes the decision incredibly challenging for parents and their children: What course should I select? Should the duration of the course matter? What about cost? Who is the institution affiliated with and is it a reputable establishment? These are just some of the questions that are discussed by students and their families.

So what criteria should one consider when looking for a higher education partner? An important question especially, when the choice you make can have an impact on the rest of your life. Most people would say, follow your dreams, select a profession that will make you happy – make sure your passionate about the subject when selecting your career etc. Here at the Colombo School of Construction Technology (CSCT) we take a more practical approach to education – while you should pursue your dream; dreams become reality when you have the 'means' to make them a reality. We recommend pursuing an educational program that guarantees you the means to pursue your dream. So what does this all mean?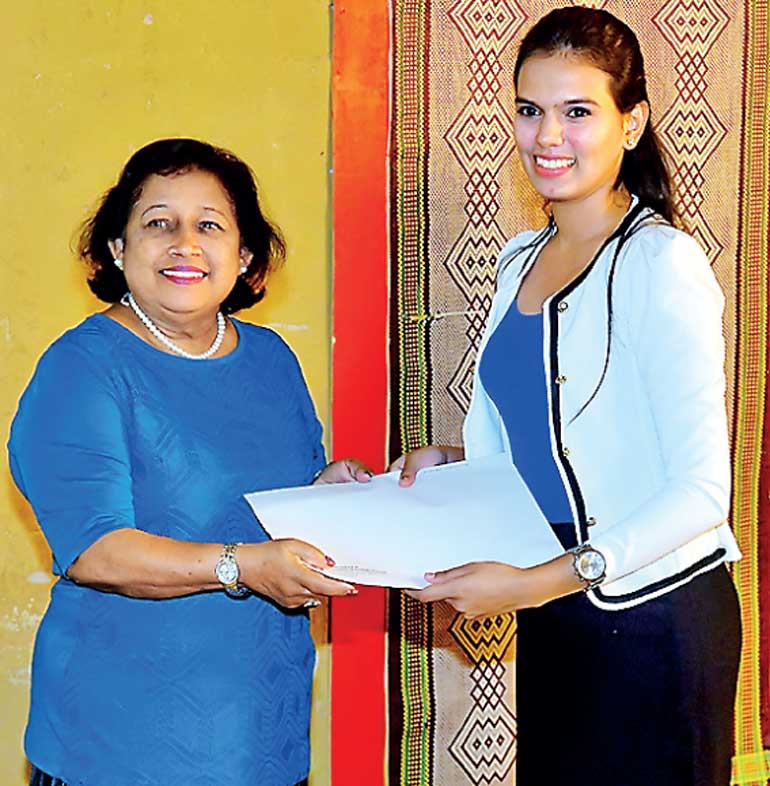 Vageesha Chalalochani Weerasinghe receiving BSc (Hons) Quantity Surveying Prize for best performing Level 5 Student from Emeritus Prof. Chitra Weddikkara, Dean Colombo School of Construction Technology
There are several factors to consider, when deciding on enrolling in a diploma or degree program. The first is the reputation of the institution- does the institution conduct its program appropriately and deal with it students fairly. What about the quality of the program that is being offered – is the program externally evaluated? Is the programme delivered by appropriate lecturers and is the degree managed on par with the International standards of the partner University? In other words, can you trust that the institution you selected is doing everything to ensure that you are getting the best quality programme on offer? These are important questions and the answer is the Colombo School of Construction Technology (CSCT). CSCT is an institution that prides itself in providing quality programs that are delivered to the highest standard and ensures that is managed and delivered ethically.

In addition, when deciding on your future career, of course the cost of the program and duration is important but the more important question is-can you put a price on your future? Far more important to consider is–what types of jobs are available when I complete my degree? What type of remuneration can I command? Does my degree offer me global mobility? These are all important when deciding on the path for your future. Your "passion" or your "dream" in life may not necessarily get you a job but the practical considerations mentioned above in terms of quality of program, employability and remuneration may allow you the opportunity to follow your passion.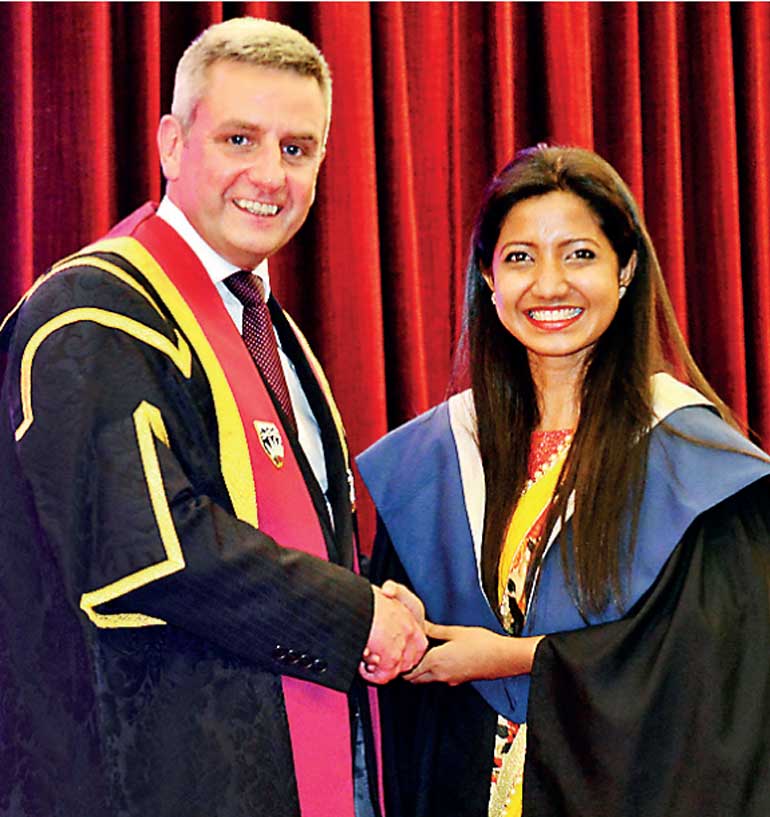 Sonali Gaya Kolonne Appuhamilage receiving BSc (Hons) Quantity Surveying Prize for best performance from Deputy Vice Chancellor Prof. Richard Stephenson, University of Salford
The Construction Industry allows the opportunity to pursue your dreams-once you are part of the Construction Industry; you have access to excellent remuneration; exciting working environments and global mobility. CSCT can provide you the tools and skills required for you to become a part of this exciting industry with an educational pathway for you. Here at CSCT, we will assist you in selecting the right qualification based on your interests, educational background and experience. CSCT can assist you in this decision as we have a pathway for every type of higher education seeker.

CSCT has two undergraduate programs on offer, the first isBSc (Hons) Quantity Surveying & BSc (Hons) in Construction Project Management offered in full at the Colombo School of Construction Technology (CSCT) in partnership with University of Salford, UK. The BSc (Hons) in Quantity Surveying is professionally accredited by the Royal Institution of Chartered Surveyors (RICS) and both degrees are delivered entirely in Sri Lanka. By enrolling in one of these degrees, you can obtain a British degree here in Sri Lanka at a fraction of the cost that you would have had to pay if you went to the UK. Enrolling in an internationally recognised university such the University of Salford, means that you have global mobility. Therefore, if you want to travel the world, these degrees provide you with the recognition you need to be able to work abroad. The course is fully conducted at CSCT and has two intakes per year in January and September. The only other institution able to offer a similar program is the University of Moratuwa. Students wanting an "overseas" experience have the option of completing part of their studies at Salford or attending their graduation in the UK with other Salford Graduants.

By joining CSCT, parents and students alike will have the peace of mind knowing that the teaching staff at CSCT are of the highest calibre and that on completion, students will be given assistance in obtaining work placements here in Sri Lanka; the Middle East and beyond. Unlike those parents who pay millions of rupees in tuition fees to send their children for overseas study and also have to find money for living expenses without any assurances of post degree employment.

These programs are unique as there is a variety of entry pathways allowing students from diverse academic backgrounds entry. For the BSc (Hons) Quantity Surveying& BSc (Hons) in Construction Project Management entry is possible on completion of A' levels(Local or London) or for those having completed a Pearson BTEC HND or equivalent. Students have the opportunity to enter in this degree programme at any level (Year 1, 2 or 3) provided they meet the necessary entry requirements. For those having completed other qualifications such as completion of IQSSL Level 1,2,3, National Diploma in Technology(NDT); National Certificate in Technology (NCT); and other similar qualifications, entry options are available on a case by case basis. Further details regarding entry criteria can be obtained from the school.

Since 2009, CSCT has been conducting Pearson BTEC Level 5 HNDs and currently following programmes are offered for students seeking a lucrative career pathway. Pearson BTEC Level 5 HND in Quantity Surveying and Construction Cost Management, Construction – Management, Construction – Architecture Technology, Building Services Engineering - Heating, Ventilation & Air Conditioning, Building Services Engineering – Electrical, Civil Engineering. This is one of the only institutions dedicated to catering to students seeking an education in the field of the Built Environment. The decision to pursue higher education is an important one and when choosing your education provider the decision should not simply be based on cost or duration but on quality and employability. The UoS-CSCT collaboration provides sound cognate honours degrees that are recognised worldwide particularly by employees seeking QS or CPM degree holders.

CSCT also facilitates the delivery of the University of Salford's MSc Quantity Surveying/ MSc Project Management in Construction, MSc Construction Law & Practice (overseas delivery) programs in Colombo, delivered through a "fly in faculty programme" with two intakes per year in January and September for the former and one intake for the latter. The course is taught on-site by Salford lecturers and professors. These programs are also professionally recognise1d by the Royal Institution of Chartered Surveyors (RICS) and Association for Project Management (APM).

There is an education pathway for everyone here at the Colombo school of Construction Technology!

Make the right choice for your future and register now for the next intake. Places are limited so please contact Rimzan 0770360722, Dasuni 0773699010, Udari 0774769031 or Angelo 0773021087 or student administration section on 114 061263 for further information.