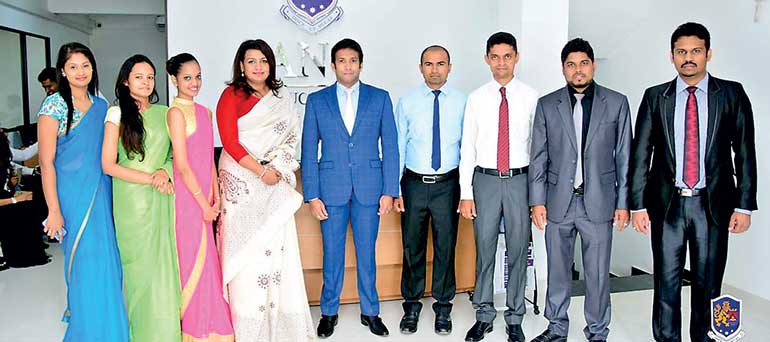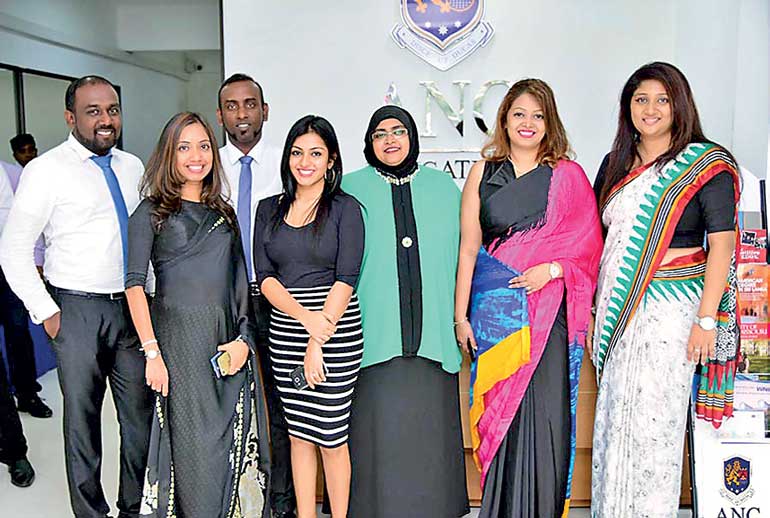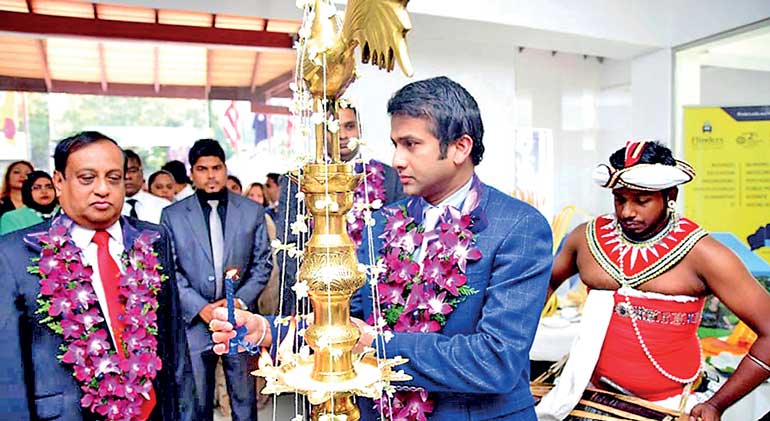 ANC, an educational conglomerate specialising in providing the best of international undergraduate and postgraduate education through its partnerships with some of the leading universities world-wide and offering multiple options to its students, opened its very first branch campus in Kandy on 11 January as part of an ambitious expansion program.

The campus which can cater to over a 1000 students, provides cutting edge facilities that include spacious air-conditioned classrooms equipped with everything it takes for a better learning and teaching experience, computer labs, a well-equipped library, student lounge, and group project meeting spaces. They also have access to online libraries of partner universities and Blackboard course management systems.

The newly opened branch will provide students in Kandy with a convenient option for gathering information about pursuing their higher educational dreams in USA, Australia, Canada, New Zealand or Europe in their home environs, thus avoiding the hassle of travelling to Colombo.

"ANC's strategy in establishing a branch network was due to the fact that we now feel that our product range is correct and suitable for a main regional hub in Kandy as well. We have a range of price products that cater to school leavers as well as top corporate, from the world's best awarding bodies and universities. Hence we have embarked on an expansion program with Kandy as our first branch," ANC CEO/Executive Director Dr. Punarjeeva Karunanayake said.

"The study abroad option has become very popular with Sri Lankan students and at ANC we are better equipped to cater to this market than any other institute as we have a proven track record of over 15 years which speaks for itself."

Dr. Karunanayake said that having analysed their existing student numbers, they noticed there was a high demand for US degree programs from students in Kandy currently studying at ANC. "Hence our decision to take our expertise to Kandy to provide better education solutions to the whole area. As of now we have 6000+ students who have completed a US degree with ANC and have achieved amazing career progression both here and abroad."

The experienced staff at the ANC Kandy Campus who number over 30 including visiting lecturers from both reputed educational institutes as well as from the industry, will not only provide students and parents with accurate information on universities, programs, course fees and scholarships in Australia, Canada, New Zealand, Germany and Europe, but will also walk the extra mile to ensure that students achieve their educational dreams and become leaders of tomorrow," said ANC Education Director/COO Aruni Mahipala. The programs and universities offered by and available to students at ANC's branch campus in Kandy include:

US Transfer Programs at Wichita State University, Embry Riddle Aeronautical University, and many more from USA.

The US Program namely US Business Degree Completion from the Northwood University

US Psychology Degree Completion from the Empire State University

The Canada Program includes the Canada Transfer Program (1+3) at Brock University, University of Toronto and many more from Canada [It has the option of studying one year in Sri Lanka and three years in Canada].

The HND Program in Business, Engineering and Computer Science

The German Program (2 + 1) is at the Cologne Business School and has two years in Sri Lanka and one year in Germany.

The Australian Program is the Australian Foundation Program at the University of Wollongong, Deakin University and many more universities, while the Australian Diploma Program is at the Deakin University.

The UK programmes such as the BA (Hons) Business Studies (Top-up) from the University of West London, which is ranked 56th in the UK, along with the Post Graduate Program, the MBA General from the University of West London, UK which is known as the best undergraduate programme in the county which intends to start in Kandy in the near future.

Direct Placements to the US, Canada, Australia, Germany and New Zealand as well as PATHE- Medical Placements (MBBS. MD) are also available to students at the ANC Kandy Campus under The ANC Future Centre.

The ANC Future Centre, the independent direct placement business unit of ANC Education, well renowned for career guidance, counselling and placements for overseas higher education, was also concurrently opened at the new ANC Kandy Branch.

ANC Education Director/Group CFO P. Saravanan speaking at the opening commented on the rapid expansion of the ANC Future Centre's network in Sri Lanka: "I'm very proud to announce the opening of an ANC Future Centre branch in Kandy. I firmly believe that the newly opened branch will be a lighthouse for many students and parents in Kandy who are in search of higher educational options overseas. Born and raised in Kandy, I am well aware of the challenges faced by students and parents in Kandy in finding a trustworthy student placement organisation that would support them to realise their higher educational aspirations."

Established in 2015, the ANC Future Centre has become one of the most successful student recruitment centres in Sri Lanka with over 500 students placed in leading universities in USA, Australia, Canada and Europe within just two years. "With this positive outlook, the ANC Future Centre is looking forward to achieving the status of becoming Sri Lanka's number one student recruitment centre. Students who are interested in pursuing their higher studies overseas, now have the option to transfer to over 100 leading universities/colleges across Australia, Canada, New Zealand, Germany and Europe. The ANC Future Centre also offers free IELTS and PTE preparation course for students to enhance their preparation and scores on tests. ANC also offers financial aid and scholarships to local students wishing to pursue further studies at their chosen university," said Saravanan.

ANC students are given the necessary guidance to choose programs based on their interests, skills, competencies, and future plans. Academic advising is available outside the classroom for freshmen to help them set goals and successfully adjust to college life and those who need extra assistance to improve their grades. In addition to regular classes, every student is encouraged to make the most of "office hours" with the faculty. Free remedial tutoring is arranged for those who need extra help with core subject areas in addition to SAT/ IELTS classes which are offered free of charge.

With several student clubs and societies, ANC has something for everyone. Being involved in extra activities is a great way to make friends as well as develop your leadership and team working skills that a classroom alone cannot always foster. "It's all about having fun, trying something new, and meeting great people with similar interests, while making memories along the way. If students so wish, they could even lead and develop their own club," said Dr. Karunanayake.

"With our exclusive 'Guaranteed Paid Student Internships (GPSI) program' with its 30+ industry partners, we intend to provide booming opportunities to our Kandy students too. This program will ensures that our students have the opportunity to garner many rewarding job and networking opportunities in multinational companies such as MAS Holding, Brandix, Virtusa, Samsung, DIMO, Hilton, Cinnamon Hotels & Resorts, Hayleys and many more. The prime objective of the GPSI program is to ensure that our students gain hands-on experience in addition to developing skills, strengthening their resumes, and making a career for themselves, whilst studying."

"The best degree's from the best universities at the best price and minimum completion time is our goal. This indeed is achievable as our graduates have secured positions with some of the foremost organisations in Sri Lanka and transfer students are accepted by prestigious universities in the world, with many of them embarking on lucrative careers upon graduation," said Dr. Jagath Alwis, Chairman of the CEG Group of which ANC Education is a member.